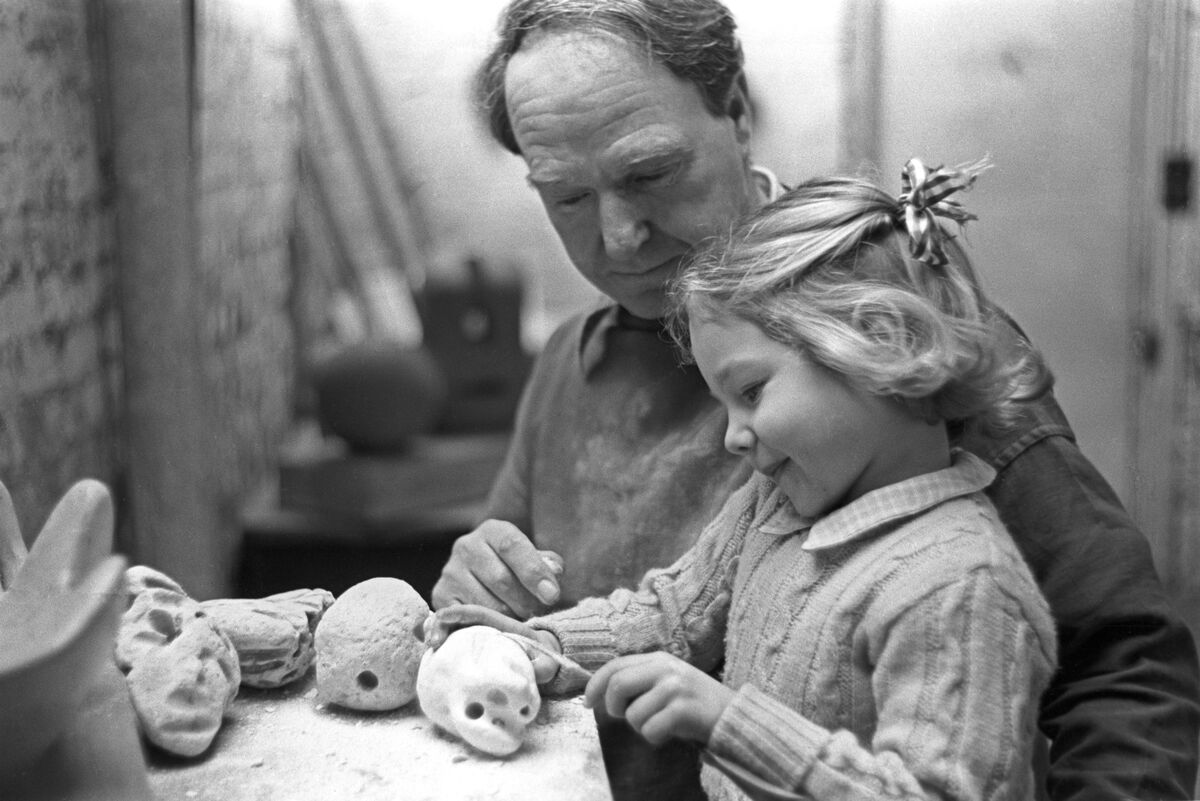 The human figure, enigmatically isolated or in relationship with others, is both the stimulus and the crux of all Henry Moore's works. For him, creating his sculptures was not so much an abstract exercize in looking at the human figure, but a personal investigation and violation of the artist's own body: 'When I carve into the chest,' he commented, 'I feel as if I were carving into my own.' In 1943, Moore was commissioned to carve a Madonna and Child for the Church of St. Matthew, Northampton; this sculpture was the first in an important series of family-group sculptures. Moore's large-sized abstract sculptures can be encountered in numerous international public places (like Reclining Figure, 1956–58, UNESCO, Paris). Overlooked sometimes, are his fascinating drawings, often inspired by poetry and mythology. For his works on paper, Moore received important stimuli from so-called primitive art from Africa, the South Seas and Egypt, but at the same time from contemporaries such as Picasso and Giacometti. Hovering between abstraction and figuration, Moore developed his own unique language of form.
Born in 1898 and originally from West Yorkshire, Moore studied at both the Leeds School of Art and the Royal College of Art in the 1920s. Before World War II Moore's works were widely exhibited in his home country, in the 1940s he also started to gain international success. In 1946, Moore's radical vision on sculpture was celebrated in his first international retrospective at the Museum of Modern Art in New York. In 1948 Moore represented Great Britain at the 24th Venice Biennale and won the International Prize for Sculpture for his participation the same year. In 1963 the artist was awarded the British Order of Merit. To this day, Moore is celebrated as the most important British sculptor of the twentieth century for his particular addressing of the human form and uncompromising vision, which make him an abiding influence for contemporary artists.
Together with his daughter Mary Moore, he established the Henry Moore Foundation in 1977, which administers his works. Since his death in 1986, the interest in his work has only continued to grow: in 2015 Moore's works were presented at National Roman Museum in Rome and in 2017 he was the subject of a solo exhibition at the Arp Museum Bahnhof Rolandseck, Germany. At Tate Modern, London, two rooms are dedicated to display over 30 of his works.
Read more +
Henry Moore
Born
Born in Castleford, Yorkshire, UK, 1898
Education
Studied at Leeds School of Art, 1919 – 1921
Studied at Royal College of Art, 1921 – 1924
Died
Died in Much Hadham, Hertfordshire, UK, 1986
Selected Solo Exhibitions
2022
Hauser & Wirth Somerset, 'Henry Moore. Sharing Form', Bruton, UK
Henry Moore Studios & Gardens, 'Henry Moore. The Sixties', Perry Green, UK
2021
Museo Novecento, 'The Sculptor's Drawing. Henry Moore', Florence, Italy
Hauser & Wirth, 'Henry Moore. Tapestries', Central, Hong Kong
Sainsbury Centre, 'Bill Brandt. Henry Moore', Norwich, UK
2019
Gibberd Gallery, 'Sculptural Citizens. Henry Moore's Harlow Family Group', Harlow, UK
Houghton Hall, 'Henry Moore at Houghton Hall. Nature and Inspiration', Kings Lynn, UK
Wallace Collection, 'Henry Moore. The Helmet Heads', London, UK
National Museum, 'The Power of Nature. Henry Moore in Poland', Krakow, Poland (Travelling Exhibition)
2018
Le Fonds Hélène & Édouard Leclerc pour la Culture, 'Henry Moore at Fonds Hélène & Édouard Leclerc', Landerneau, France
The Centre for Polish Sculpture, 'The Power of Nature. Henry Moore in Poland', Orońsko, Poland (Travelling Exhibition)
Four Domes Pavilion, 'The Power of Nature. Henry Moore in Poland', Warsaw, Poland (Travelling Exhibition)
2017
Hauser & Wirth, 'Henry Moore. Myths and Poetry', Zurich, Switzerland
Arp Museum Bahnhof Rolandseck, 'Henry Moore. Vision. Creation. Obsession', Rolandseck, Germany
Museum Sønderjylland, Kunstmuseet i Tønder, 'Henry Moore. at the border to the North', Tønder, Denmark
Makers House, 'Henry Moore: Inspiration & Process', London, UK
The Lightbox, 'Henry Moore: Sculpting from Nature', Woking, UK
Calle Cadenas de San Gregorio and Plaza San Pablo, 'Henry Moore. Arte en la Calle', Valladolid, Spain (Travelling Exhibition)


2016
Kunsthalle Memmingen, 'Henry Moore. SHEEP', Memmingen, Germany
Skulpturenpark Walfrieden, 'Henry Moore. Plasters', Wuppertal, Germany
LWL-Museum FÜR KUNST UND KULTUR, 'Henry Moore. Impuls für Europa', Münster, Germany

2015
Museo Nazionale alle Terme di Diocleziano, 'Henry Moore', Rome, Italy
Wolfson College, University of Cambridge, 'Henry Moore and Photography', Cambridge, UK
Waddesdon Manor, 'Henry Moore: 100 Drawings – King and Queen', Buckinghamshire, UK
Fundacio 'La Caixa', 'Henry Moore: Arte en la Calle', Malaga, Spain (Travelling Exhibition)
Yorkshire Sculpture Park, 'Henry Moore: Back to Land', West Bretton, UK
Gagosian Gallery, 'Henry Moore. Wunderkammer. Origin of Forms', London, UK
Zentrum Paul Klee, 'Henry Moore', Bern, Switzerland
2014
Leeds Art Gallery Collections, 'Figure and Architecture. Henry Moore in the 1950s', Leeds, UK
Art Gallery of Ontario, 'Francis Bacon and Henry Moore: Terror and Beauty', Ontario, Canada
Compton Verney, 'Moore - Rodin', Warwickshire, UK (Travelling Exhibition)
The Hepworth Wakefield, 'Henry Moore: Reclining Figures', Wakefield, UK
Harewood House, 'Henry Moore at Harewood', Leeds, UK
2013
Rijksmuseum, 'Henry Moore Outside', Amsterdam, Netherlands
The Henry Moore Foundation Perry Green, 'Moore - Rodin', Hertfordshire, UK (Travelling Exhibition)
The Ashmolean Museum, 'Francis Bacon/Henry Moore', Oxford, UK
2012
Gagosian Gallery, 'Henry Moore: Late Large Forms', London, UK
Gagosian Gallery, 'Henry Moore: Late Large Forms', New York NY
The Royal Society, 'Intersections. Henry Moore and Stringed Surfaces', London, UK
The Henry Moore Foundation Perry Green, 'Henry Moore.Plasters', Hertfordshire, UK
2011
Kremlin Museum, 'Henry Moore', Moscow, Russia
Leeds Art Gallery, 'Henry Moore', Leeds, UK
Henry Moore Institute, 'Henry Moore. Prints and Portfolios', Leeds, UK
The Henry Moore Foundation, 'Henry Moore. Plasters', Perry Green, UK
Hatfield House, 'Moore at Hatfield', Hatfield, UK
State Hermitage Museum, 'Henry Moore. Drawings', St. Petersburg, Russia
2010
Museum Lothar Fischer, 'Henry Moore – Natur und Figur', Neumarkt, Germany
Hauser & Wirth Zürich, 'Works on Paper from the Henry Moore Family Collection', Zurich, Switzerland
Denver Botanical Gardens, 'Moore in the Gardens', Denver CO (Travelling Exhibition)
Tate Britain, 'Henry Moore', London, UK
Bowdoin College Museum of Art, 'Henry Moore – The Drawings', Brunswick ME
Musée Rodin, 'Henry Moore, l'atelier: sculptures et dessins', Paris, France
Art Gallery of Ontario, 'The Shape of Anxiety: Henry Moore in the 1930s' Ontario, Canada
2009
Pallant House Gallery, 'Henry Moore Textiles', Chichester, UK (Travelling Exhibition)
Hoglands, 'Henry Moore Textiles', Perry Green, Hertfordshire, UK (Travelling Exhibition)
Atlanta Botanical Garden, 'Moore in America', Atlanta GA (Travelling Exhibition)
2008
Hauser & Wirth, 'Henry Moore. Ideas for Sculpture', London, UK
Figge Art Museum, 'Mother and Child: Henry Moore's West Dean Tapestries', Davenport IA
The New York Botanical Garden, 'Moore in America', New York NY (Travelling Exhibition)
Royal Botanic Gardens, 'Moore at Kew', London, UK
Didrichsen Art Museum, 'Henry Moore and the Challenge of Architecture', Helsinki, Finland
2007
British Council, 'Henry Moore: The Printmaker', Moscow, Russia
Perry Green, Sheep Field Barn, 'Henry Moore Textiles', Herfordshire, UK (Travelling Exhibition)
Dovecot Studios, 'Henry Moore Textiles', Edinburgh, UK (Travelling Exhibition)
Haus am Waldsee, 'Henry Moore und die Landschaft', Berlin, Germany (Travelling Exhibition)
Opelvillen Rüsselsheim, 'Henry Moore und die Landschaft', Russelsheim, Germany (Travelling Exhibition)
Perry Green, Sheep Field Barn, 'Moore and Mythology', Hertfordshire, UK (Travelling Exhibition)
Museé Bourdelle, 'Moore and Mythology', Paris, France (Travelling Exhibition)
2006
Wakefield Art Gallery, 'Henry Moore: Unseen', Wakefeld, UK
Imperial War Museum, 'Henry Moore: War and Utility', London, UK
Caixa Forum, Barcelona, Spain
Tate Liverpool, 'Henry Moore: Natural Forms', Liverpool, UK
Kunsthal, 'Henry Moore: Sculptur en architectur', Rotterdam, The Netherlands
2005
Perry Green: Sheep Field Barn, 'Henry Moore and the Challenge of Architecture', Herfordshire, UK
Museo Dolores Olmedo Patiño 'Moore y Mexico', Mexico City, Mexico (Travelling Exhibition)
MARCO - Museo de Arte Contemporáneo, 'Moore y Mexico', Monterrey, Mexico (Travelling Exhibition)
New Art Centre, Roche Court, 'Henry Moore Tapestries', East Winterslow, UK
Rhodes Museum, 'Henry Moore: The Elephant Skull', Bishops Stortford, UK
Kunsthalle Würth, 'Henry Moore: Epoch und Echo', Schwäbisch Hall, Germany
Pinacoteca do Estado de São Paulo, 'Henry Moore: Uma Retrospectiva', São Paulo, Brazil (Travelling Exhibition)
Paço Imperial, 'Henry Moore: Uma Retrospectiva', Rio de Janeiro, Brazil (Travelling Exhibition)
Frederik Meijer Gardens and Sculpture Park, 'Henry Moore: Imaginary Landscapes', Grand Rapids MI (Travelling Exhibition)
2004
Sager Street, 'Castleford's Son: Shaping Henry Moore', Castleford, UK
Town Hall and Charlseton, 'Henry Moore: Land and Sea', Lewes, UK(Travelling Exhibition)
Chateau Musèe de Dieppe, 'Henry Moore: Land and Sea', Dieppe, France (Travelling Exhibition)
National Glypthoteque, 'Henry Moore: A Retrospective', Athens, Greece
Stadtische Galerie, 'Henry Moore: Menschliche Landschaften', Wolfsburg, Germany
Dulwich Picture Gallery, London, UK
Hazlitt Holland Hibbert, 'Henry Moore: Master Drawings', London, UK(Travelling Exhibition)
Hazlitt Holland Hibbert, 'Henry Moore: Master Drawings', New York NY (Travelling Exhibition)
Hakone Open Air Museum, 'Henry Moore: The Expanse of Nature: The Nature of Man', Hakone, Japan
Marlborough Fine Art, 'Moore: Monumental Sculpture', New York NY
Artists' Union, 'Henry Moore: Graphics', Ashgabat, Turkmenistan
Royal Cambrian Academy of Art, 'Moore: The Graphics', Conwy, UK (Travelling Exhibition)
Glebe House and Gallery, 'Moore: The Graphics', Letterkenny, Ireland (Travelling Exhibition)
2003
Wingfield Arts, 'Moore: The Graphics', Diss, UK(Travelling Exhibition)
Falmouth Art Gallery, 'Moore: The Graphics', Falmouth, UK (Travelling Exhbibition)
John Creasey Museum, 'Moore: The Graphics', Salisbury, UK (Travelling Exhibition)
Wakefield Art Gallery, 'Moore: The Graphics', Wakefield, UK (Travelling Exhibition)
Perry Green, Sheep Field Barn, 'Henry Moore: Imaginary Landscapes', Hertfordshire, UK(Travelling Exhibition)
Tate Modern, 'Henry Moore: Public Sculpture', London, UK
Ashford Library Gallery, 'Henry Moore Photography', Ashford, UK (Travelling Exhibition)
Fleur de Lis Gallery, 'Henry Moore Photography', Faversham, UK (Travelling Exhibition)
Kawamura Memorial Museum of Art, 'Henry Moore: A Living Presence', Sakura, Japan (Travelling Exhibition)
Ashikaga Museum of Art, 'Henry Moore: A Living Presence', Ashikaga, Japan (Travelling Exhibition)
Takamatsu City Museum of Art, 'Henry Moore: A Living Presence', Takamatsu, Japan (Travelling Exhibition)
Kagoshima City Museum of Art, 'Henry Moore: A Living Presence', Kagoshima, Japan (Travelling Exhibition)
California Palace of the Legion of Honour, 'Henry Moore's Sheep Piece', San Francisco CA
Tate Britain, 'Henry Moore in the 1940s', London, UK
2002
Musèe des Beaux Arts, 'Henry Moore: Heads Figures and Ideas', Valenciennes, France
Herford Museum, 'Scribble, Blot or Smudge: Mother and Child Etchings by Henry Moore', Hereford, UK
Fondation Maeght, 'Henry Moore: Retrospective', St. Paul de Vence, France
Museum of New Zealand Te Papa Tongarewa, 'Henry Moore: Journey through Form', Wellington, New Zealand
Perry Green, Sheep Field Barn, 'Henry Moore: War and Utility', Herfordshire, UK
2001
Dallas Museum of Art, 'Henry Moore: Sculpting the 20th Century', Dallas TX (Travelling Exhibition)
California Palace of the Legion of Honour, 'Henry Moore: Sculpting the 20th Century', San Francisco CA (Travelling Exhibition)
National Gallery of Art, 'Henry Moore: Sculpting the 20th Century', Washington DC (Travelling Exhibition)
Tate Modern, 'Henry Moore: Atom Piece in Focus', London, UK
Beihai Park, 'Moore in China', Beijing, China (Travelling Exhibition)
Shanghai Art Museum, 'Moore in China', Shanghai, China (Travelling Exhibition)
2000
China Art Gallery, 'Moore in China', Beijing, China (Travelling Exhibition)
Guandong Museum of Art, 'Moore in China', Guangzhou, China (Travelling Exhibition)
Basil and Elise Goulandris Foundation Museum of Modern Art, 'Henry Moore: In the Light of Greece', Andros, Greece
1999
Perry Green, Sheep Field Barn, 'Henry Moore: Thoughts and Practices', Herefordshire, UK
The Pump House Gallery, 'Henry Moore: Photographs', London, UK
Kunsthalle Recklinghausen, 'Henry Moore: Liegende', Recklinghausen, Germany
Ville de Luxembourg, 'Henry Moore in Luxembourg' Luxembourg, Luxembourg
Openluchtmuseum voor Beelddhouwkunst, 'Henry Moore: Sculpturen', Middelheim, Belgium
Museum van Hedendaagse Kunst, 'Henry Moore. Drawings 1922 - 1982', Antwerp, Belgium
Yale Center for British Art, 'Henry Moore and the Heroic: A Centenary Tribute', New Haven CT
1998
Sainsbury Centre for the Vsual Arts, 'Moore in Mexico', Norwich, UK
Sainsbury Centre fort the Visual Arts, 'Henry Moore: Friendship and Influence', Norwich, UK
Imperial War Museum, 'Henry Moore: Shelter Drawings and Sculpture, London, UK
William S Fairfield Gallery, 'Henry Moore: Mother and Child', Wisconsin WI
Hirshhorn Museum and Sculpture Garden, ' Henry Moore: Stringed Figures', Washington DC
Wakefield Art Gallery, 'Photographs by Henry Moore', Wakefield, UK
Tate Gallery, 'Henry Moore in the Duveen Galleries', London, UK
British Museum, 'Henry Moore and the British Museum', London, UK
National Gallery, 'Henry Moore and the National Gallery', London, UK
Philadelphia Museum of Art, 'Henry Moore, a Centennial Salute', Philadelphia PA
Yorkshire Sculpture Park, 'Henry Moore in Perspective', West Bretton, UK (Travelling Exhibition)
Castle Museum, 'Henry Moore in Perspective', Nottingham, UK (Travelling Exhibition)
City Museum and Art Gallery, 'Henry Moore in Perspective', Bristol, UK (Travelling Exhibition)
University of Northumbria, 'Henry Moore in Perspective', Newcastle, UK (Travelling Exhibition)
Art Gallery and Museum, 'Henry Moore in Perspective', Brighton, UK (Travelling Exhibition)
Kunsthistorisches Museum, Palais Harrach, 'Henry Moore (1898-1986): Eine Retrospektive zum 100. Geburtstag', Vienna, Austria
1997
Gerhard Marcks Haus, 'Henry Moore: Animals', Bremen, Germany (Travelling Exhibition)
Georg Kolbe Museum, 'Henry Moore: Animals', Berlin, Germany (Travelling Exhibition)
Städtische Museen, 'Henry Moore: Animals', Heilbronn, Germany (Travelling Exhibition)
Triple Gallery, 'Henry Moore Graphics', Berne, Switzerland
Centro Wifredo Lam, 'Henry Moore: Hacia el Futuro', Havana, Cuba (Travelling Exhibition)
Museo Nacional de Colombia, 'Henry Moore: Hacia el Futuro', Bogota, Colombia (Travelling Exhibition)
Museo Nacional de Bellas Artes, 'Henry Moore: Hacia el Futuro', Buenos Aires, Argentina (Travelling Exhibition)
Museo Nacional de Artes Visuales, 'Henry Moore: Hacia el Futuro', Montevideo, Uruguay (Travelling Exhibition)
Museo Nacional de Bellas Artes, 'Henry Moore: Hacia el Futuro', Santiago, Chile (Travelling Exhibition)
1996
Berkeley Square Gallery, 'Henry Moore Drawings', London, UK
Museo Nacional de Bellas Artes, 'Henry Moore: Internal/External', Buenos Aires, Argentina (Travelling Exhibition)
Centro Cultural Parque de Espana, 'Henry Moore: Internal/External', Rosario, Argentina (Travelling Exhibition)
Centro Cultural Villa Victoria, 'Henry Moore: Internal/External', Mar del Plata, Argentina (Travelling Exhibition)
Museo Provincial de Bellas Artes Emilio Caraffa, 'Henry Moore: Internal/External', Cordoba, Argentina (Travelling Exhibition)
Museo Nacional de Bellas Artes, 'Henry Moore: Internal/External', Montevideo, Uruguay (Travelling Exhibition)
The Poetry Society, 'Moore Lithographs, Australian Poems', London, UK
Redfern Gallery, London, UK
Musée des Beaux Arts, 'Henry Moore: From the Inside Out', Nantes, France
1995
Galleria D'Arte Moderna, 'Henry Moore: Gli Ultimi 10 Anni' Bologna, Italy
Fondazione Cini, 'Henry Moore: sculture, disegni, incisioni, arazzi', Venice, Italy
BWA Gallery, 'Henry Moore – Retrospektywa', Cracow, Poland (Travelling Exhibition)
Centre for Contemporary Art, 'Henry Moore – Retrospektywa', Warsaw, Poland (Travelling Exhibition)
Pan Pan Art Space, ' Henry Moore', Taipei, Taiwan
Yorkshire Sculpture Park, 'Henry Moore in Yorkshire', Bretton, UK
1994
Reuchlinhaus, 'Henry Moore: Ethos und Form', Pforzheim, Germany
Kunstmuseum des Kantons Thurgau, Kartause Ittingen, 'Henry Moore: Shelter Drawings', Thurgau, Switzerland (Travelling Exhibition)
Rupertinum, 'Henry Moore: Shelter Drawings', Salzburg, Austria (Travelling Exhibition)
1993
Musée du Touquet, 'Henry Moore: Oeuvre gravé, sculptures', Le Touquet, France (Travelling Exhibition)
Burton Art Gallery and Museum, 'Henry Moore: Oeuvre gravé, sculptures', Bideford, UK (Travelling Exhibition)
Chesil Gallery, 'Henry Moore and the Sea', Chiswell, UK (Travelling Exhibition)
Pallant House, 'Henry Moore and the Sea', Chichester, UK (Travelling Exhibition)
The School House Gallery, 'Henry Moore and the Sea', Wighton, UK (Travelling Exhibition)
Art Gallery, 'Henry Moore and the Sea', Scarborough, UK (Travelling Exhibition)
Aldeburgh Cinema, 'Henry Moore and the Sea', Aldeburgh, UK (Travelling Exhibiton)
Pier Art Centre, 'Henry Moore and the Sea', Stromness, UK (Travelling Exhibition)
Royal Museum and Art Gallery, 'Henry Moore and the Sea', Canterbury, UK (Travelling Exhibition)
Pace Gallery, 'Henry Moore: A Sculptor's Drawings', New York NY
Galerie Utermann, 'Henry Moore: Bronzen und Zeichnungen', Dortmund, Germany
Szépmüvészeti Muzeum, 'Henry Moore', Budapest, Hungary (Travelling Exhibition)
Mirbach Palace, Palffy Palace, 'Henry Moore', Bratislava, Slovakia (Travelling Exhibition)
Stredosceska Galerie, Karolinum, 'Henry Moore', Prague, Czech Republic (Travelling Exhibition)
1992
Didier Imbert Fine Art, 'Henry Moore Intime', Paris, France (Travelling Exhibition)
Sezon Museum of Art, 'Henry Moore Intime', Tokyo, Japan (Travelling Exhibition)
Municipal Museum of Art, 'Henry Moore Intime', Kitakyushu, Japan (Travelling Exhibition)
City Museum of Contemporary Art, 'Henry Moore Intime', Hiroshima, Japan (Travelling Exhibition)
Prefectural Museum of Art, 'Henry Moore Intime', Oita, Japan (Travelling Exhibition)
Marlborough Graphics, 'Henry Moore: Etchings and Lithographs', London, UK
Galerie Arenthon, 'Henry Moore: Graveur', Paris, France
Berkeley Square Gallery, 'Henry Moore: Figure Studies 1931-1984, Prints and Sculpture', London, UK
Waddington Galleries, London, UK
Parc du Bagatelle, Bois de Boulogne, 'Moore à Bagatelle', Paris, France
Kathe Kollwitz Museum, 'Henry Moore: Mother and Child', Cologne, Germany (Travelling Exhibition)
Schloss Cappenberg, 'Henry Moore: Mother and Child', Kreis Unna, Germany (Travelling Exhibition)
Kunstkreis Norden, 'Henry Moore: Mother and Child', Norden, Germany (Travelling Exhibition)
Ernst Barlach Museum, 'Henry Moore: Mother and Child', Ratzeburg, Germany (Travelling Exhibition)
City Art Gallery, 'Henry Moore: Mother and Child', Huddersfield, UK (Travelling Exhibition)
Art Gallery of New South Wales, Sydney, Australia
1991
Espace Wafabank, Casablanca MA
Villa di Parco Bertone, 'Zoo di Catra: Mostra Grafica di Henry Moore', Mantua, Italy
Galeria Estiarte, 'Henry Moore: Obra Grafica', Madrid, Spain
Marlborough Graphics, 'Henry Moore: Etchings and Lithographs', London, UK
Hong Kong Arts Centre, 'Henry Moore: Graphic Work 1973-1982', Hong Kong
Benois Museum, Petrodvorets, 'Henry Moore Etchings & Lithographs 1949 – 1984', Leningrad, Russia (Travelling Exhibition)
State Pushkin Museum of Fine Art, 'Henry Moore Etchings & Lithographs 1949 – 1984', Mosow, Russia (Travelling Exhibition)
Helsingin kaupungin taidemuseo, 'Henry Moore Etchings & Lithographs 1949 – 1984', Helsinki, Finland (Travelling Exhibition)
Galleri Cassandra, 'Henry Moore: Skulptur, tegning, grafika', Drobak, Norway
Stephen Solovy Fine Art, Chicago IL
Nicosia, 'Henry Moore: Mother and Child', Nicosia, Cyprus
1990
Art Gallery of Ontario, 'Henry Moore's Animals', Toronto, Canada
Centre of Arts, Zamalek, 'Henry Moore: Mother and Child Etchings and Small Sculpture', Couro, Brazil
Rex Irwin, 'Henry Moore 1898-1986: A Tribute', Woollahra, Australia
South Bank Centre, 'Henry Moore: Sketch-Models and Working-Models', London, UK
Maeght, 'Henry Moore: Mother and Child Portfolio', Paris, France
Grob Gallery, 'Henry Moore: Prométhée Sketchbook', London, UK
Contemporary Sculpture Center, 'Henry Moore: Mother and Child Etchings', Tokyo, Japan
British Council exhibition touring the United Arab Emirates, 'Henry Moore Mother and Child Etchings', United Arab Emirates
Museo de Bellas Artes de Bilbao, Balbao, Spain
Gerhard Wurzer Gallery, 'Henry Moore: Mother and Child Portfolios', Houston TX
Arts Council of Great Britain Tour, UK
Pollok Park, 'Henry Moore in Pollok Park', Glasgow, UK
Scottish Lowland Galleries, 'Henry Moore – Sculptor at Work', Glasgow, UK
Cultural Capital of Europe Exhibitions, 'Henry Moore in UK', Glasgow, UK
1989
British Council exhibition touring South East Asia, 'Henry Moore Etchings and Lithographs 1949-84', South East Asia
British Council, 'Henry Moore: Etchings, Lithographs', London, UK
Museo de Arte Contempéraneo, 'Henry Moore: Grabados de los Portfolios 1950-1981', Caracas, Venezuela
Berkeley Square Gallery, 'Henry Moore: Mother and Child Portfolio', London, UK
Les Art International, 'Homage to Henry Moore', Johannesburg, South Africa
Castello Sforzesco, 'Henry Moore at Castello Sforzesco', Milan, Italy
Fondation Pierre Gianadda, Martigny, Switzerland
University of Tennesse, 'The Elephant Skull and Stonehenge: Henry Moore Prints and Barry Brukoff Photographs', Knoxville TN (Travelling Exhibition)
1988
British Museum, 'Henry Moore: The Shelter Drawings', London, UK
Fischer Fine Art, 'Henry Moore 1898-1986: Sculpture and Drawings', London, UK
Northern Illinois University Art Gallery, 'The Elephant Skull and Stonehenge: Henry Moore Prints and Barry Brukoff Photographs', Chicago IL (Travelling Exhibition)
New Art Centre, 'Henry Moore Sculpture and Drawings', London, UK
Les Art International, 'Henry Moore 1898-1986', Johannesburg, South Africa
Centre Nationale d'Exposition, 'Chefs d'Oeuvres Tirés des Carnets de Henry Moore', Quebec, Canada
New Art Centre, 'Henry Moore Sculpture and Drawings', London, UK
Marlborough Fine Art, 'Henry Moore 1898-1986: Four Monumental Sculptures', London, UK
Galerie Jahrhunderthalle, 'Henry Moore: Druckgraphik 1931-1980', Hoechst, Germany (Travelling Exhibition)
Städtische Sammlung Ringenberg, 'Henry Moore: Druckgraphik 1931-1980', Ringenberg, Germany (Travelling Exhibition)
Derik-Baegert-Gesellschaft, 'Henry Moore: Druckgraphik 1931-1980', Duisburg, Germany (Travelling Exhibition)
Bernard Jacobson Gallery, 'Henry Moore: Late Drawings', London, UK
CCA Galleries, 'Henry Moore and His Generation', London, UK
CCA Galleries, 'Henry Moore. Maquettes', London, UK
Fine Art Society, 'Henry Moore and Michael Rosenauer', London, UK
National Gallery of Zimbabwe, 'Henry Moore: Etchings and Lithographs 1949-1984', Harare, Zimbabwe (Travelling Exhibition)
Bulawayo Art Gallery'Henry Moore: Etchings and Lithographs 1949-1984', Bulawayo, Zimbabwe (Travelling Exhibition)
Mutare Museum, 'Henry Moore: Etchings and Lithographs 1949-1984', Mutare, Zimbabwe (Travelling Exhibition)
Lillian Heidenberg Gallery, 'Henry Moore: Sculpture, Drawings, Graphics', New York NY
Royal Academy of Arts, London, UK
1987
Hofstra Museum, 'Mother and Child: The Art of Henry Moore' Hempstead NY (Travelling Exhibition)
Museum of Art, 'Mother and Child: The Art of Henry Moore', Baltimore MD (Travelling Exhibition)
Arthur Ross Gallery, University of Pennsylvania. 'Mother and Child: The Art of Henry Moore', Pennsylvania PA (Travelling Exhibition)
Art Gallery of Ontario, 'Henry Moore Remembered', Toronto, Canada
Government Museum and Art Gallery, 'Henry Moore: Working Model Bronzes and Graphics', Chandigarh, India (Travelling Exhibition)
Jehangir Art Gallery, 'Henry Moore: Working Model Bronzes and Graphics', Mumbai, India (Travelling Exhibition)
MS University Faculty of Fine Arts Gallery, 'Henry Moore: Working Model Bronzes and Graphics', Baroda, India (Travelling Exhibition)
Roopankar Bharat Bhavan, 'Henry Moore: Working Model Bronzes and Graphics', Bhopal, India (Travelling Exhibition)
Lalit Kala Academi, 'Henry Moore: Working Model Bronzes and Graphics', Madras, India (Travelling Exhibition)
Chitrakala Parishath, 'Henry Moore: Working Model Bronzes and Graphics', Bangalore, India (Travelling Exhibition)
Birla Academi, 'Henry Moore: Working Model Bronzes and Graphics', Calcutta, India (Travelling Exhibition)
Lalit Kala Academi, 'Henry Moore: Working Model Bronzes and Graphics', Jaipur, India (Travelling Exhibition)
David Fildeman Gallery, Hofstra University, 'Henry Moore and Surrealism', Hempstead NY
Marlborough Fine Art, 'A Tribute to Henry Moore', London, UK
Flanders Contemporary Art, 'A Tribute to Henry Moore', London, UK
Minneapolis Flanders, 'Contemporary Art. Henry Moore: Prints, Drawings, Sculpture', Minneapolis MN
Alex Rosenberg Gallery, 'Henry Moore 1898-1986', New York NY
CCA Galleries, 'An Exhibition of Henry Moore's Lithographs and Etchings', London, UK
CCA Galleries, London, UK
National Gallery of Modern Art, 'Henry Moore in India', New Delhi, India
Yorkshire Sculpture Park, 'Henry Moore and Landscape', West Bretton, UK
London: Fischer Fine Art, 'Homage to Henry Moore 1898-1986/A Tribute to Sculpture 1877-1987', London, UK
Galerie am Lindenplatz, 'Henry Moore: Skulpturen und Grafik', Schaan, Lithuania
Didrichsenin Taidemuseo, 'Henry Moore in Memoriam', Helsinki, Finland
Louis Newman Galleries, 'Henry Moore: Works on Paper', Beverly Hills CA
Palazzo Vecchio, 'Henry Moore: Opera dal 1972 al 1984', Florence, Italy
Castlefield Gallery, 'Henry Moore: An Exhibition of Sculptures and Graphics', Manchester, UK
Lumley Cazalet, 'Henry Moore: Lithographs, Etchings and Woodcuts 1931-1982', London, UK
Alex Rosenberg Gallery, 'Henry Moore Print Exhibition', New York NY
'Henry Moore: 70th Anniversary of the Battle of Cambrai', Cambrai, France
Robert Brown Contemporary Art, 'Henry Moore: Graphic Work', Washington DC
Nelson-Atkins Museum of Art, 'Henry Moore: Maquettes and Working Models', Kansas City MO
1986
Akron Art Museum, 'Henry Moore 1898-1986', Akron OH
Alisan Fine Arts, 'Henry Moore: Drawings, Graphics and Bronze Sculptures', Hong Kong
Goodman Gallery, Sandton, South Africa
Art Gallery of Ontario, 'Henry Moore: Shelter Sketch-Book Portfolio', Toronto, Canada
Marlborough Graphics Gallery, 'Henry Moore: Nudes', London, UK
University of Chicago, 'Henry Moore: Drawings, Graphics, Sculptures', Chicago IL
Weintraub Gallery, 'Moore: A Major Exhibition of Sculpture, Drawings and Prints', New York NY
Galerie Patrick Cramer, 'Henry Moore: Sculptures, Gravures, Lithographies', Geneva, Switzerland
Door County Library, 'Henry Moore 1898-1986: A Retrospective Collection', Sturgeon Bay WI
Centro Dantesco dei Frati Minori Conventuali, 'Moore: Scultura, Disegni e Grafica', Ravenna, Italy
Nan Miller Gallery, 'Henry Moore: Graphics, Sculptures and Drawings', Rochester NY
David and Alfred Smart Gallery, 'Henry Moore: Drawings, Prints, Sculpture', Chicago IL
Picton Castle Trust, Kathleen Sutherland Foundation, Haverfordwest, UK
Kent Fine Art, 'Henry Moore: Model to Monument', New York NY
Pallant House Gallery, Chichester, UK
Metropolitan Art Museum, 'The Art of Henry Moore', Tokyo, Japan (Travelling Exhibition)
Art Museum, 'The Art of Henry Moore', Fukuoka, Japan (Travelling Exhibition)
City Art Museum, Arts Centre, Academy for the Performing Arts, 'The Art of Henry Moore', Hong Kong (Travelling Exhibition)
1985
John Berggruen Gallery, 'Henry Moore: Sculpture and Drawings', San Francisco CA
Bank of Ireland Exhibition Hall, 'Henry Moore Graphics', Dublin, Ireland
Museum of Modern Art, 'Henry Moore's Photographs of His Sculpture', San Francisco CA
James Goodman Gallery, 'Henry Moore: Drawings and Watercolors 1949-1976', New York NY
Dorsky Gallery, 'Henry Moore: Sculpture, Drawings, Lithographs', New York NY
Waddington Galleries, London, UK
Natalie Knight Gallery, 'The Eye of the Sculptor: Henry Moore', Johannesburg, South Africa
Mekler Gallery, 'Henry Moore: Sculptures, Drawings, Graphics', Cambridge MA
Castle Museum, Saffron Walden, UK
Pinacothèque Nationale Musée Alexandre Soutzos, Tokyo, Japan
BP Gallery, Antwerp, Belgium
University of Essex, 'Henry Moore Shelter Sketchbook', Colchester, UK (Travelling Exhibition)
Hatton Gallery, 'The Art of Henry Moore', Newcastle upon Tyne, UK (Travelling Exhibition)
1984
Art Gallery of Ontario, 'Henry Moore from the Collection of the Art Gallery of Ontario', Toronto, Canada
Columbus Museum of Art, 'Henry Moore: The Reclining Figure', Columbus OH (Travelling Exhibition)
Archer M. Huntington Gallery, 'Henry Moore: The Reclining Figure', Austin TX (Travelling Exhibition)
Utah Museum of Fine Art, University of Utah, 'Henry Moore: The Reclining Figure', Salt Lake City UT (Travelling Exhibition)
Portland Art Museum, 'Henry Moore: The Reclining Figure', Portland OR (Travelling Exhibition)
Museum of Modern Art, 'Henry Moore: The Reclining Figure', San Francisco CA (Travelling Exhibition)
Skulpturenmuseum Glaskasten, 'Henry Moore: Mutter und Kind', Marl, Germany
IBM Shimin Bunka Gallery, Kasahara, Japan
Maeght Lelong, 'Henry Moore: Das Graphische Werk 1977-1982', Zurich, Switzerland
Art Museum, 'Henry Moore: Selections from the Virginia and George Ablah Collection', Wichita KS
Schumacher Gallery, Columbus OH
American Crafts Gallery, Cleveland OH
Bernard Jacobson Gallery, 'Henry Moore (Animals), London, UK
Georgetown Graphics, 'Henry Moore at Georgetown Graphics', Washington DC
Museo Carlos Pellicer, 'Henry Moore: Obra Grafica', Tabasco MX
Printmakers Workshop Gallery, 'Henry Moore: Recent Graphics', Edinburgh, UK
Suzanne Gross Gallery, 'Henry Moore: Original Lithographs and Etchings', Philadelphia PA
Alex Rosenberg Gallery, 'Henry Moore: Recent Work, Sculpture and Graphics', New York NY
Cunningham Memorial Art Gallery, 'Henry Moore', Bakersfield CA
L'Espace Oscar Niemeyer, 'Henry Moore: Sculptures, Dessins, Gravures', Le Havre, France
Christie's Contemporary Art, 'Henry Moore: 30 Years of Graphics', London, UK
Kunstmuseum, 'Henry Moore: Skulptur, Tegning Grafik fra de Sidste Tyve år', Herning, Denmark
Exeter University, 'Henry Moore: Graphic Work 1931-1980', Exeter, UK
Hotel Ritz and Galería Sesimbra, 'Henry Moore: Obra Gráfica', Lisbon, Portugal
City Art Galleries, 'Henry Moore: Sculpture in the Making', Leeds, UK
Crewe and Alsager College, Alsager Art Gallery, 'Henry Moore Recent Works 1972-1982', Crewe, UK
Art Forum, Singapore, Singapore
Galerie Maeght, 'Henry Moore', Zurich, Switzerland (Travelling Exhibition)
Galerie Maeght, 'Henry Moore', Paris, France (Travelling Exhibition)
Stiftung Landis and Gyr, 'Henry Moore: Graphik 1977-1982', Zug, Switzerland
Weintraub Gallery, New York NY
Nathan Silberberg Gallery, 'Henry Moore in New York', New York NY
Marlborough Fine Art, London, UK
Nationalgalerie der Staatlichen Museen, 'Henry Moore: Shelter and Coal Mining Drawings 1939-1942', Berlin, Germany (Travelling Exhibition)
Museum der Bildenden Künste, 'Henry Moore: Shelter and Coal Mining Drawings 1939-1942', Leipzig, Germany (Travelling Exhibition)
Staatliche Galerie Moritzburg, 'Henry Moore: Shelter and Coal Mining Drawings 1939-1942', Halle, Germany (Travelling Exhibition)
Kupferstichkabinett der Staatlichen Kunstsammlungen, 'Henry Moore: Shelter and Coal Mining Drawings 1939-1942', Dresden, Germany (Travelling Exhibition)
Gallery Kasahara, 'Henry Moore 5', Osaka, Japan
1983
Langley Community School, Rochdale, UK
Museo de Arte Contemporaneo, 'Henry Moore: Esculturas, Dibujos, Grabados', Caracas, Venezuela
El Centro de Bellas Artes, 'Henry Moore: Esculturas y Gráficas Originales 1969/1979', Maracaibo, Venezuela (Travelling Exhibition)
Museo de Barquisimeto, 'Henry Moore: Esculturas y Gráficas Originales 1969/1979', Barquisimeto, Venezuela (Travelling Exhibition)
Museo gran Mariscal de Ayacucho, 'Henry Moore: Esculturas y Gráficas Originales 1969/1979', Cumaná, Venezuela (Travelling Exhibition)
Museo de Arte Contemporaneo, 'Henry Moore: Esculturas y Gráficas Originales 1969/1979', Porlamar, Venezuela (Travelling Exhibition)
Museo de Arte Moderno, 'Henry Moore: Esculturas y Gráficas Originales 1969/1979', Mérida, Venezuela (Travelling Exhibition)
Metropolitan Museum of Art, 'Henry Moore: 60 Years of His Art', New York NY
Mestna Galerija, 'Henry Moore: Grafika', Ljubljana, Slovenia (Travelling Exhibition)
Kabinet Grafike JAZU, 'Henry Moore: Grafika', Zagreb, Croatia (Travelling Exhibition)
Umetnicki Paviljon, 'Henry Moore: Grafika', Belgrade, Serbia (Travelling Exhibition)
Umetnicki Galerija, 'Henry Moore: Grafika', Skopje, Macedonia (Travelling Exhibition)
Collegium Artisticum, 'Henry Moore: Grafika', Sarajevo, Bosnia (Travelling Exhibition)
Transworld Art, 'Moore: The New Work', New York NY (Travelling Exhibition)
Newhouse Gallery, 'Moore: The New Work', Staten Island NY (Travelling Exhibition)
Paul Anglim Gallery, Royston, UK
Galerie Maeght, Paris, France
Due Ci, 'Henry Moore: Opera su carta', Rome, Italy
Marlborough Fine Art, 'Henry Moore: 85th Birthday Exhibition', London, UK
Curwen Gallery, London, UK
Basel Art Fair (John Cavaliero), Basel, Switzerland
International Exhibitions Foundation, 'Henry Moore: A New Dimension', Washington DC
Arts Centre, Folkestone, UK
Tate Gallery, 'Henry Moore at 85', London, UK
Central Gallery, 'Moore: The New Work', London, UK
Castle Grounds, Winchester, UK
Playhouse Gallery, 'Henry Moore: An Exhibition of Lithographs and Etchings', Salisbury, UK
Sammenslutningen af Danske Kunstforeninger, 'Henry Moore: Grafiske Arbejder', Copenhagen, Denmark
'Dumfries and Galloway Arts Festival', Dumfries, UK
Hyandae Gallery, Sagan-Dong, Korea
Barbican Centre, 'Henry Moore: Wood Sculpture', London, UK
Richard Gray Gallery, 'Henry Moore: Maquettes and Drawings', Chicago IL
Galerie Beaumont (Christie's Contemporary Art), 'Henry Moore: Sculptures et Estampes', Lasne, Belgium
Blue Hill Estate, 'Henry Moore Sculptures from the Ablah Collection', Pearl River NY
Academy of Arts, Honolulu HI
Galería Quintana, Bogotá, Colombia
Henie-Onstad Kunstsenter, Oslo, Norway
Hokin Gallery, 'Henry Moore: Drawings and Sculpture', Palm Beach FL
Bank of America World Headquarters, 'Henry Moore: Drawings, Graphics and Maquettes', San Francisco CA
Weintraub Gallery, New York NY
Dominion Gallery, 'Henry Moore: Sculptures and Drawings', Montreal CA
Weintraub Gallery, 'Homage to Henry Moore', New York NY
Storm King Art Center, 'Henry Moore Sculpture Exhibition', Mountainville NY
Langley Furrow Gallery, Middleton, UK
Galerie Düsseldorf, 'Henry Moore: Major Lithographs and Etchings 1969-1982', Perth, Australia
William Beadleston, 'Henry Moore: Some Recent Drawings', New York NY
Bohun Gallery, 'Henry Moore: Small Sculpture and Graphics', Henley-on-Thames, UK
Donau-Einkaufszentrum, 'Henry Moore: Graphik', Regensburg, Germany
Central Gallery, 'Moore: The New Work', Osaka, Japan
James Goodman Gallery, 'Henry Moore: Sculpture and Drawings', New York NY
Galerie Dorothea van der Koelen, 'Henry Moore: Radierungen, Lithografien', Mainz, Germany
I.M. Cohen Graphic Gallery, Jerusalem, Israel
Dolly Fiterman Gallery, Minneapolis MN
Brody Gallery, 'Henry Moore: Graphics', Washington DC
Christie's Contemporary Art, 'Henry Moore: Sculpture, Graphics and Drawings', New York NY
Associated American Artists, 'Henry Moore: A Survey of Graphics', New York NY
Hong Kong Arts Centre, 'Henry Moore Graphic Works', Hong Kong, China
Redfern Gallery, 'Ascher Textiles', London, UK
1982
Museu d'Art Modern, 'Henry Moore: Grabados', Tarragona, Spain (Travelling Exhibition)
Sala de la Caixa de Barcelona/Lerida, 'Henry Moore: Grabados', Barcelona, Spain (Travelling Exhibition)
Universidad de Malaga, 'Henry Moore: Grabados', Malaga, Spain (Travelling Exhibition)
Obra Cultural del Monte de Piedad y Caja de Ahorras de Cordoba, 'Henry Moore: Grabados', Cordoba, Spain (Travelling Exhibition)
Palacio de la Madraza, 'Henry Moore: Grabados', Granada, Spain (Travelling Exhibition)
Obra Cultural de la Caja de Ahorros de Asturias/Gijon, 'Henry Moore: Grabados', Granada, Spain (Travelling Exhibition)
Caja de Ahorros y Monte de Piedad de León, 'Henry Moore: Grabados', Léon, Spain (Travelling Exhibition)
Casa de Cultura de Zamora, 'Henry Moore: Grabados', Zamora, Spain (Travelling Exhibition)
Scottish Arts Council, 'Henry Moore Sculpture', UK
Christie's Contemporary Art, New York NY
Weintraub Gallery, New York NY
Fine Arts Center, 'Henry Moore: The Drawings', Colorado Springs CO
Playhouse Gallery, Harlow, UK
Tasende Gallery, 'Exhibitions of Drawings and Sculpture by Henry Moore', La Jolla CA
Durham Light Infantry Museum and Arts Centre, 'Henry Moore: Head-Helmet', Durham, UK
Fischer Fine Art, London, UK
Palazzo Ancaiani, 'Moore a Spoleto', Spoleto, Italy
Galleria Comunale d'Arte Moderna, 'Henry Moore: Sculture, Disegni, Opere Grafiche', Forte dei Marmi, Italy
Ho-am Art Museum, Seoul, Korea
Horace Richter Gallery and Tel-Aviv University, 'Henry Moore in Israel: Graphics and Sculptures', Tel Aviv, Israel
Rex Irwin Gallery, 'Henry Moore: Bronzes, Drawings, Graphics', Sydney, Australia
City Art Galleries, 'Henry Moore: Early Carvings 1920-1940', Leeds, UK
Galerie Beyeler, 'Henry Moore: Sculptures, Drawings', Basel, Switzerland
Ceolfrith Gallery, 'Henry Moore: Bronze Working Models', Sunderland, UK
___, 'Henry Moore', Copenhagen, Denmark
Marlborough Gallery, 'Important Sculptures by Henry Moore', New York NY
Fairweather Hardin Gallery, 'Henry Moore: Large Two Forms', Chicago IL
Museum Folkwang, 'Henry Moore: Druckgrafik und Maquetten', Essen, Germany
Goodman Gallery, 'Henry Moore in the Eighties', Sandton, South Africa
Bruce Museum, 'Henry Moore: Perspectives on Form', Greenwich CT
Centre for Contemporary Sculpture, 'Henry Moore Graphics', Tokyo, Japan
Blanden Memorial Art Gallery, Fort Dodge IA
Goldman Kraft Gallery, Chicago IL
Irving Feldman Gallery, Wes Bloomfield MI
Bernard Jacobson Gallery, Los Angeles CA
Nathan Silberberg Gallery, New York NY
Zebra One, 'Henry Moore Graphics', London, UK
Makler Gallery, Philadelphia PA
Southwest Gallery, Dallas TX
Charles Foley Gallery, Columbus OH
Irma Stern Museum, Rosebank, South Africa
Royal Society of Arts, London, UK
Museo de Monterrey, 'Henry Moore en Mexico', Mexico City, Mexico
Goldman Kraft Gallery, 'Henry Moore: Sculptures, Drawings, Graphics', Chicago IL
1981
Transworld Art, Alex Rosenberg Gallery, 'Henry Moore: Sculpture, Drawings, Graphics', New York NY
Goodman Gallery, 'Henry Moore: Sculptures, Drawings and Graphics', Sandton, South Africa
Ritz Hotel, 'Henry Moore: Obra Gráfica', Lisbon, Portugal
Sala Pelaires, 'Henry Moore: Esculturas y Dibujos', Palma de Mallorca, Spain
Beaux Arts Internationale, 'Henry Moore: Etchings, Lithographs, Small Sculptures', Willowdale, Canada
Allen R. Hite Art Institute, 'Henry Moore: Large Two Forms: A Photographic Exploration by David Finn', Louisville KY
Centro Cultural de los Estados Unidos, 'La Obra de Henry Moore en los Estados Unidos', Madrid, Spain
Vigna Antoniniana Stamperia d'Arte, Rome, Italy
Pinacoteca Comunale, Camerino, Italy
Galleria d'Arte Niccoli, Parma, Italy
Fuji Television Gallery, Tokyo, Japan
Fischer Fine Art, 'Henry Moore: Recent Aquatints, Etchings and Lithographs', London, UK
Contemporary Sculpture Center, Tokyo, Japan (Travelling Exhibition)
Contemporary Sculpture Center, Osaka, Japan (Travelling Exhibition)
Northern Artists Gallery, Harrogate, UK
Galerie Welz, 'Henry Moore: Plastiken und Grafik', Salzburg, Austria
Galleria Bergamini, 'Henry Moore: Opere Recenti', Milan, Italy
Wildenstein Gallery, London, UK
Parque de El Retiro, Palacio de Velázquez, 'Henry Moore: Sculptures, Drawings, Graphics 1921-1981', Madrid, Spain (Travelling Exhibition)
Gulbenkian Foundation, 'Henry Moore: Sculptures, Drawings, Graphics 1921-1981', Lisbon, Portugal (Travelling Exhibition)
Miró Foundation, 'Henry Moore: Sculptures, Drawings, Graphics 1921-1981', Barcelona, Spain (Travelling Exhibition)
City Art Gallery, Auckland, New Zealand (Travelling Exhibition)
Royal Museum, Canterbury, UK
Heidenberg Gallery, Toronto, Canada
Minden Gallery, Jersey, UK
Galería Eude, 'Henry Moore: Obra Grafica 1971-1979', Barcelona, Spain
Century Galleries, 'Homage au Mouton', Henley-on-Thames, UK
Centro una Arte, Fano, Italy
Galería Joan Prats, 'Henry Moore: Escultures i Dibuixos', Barcelona, Spain
1980
Il Bisonte,'Moore: Opere Recenti', Florence, Italy
Victoria and Albert Museum, 'Tapestry: Henry Moore & West Dean', London, UK
Rosenthal, Selb, Germany
Galerie Levy and Förderkreis, 'Henry Moore: Bronzen, Zeichnungen, Grafik', Hamburg, Germany
Moorweide, 'Henry Moore auf der Moorweide', Hamburg, Germany
Wildenstein, 'Henry Moore: Esculturas, Dibujos, Gráficos', Buenos Aires, Argentina
Campus West Library, Welwyn Garden City, UK
Fischer Fine Art, London, UK
Gallery Kasahara, 'Henry Moore IV', Osaka, Japan (Travelling Exhibition)
Galerie Humanité, 'Henry Moore IV', Tokyo, Japan (Travelling Exhibition)
Galerie Patrick Cramer, 'Henry Moore: Lithographies, Gravures 1976-1979', Geneva, Switzerland
Christ's Hospital Arts Centre, 'Lithographs by Henry Moore Printed at the Curwen Studio', Horsham, UK
Galeria Portimao, 'Henry Moore: Graphic Work 1966-1977', Portimao, Portugal
Circle Center Arts and Crafts, 'Henry Moore Graphics', Chicago IL
Ward Freeman School, 'Henry Moore: Sculptures & Graphics', Buntingford, UK
Hachmeister and Schnake Galerie, 'Henry Moore: Zeichnungen, Kleinplastiken und Orig. Grafiken', Munster, Germany
Wakefield Art Gallery, Wakefield, UK
Galleria Giulia, Rome, Italy
1979
Kunstkeller, 'Henry Moore: Skulpturen und Graphik', Berne, Switzerland
Municipal Museum of Art, 'Exhibition of Henry Moore Graphics', Kita-kyushu, Japan
Galleria Pieter Coray, 'Henry Moore: Sculture, Grafica', Lugano, Switzerland
Prince Henry's High School, Evesham, UK
Wildenstein Gallery, 'Henry Moore Drawings 1969-79', New York NY
Jersey Museum, St. Helier, Jersey, UK
Loranger Gallery, 'Henry Moore: Graphics, Small Sculptures, Drawings', Toronto, Canada
Waddington Graphics, 'Henry Moore: Drawings and Watercolours 1927-1959' London, UK
Lad Lane Gallery, 'Henry Moore: Graphic Work 1973-1978', Dublin, Ireland
St James' Fine Art Cabinet, Zurich, Switzerland
Rijkscentrum Hoger Kunstonderwijs, Brussels, Belgium
Galerie K. G. Schäter, 'Henry Moore: 36 Graphische Arbeiten', Giessen, Germany
Bundeskanzleramt, 'Henry Moore: Maquetten, Bronzen, Handzeichnungen', Bonn, Germany (Travelling Exhibition)
Wilhelm Hack Museum, 'Henry Moore: Maquetten, Bronzen, Handzeichnungen', Ludwigshafen, Germany (Travelling Exhibition)
1978
Galería Joan Prats, 'Henry Moore y el Inquietante Infinito', Barcelona, Spain
Galería Eude, Barcelona, Spain
Georgetown Graphics, Washington DC
Playhouse Gallery, 'Henry Moore: Elephant Skull Etchings', Harlow, UK
Camden Arts Centre, Errol Jackson: 'Recent Photographs of Henry Moore', London, UK
Iwaki Ishikawa Kumamoto, 'Henry Moore: In Praise Life: Drawings and Sculpture', Tokyo, Japan
Mappin Art Gallery, 'Henry Moore: Ideas for Sculpture', Sheffield, UK
Kunstsalon Wolfsberg, 'Henry Moore: The Reclining Figure', Zurich, Switzerland
Galerie Theater am Kirchplatz, Schaan, Lithuania
Staatsgalerie Moderner Kunst, Stuttgart, Germany
Lillian Heidenberg, New York NY
Ausbildungszentrum Wolfsberg, 'Henry Moore: Notebooks', Ermatingen, Switzerland
Stiftung Landis and Gyr, Zug, Switzerland
Gallery Kasahara, Osaka, Japan
Festival Gallery, 'Lithographs by Henry Moore', Aldeburgh, UK
Galleri Haaken, 'Hommage a Henry Moore', Oslo, Norway
Galería Joan Prats, 'Henry Moore y el Inquietante Infinito', Barcelona, Spain
Bayerischen Staatsgemäldesammlungen, Munich, Germany
Tate Gallery, 'The Henry Moore Gift', London, UK
Serpentine Gallery and Kensington Gardens, 'Henry Moore at the Serpentine', London, UK
Cartwright Hall and Lister Park, 'Henry Moore: 80th Birthday Exhibition', Bradford, UK
Art Museum, 'Henry Moore at the Wichita Art Museum', Wichita KS
Curwen Gallery, 'Henry Moore: 80th Birthday Exhibition of Graphic Work', London, UK
Fujikawa Galleries, Tokyo, Japan (Travelling Exhibition)
Fujikawa Galleries, Osaka, Japan (Travelling Exhibition)
Fujikawa Galleries, Fukuoka, Japan (Travelling Exhibition)
Fischer Fine Art, 'Henry Moore the Carver: An Eightieth Birthday Tribute', London, UK
Hirshhorn Museum and Sculpture Garden, 'Henry Moore: The Hirshhorn Museum and Sculpture Garden Collection', Washington DC
Estudio Actual, Caracas, Venezuela
Galerie Patrick Cramer, 'Hommage à Henry Moore', Geneva, Switzerland
Graphics 1 and Graphics 2, Boston MA
1977
Art Gallery of Ontario, 'The Drawings of Henry Moore', Toronto (Travelling Exhibition)
Tate Gallery, 'The Drawings of Henry Moore', London, UK (Travelling Exhibition)
California: Herbert B. Palmer Gallery, 'Henry Moore: Bronzes and Graphics', Beverly Hills CA
Galerie-T, Amsterdam, The Netherlands
Andrew Crispo Gallery, 'Guide to Henry Moore Sculptures Around the World', New York NY
Kunstkeller, Berne, Switzerland
Gracefield Arts Centre, Dumfries
Galerie Madoura, 'Henry Moore: 41 Gravures', Vallauris, France
Mazart SA, Lugano, Switzerland
Orangerie des Tuilleries, 'Henry Moore: Sculptures et Dessins', Paris, France
Bahnhof Rolandseck, Bonn, Germany
Bibliothèque Nationale, Paris, France
Agnes Etherington Art Centre, 'Henry Moore: Sculpture, Drawings, Graphics', Kingston, Canada
Didrichsenin Taidemuseo, Helsinki, Finland
Gallery Kasahara, Osaka, Japan
Förvatningshuset, Utställning, 'Henry Moore', Göteborg, Sweden (Travelling Exhibition)
Börjessons Konsthandel, 'Henry Moore', Zurich, Switzerland (Travelling Exhibition)
1976
Dallas Museum of Art, 'Works by Henry Moore from Dallas Collections', Dallas TX
Dorsky Galleries, Henry Moore: 'Rare Graphic Images', New York NY
Louisana Museum of Modern Kunst, Humlebaek, Denmark
Hokin Gallery, Palm Beach FL
Lillian Heidenberg Gallery, New York NY
Grafton Gallery, 'Six Recent Portfolios by Henry Moore 1972-1975', Bury St. Edmunds, UK
Galería Eude, 'Henry Moore: Obra Gráfica 1973-1975', Barcelona, Spain
Fischer Fine Art Ltd, 'Henry Moore: The Complete Graphic Work 1974-1976', London, UK
Imperial War Museum, 'Henry Moore War Drawings', London, UK
Zürcher Forum, 'Expo Henry Moore', Zurich, Switzerland
Galerie Gérald Cramer, Geneva, Switzerland
Galerie Oljemark, Finland
Rodman Hall Arts Centre, 'Henry Moore: Sculpture, Drawings and Graphics', St Catharines, Canada (Travelling Exhibition)
Kitchener-Waterloo Art Gallery, 'Henry Moore: Sculpture, Drawings and Graphics', Kitchener ON (Travelling Exhibiton)
Timmins Museum Centre, 'Henry Moore: Sculpture, Drawings and Graphics', Timmins ON (Travelling Exhibition)
Art Gallery of Windsor, 'Henry Moore: Sculpture, Drawings and Graphics', Windsor CO (Travelling Exhibition)
West Virginia, Huntington Galleries, 'Henry Moore Graphics', Huntington WV
Albert White Gallery, 'Henry Moore: Etchings and Lithographs, Sculptures', Toronto, Canada
1975
Fort Wayne Museum of Art, 'Henry Moore: Graphics 1969-1974', Fort Wayne IN (Travelling Exhibition)
University Art Gallery, 'Henry Moore: Graphics 1969-1974', Pittsburgh PA (Travelling Exhibition)
Henry Gallery, University of Washington, 'Henry Moore: Graphics 1969-1974', Seattle WA (Travelling Exhibition)
Philbrook Art Center, 'Henry Moore: Graphics 1969-1974', Tulsa OK (Travelling Exhibition)
The Phillips Collection, 'Henry Moore: Graphics 1969-1974', Washington DC (Travelling Exhibition)
Municipal Art Gallery, 'Henry Moore: Graphics 1969-1974', Davenport IA (Travelling Exhibition)
Rosenburg Library, 'Henry Moore: Graphics 1969-1974', Galveston TX (Travelling Exhibition)
University Art Museum, 'Henry Moore: Graphics 1969-1974', Austin TX (Travelling Exhibiton)
Museum of the Arts, 'Henry Moore: Graphics 1969-1974', Fort Lauderdale FL (Travelling Exhibiton)
Brooks Memorial Art Gallery, 'Henry Moore: Graphics 1969-1974', Memphis TN (Travelling Exhibition)
Munson-Williams-Proctor Institute, 'Henry Moore: Graphics 1969-1974', Utica NY (Travelling Exhibition)
Elvehjem Art Center, 'Henry Moore: Graphics 1969-1974', Madison WI (Travelling Exhibition)
Kirkland Gallery, Millikan University, 'Henry Moore: Graphics 1969-1974', Decatur GA (Travelling Exhibition)
Ringling Museum of Art, 'Henry Moore: Graphics 1969-1974', Sarasota FL (Travelling Exhibition)
Museum of Art, 'Henry Moore: Graphics 1969-1974', Baltimore MD (Travelling Exhibition)
Krannert Art Museum, University of Illinois, 'Henry Moore: Graphics 1969-1974', Champaign IL (Travelling Exhibtion)
The Dulin Gallery of Art, 'Henry Moore: Graphics 1969-1974', Knoxville TN (Travelling Exhibition)
Benedicta Arts Center, College of St Benedict and St Joseph, 'Henry Moore: Graphics 1969-1974', St. Joseph MN (Travelling Exhibition)
The Nevada Art Gallery, 'Henry Moore: Graphics 1969-1974', Reno NV (Travelling Exhibition)
Feyette Bank & Trust Co., 'Henry Moore: Graphics 1969-1974', Uniontown PA (Travelling Exhibition)
Didsbury College of Education, 'Henry Moore: Elephant Skull Etchings', Manchester, UK (Travelling Exhibition)
University of Salford, 'Henry Moore: Elephant Skull Etchings', Salford, UK (Travelling Exhibition)
Tate Gallery, 'Henry Moore: Graphics in the Making', London, UK (Travelling Exhibition)
City Art Gallery, 'Henry Moore: Graphics in the Making', Wakefield, UK (Travelling Exhibition)
Henie-Onstad Kunstsenter, 'Henry Moore: Skulptur, Teckning, Grafik 1923-1975', Oslo, Norway (Travelling Exhibition)
Kulturhuset, 'Henry Moore: Skulptur, Teckning, Grafik 1923-1975', Stockholm, Sweden (Travelling Exhibition)
Nordjyllands Kunstmuseum, 'Henry Moore: Skulptur, Teckning, Grafik 1923-1975', Aalborg, Denmark (Travelling Exhibition)
Louisiana Museum of Modern Kunst, 'Henry Moore: Skulptur, Teckning, Grafik 1923-1975', Humlebaek, Denmark (Travelling Exhibition)
Benjaman's Art Gallery, Buffalo NY
Galería Eude, 'Henry Moore: Obra Grafica 1973-1975', Barcelona, Spain
Kunstkeller, 'Henry Moore: Grafik', Berne, Switzerland
Graphisches Kabinett Karl Vonderbank, Frankfurt a. M., Germany
Junior Gallery, Goslar, Germany
Playhouse Gallery, 'Six Recent Portfolios: Graphic Work by Henry Moore 1972-75', Harlow, UK
Galerie Gérald Cramer, 'Henry Moore: Eaux-Fortes et Lithographies, Sculptures', Geneva, Switzerland
Wildenstein Gallery, 'Fujikawa Galleries, Henry Moore: Graphic and Sculpture', Tokyo, Japan
Arkiv för Dekorativ Konst, Lund, Sweden
1974
Galerie Dreiseital, Cologne, Germany
Fischer Fine Art, Stuttgart, Germany
Thomas Gibson, 'Henry Moore: Twenty Sculptures from the Collection of Thomas Gibson Fine Art', London, UK
Marlborough Godard, Toronto, Canada
Wilhelm Lehmbruck Museum, 'Henry Moore: The Graphic Work 1931-1973', Duisburg, Germany (Travelling Exhibition)
Ernst Barlach Haus, 'Henry Moore: The Graphic Work 1931-1973', Hamburg, Germany (Travelling Exhibition)
Hessisches Landsmuseum, 'Henry Moore: The Graphic Work 1931-1973', Darmstadt, Germany (Travelling Exhibition)
Middelheim Promoters, 'Henry Moore: The Graphic Work 1931-1973', Antwerp, Belgium (Travelling Exhibition)
Museumssaal, 'Henry Moore: Grafik 1931-74', Überlingen, Germany
Fischer Fine Art, 'Henry Moore Graphic Work 1972-1974', London, UK (Travelling Exhibition)
Wildenstein Gallery, 'Henry Moore Graphic Work 1972-1974', New York NY (Travelling Exhibition)
Wildenstein Gallery, 'A Selection of Important Sculptures by Henry Moore', New York NY
Transart, 'Henry Moore: Retrospectiva 1931-1972: Opera Grafica', Milan, Italy
South African National Gallery, 'Henry Moore: Sculpture, Drawings, Graphics', Cape Town, South Africa
Museum of Art, New Orleans LA
Gallery Kasahara, Osaka, Japan
Brown University, 'Henry Moore Prints', Providence RI
Albert White Gallery, 'Henry Moore: Sculptures', Toronto, Canada
Galeria de Arte Mexicano, 'Henry Moore: Litografías para un Libro de Poemas de W.H. Auden', Mexico City, Mexico
Kamakura Museum of Modern Art, 'Henry Moore by Henry Moore Exhibition', Kanagawa, Japan (Travelling Exhibition)
Hyogo Museum, 'Henry Moore by Henry Moore Exhibition', Kobe City, Japan (Travelling Exhibition)
Bridgestone Museum, 'Henry Moore by Henry Moore Exhibition', Kurume, Japan (Travelling Exhibition)
Gunma Museum, 'Henry Moore by Henry Moore Exhibition', Takasaki City, Japan (Travelling Exhibition)
Kar Gallery, 'Henry Moore: Graphic Work', Toronto, Canada
Art Gallery of Ontario, The Henry Moore Sculpture Centre, 'Henry Moore Drawings, Bronzes and Graphics from the Feheley Collection', Toronto, Canada
British Museum, 'Auden Poems/Moore Lithographs', London, UK
1973
Galerie Gérald Cramer, 'Henry Moore: L'Oeuvre Gravé. Rétrospective 1931-1972', Geneva, Switzerland
Israel Museum, Jerusalem, Israel
Graphis Arte Livorno, 'Henry Moore: Incisioni, Litografie', Livorno, Italy
Kunstsalon Wolfsberg, 'Henry Moore: Elephant Skull', Zurich, Switzerland
Palace Hotel, 'Henry Moore: Ausgewählte Graphik und Skulpturen', St Moritz, Switzerland
Fischer Fine Art, 'Henry Moore: The Complete Graphic Work 1931-1972', London, UK (Travelling Exhibition)
National Gallery of Scotland, 'Henry Moore: The Complete Graphic Work 1931-1972', Edinburgh, UK (Travelling Exhibition)
Camden Arts Centre, 'Henry Moore at Work: Photographs by Errol Jackson', London, UK
Städtische Galerie, 'Henry Moore: Grafik', Freiburg, Germany
Galerie Kornfeld, 'Henry Moore: Graphik', Zurich, Switzerland
Art Gallery, 'Henry Moore: Olifantskedel', Johannesburg, South Africa
Galleri Haaken, 'Henry Moore Litografier og Raderinger', Oslo, Norway
Il Bisonte, 'Henry Moore: Opera Grafica', Florence, Italy
Galerie Weber, Paris, France
County Museum, 'Henry Moore in America', Los Angeles CA
University of East Anglia, 'Henry Moore: Elephant Skull', Norwich, UK
Musée d'Histoire et d'Art, 'Henry Moore: Retrospective 1927-1970', Luxembourg, Luxembourg
1972
'Henry Moore: Enlarged Photographs, Small Sculptures and Lithographs', Malawi, Zambia and Thailand (Travelling Exhibition organised by the British Council, Canada)
Museo Nazionale, 'Omaggio a Henry Moore', Reggio Calabria, Italy
Playhouse Gallery, Harlow, UK
Kunsthalle, 'Henry Moore: Elefantenschädel', Bielefeld (Travelling Exhibition)
Galerie Stangl, 'Henry Moore: Elefantenschädel', Munich, Germany (Travelling Exhibition)
Galleria Lo Spazio, 'Henry Moore: Disegni dal 1928 al 1971', Rome, Italy
Galleria d'Arte Davico, 'I Disegni di Henry Moore', Turin, Italy (Travelling Exhibition)
Galleria Bon à Tirer, 'I Disegni di Henry Moore', Milan, Italy (Travelling Exhibition)
Il Bisonte, 'Henry Moore: Sculpture, Disegni, Grafica', Florence, Italy
Tom Thomson Memorial Art Gallery, 'Henry Moore: Sculptor', Ontario, Canada
Lefevre Gallery, 'Small Bronzes and Drawings by Henry Moore', London, UK
City Museum and Art Gallery, Stoke-on-Trent, UK
Forte di Belvedere, 'Mostra di Henry Moore', Florence, Italy
Salisbury Cathedral Close, Salisbury, UK
1971
Dorsky Galleries, 'Henry Moore: Elephant Skull', New York NY
Turnpike Gallery, 'Henry Moore: Sculpture, Drawings, Graphics', Leigh, UK
Toninelli Gallery, Milan, Italy
Maison de la Chasse et de la Nature, 'Henry Moore: Elephant Skull Etchings', Paris, France
Staatsgalerie Moderner Kunst, 'Henry Moore 1961-1971', Munich, Germany
Musée Rodin, Paris, France
'Henry Moore: Heykel, Resim, Fotograf Sergisi', Istanbul, Turkey
Abadan, 'Henry Moore: An Exhibition of Sculpture and Drawings 1928-1969', Tehran, Iran
1970
Baukunst-Galerie, 'Henry Moore: Plastiken und Zeichnungen', Cologne, Germany
Galerie Gérald Cramer, 'Elephant Skull: Original Etchings by Henry Moore', Geneva, Switzerland (Travelling Exhibition)
Pinakothek, 'Elephant Skull: Original Etchings by Henry Moore', Munich, Germany (Travelling Exhibition)
Marlborough Fine Art, 'Elephant Skull: Original Etchings by Henry Moore', London, UK (Travelling Exhibition)
MoMA - Museum of Modern Art, 'Elephant Skull: Original Etchings by Henry Moore', New York NY (Travelling Exhibition)
Usher Centre, 'Works by Henry Moore', Lincoln, UK
Marlborough Gallery and M. Knoedler, 'Henry Moore: Carvings 1961-1970, Bronzes 1961-1970', New York NY
Galerie Beyeler, 'Henry Moore Drawings, Watercolours and Gouaches', Basel, Switzerland
Galerie Baukunst, 'Henry Moore Sculptures', Cologne, Germany
City Museum and Art Gallery, 'Henry Moore: Exhibition of Sculptures and Drawings', Hong Kong
1969
Museum and Art Gallery, 'Henry Moore: Sculptures and Drawings', Derby, UK (Travelling Exhibition)
Herbert Art Gallery, 'Henry Moore: Sculptures and Drawings', Coventry, UK (Travelling Exhibition)
George Room, 'Henry Moore: Sculptures and Drawings', Stroud, UK (Travelling Exhibitioon)
Gordon Maynard Gallery, 'Henry Moore: Sculptures and Drawings', Welwyn, UK (Travelling Exhibition)
Garden City, Public Library Museum and Art Gallery, 'Henry Moore: Sculptures and Drawings', Carlisle, UK (Travelling Exhibition)
Beecroft Art Gallery, 'Henry Moore: Sculptures and Drawings', Southend, UK (Travelling Exhibition)
Beaford Centre, 'Henry Moore: Sculptures and Drawings', Beaford, UK (Travelling Exhibition)
The College, 'Henry Moore: Sculptures and Drawings', Winchester, UK (Travelling Exhibitioon)
Manx Museum, Isle of Man, UK (Travelling Exhibition)
Cumberland House, 'Henry Moore: Sculptures and Drawings', Portsmouth, UK (Travelling Exhibition)
St Paul's School, 'Henry Moore: Sculptures and Drawings', London, UK (Travelling Exhibition)
Burton Gallery, 'Henry Moore: Sculptures and Drawings', Bideford, UK (Travelling Exhibiiton)
Central Library, 'Henry Moore: Sculptures and Drawings', Gillingham, UK (Travelling Exhibition)
National Museum of Modern Art, 'Henry Moore Exhibition in Japan', Tokyo, Japan
University of York, UK
Castle Museum, 'Works by Henry Moore', Norwich, UK
1968
Castleford Public Library, Wakefield, UK
Kulturni Centar Beograda, Belgrade, Serbia
Brook Street Gallery, 'Henry Moore: Watercolours, Drawings, Lithographs', London, UK
Marlborough Fine Art, London, UK
Rijksmuseum Kröller-Müller, Otterlo, The Netherlands (Travelling Exhibition)
Städtische Kunsthalle Düsseldorf, Dusseldorf, Germany (Travelling Exhibition)
Museum Boymans-van Beuningen, Rotterdam, The Netherlands (Travelling Exhibition)
Staatliche Kunsthalle, Baden-Baden, Germany (Travelling Exhibition)
Kunsthalle, Bielefeld, Germany (Travelling Exhibition)
Mathildenhöhe, Darmstadt, Germany (Travelling Exhibition)
Städtische Kunstsammlungen Nürnberg, Nuremberg, Germany (Travelling Exhibition)
Kunstsalon Wolfsberg, 'Henry Moore: Graphic Works', Zurich, Switzerland
Rye Gallery, Rye, Switzerland
Tate Gallery, London, UK
Galerie Gérald Cramer, 'Henry Moore: Oeuvre Gravé et Lithographié', Geneva, Switzerland
1967
Marlborough Fine Art, 'Henry Moore: Carvings 1923-1966', London, UK
Rodin Museum, 'The Henry Moore Exhibition', Philadelphia PA
Staatsgalerie, 'Die Shelterzeichnungen des Henry Moore', Stuttgart, Germany
Trinity College Library, 'Some Sculptures and Drawings by Henry Moore', Dublin, Ireland
Mucsarnok, Budapest, Hungary
Art Gallery and Museum, Sheffield, UK
The School of Social Service Administration Building, 'Chicago's Homage to Henry Moore', Chicago IL
Marlborough Fine Art, 'Henry Moore: Meditations on the Effigy, 1967', London, UK
Art Gallery of Ontario, 'Henry Moore', Toronto, Canada (Travelling Exhibition organised by the British Council)
Confederation Art Gallery and Museum, 'Henry Moore', Charlottetown, Canada (Travelling Exhibition organised by the British Council)
Musée des Beaux-Arts, 'Henry Moore', Quebec, Canada (Travelling Exhibiiton organised by the British Council)
Arts and Cultural Centre, 'Henry Moore', St. Johns, Canada (Travelling Exhibition organised by the British Council)
National Gallery of Canada, 'Henry Moore', Ottawa, Canada (Travelling Exhibition organised by the British Council)
Museum of Fine Arts, 'Henry Moore', Montreal, Canada (Travelling Exhibition organised by the British Council)
1966
Baltimore Museum of Art, Baltimore MD
Southampton Art Gallery, Southampton, UK
Marlborough Fine Art, 'Henry Moore: Shelter Sketch Book 1940-42', London, UK
Israel Museum, 'Henry Moore', Jerusalem, Israel (Travelling Exhibition organised by the British Council)
Helena Rubinstein Pavilion, Tel-Aviv Museum, 'Henry Moore', Tel Aviv, Israel (Travelling Exhibition organised by the British Council)
Sala Dalles, 'Henry Moore', Bucharest, Romania (Travelling Exhibition organised by the British Council)
Slovak National Gallery, 'Henry Moore', Bratislava, Slovakia (Travelling Exhibition organised by the British Council)
National Gallery, 'Henry Moore', Prague, Czech Republic (Travelling Exhibition organised by the British Council)
New Metropol Art Gallery, 'Henry Moore: Sculptures and Drawings', Folkestone, UK (Travelling Exhibition)
City Museum and Art Gallery, 'Henry Moore: Sculptures and Drawings', Plymouth, UK (Travelling Exhibition)
Arts Council of Great Britian, UK
The Phillips Collection, 'Sculpture and Drawings by Henry Moore', Washington DC (Travelling Exhibition organised by the Smithsonian Institute)
DeCordova Museum, 'Sculpture and Drawings by Henry Moore', Lincoln MA (Travelling Exhibiton organised by the Smithsonian Institute)
The Brooklyn Museum, 'Sculpture and Drawings by Henry Moore', New York NY (Travelling Exhibition organised by the Smithsonian Institute)
The High Museum of Art, 'Sculpture and Drawings by Henry Moore', Atlanta GA (Travelling Exhibition organised by the Smithsonian Institute)
Denver Art Museum, 'Sculpture and Drawings by Henry Moore', Denver CO (Travelling Exhibition organised by the Smithsonian Institute)
Brooks Memorial Art Gallery, 'Sculpture and Drawings by Henry Moore' (organised by the Smithsonian Institute), Memphis TN (Travelling Exhibition)
Philadelphia Museum of Art, 'Sculpture and Drawings by Henry Moore', Philadelphia PA (Travelling Exhibition organised by the Smithsonian Institute)
William Rockhill Nelson Gallery of Art, 'Sculpture and Drawings by Henry Moore', Kansas City MO (Travelling Exhibiiton organised by the Smithsonian Institute)
Minneapolis Institute of Arts, 'Sculpture and Drawings by Henry Moore', Minneapolis MN (Travelling Exhibition organised by the Smithsonian Institute)
The Winnipeg Art Gallery, 'Sculpture and Drawings by Henry Moore', Winnipeg, Canada (Travelling Exhibition organised by the Smithsonian Institute)
Detroit Institute of Arts, 'Sculpture and Drawings by Henry Moore', Detroit MI (Travelling Exhibition organised by the Smithsonian Institute)
Munson-Williams-Proctor Institute, 'Sculpture and Drawings by Henry Moore', Utica NY (Travelling Exhibiiton organised by the Smithsonian Institute)
1965
Norwich Castle Museum, 'Henry Moore: Arts Council Collection', Norwich, UK
Agnes Etherington Art Centre, Kingston, Canada
Arkansas Art Center, 'Drawings and Sculpture by Henry Moore', Arkansas KS
University of Arizona Art Gallery, 'Henry Moore: A Retrospective Exhibition of Sculpture and Drawings', Tucson AZ
Marlborough Galleria d'Arte, Rome, Italy
Orleans Gallery, 'Henry Moore: An Exhibition of Sculpture and Drawings', New Orleans LA
Marlborough Fine Art, London, UK
Museum of Fine Arts, Richmond VA
Banbury School of Art, Banbury, UK
Institute of Contemporary Arts, London, UK
City Hall Art Gallery, 'Henry Moore: Exhibition of Sculptures, Photographs, Reproductions', Hong Kong, China
Valley House Gallery, 'Sculptures by Henry Moore', Dallas TX
1964
Knoedler, New York NY
Festival Exhibition, 'Exhibition of Sculpture and Drawings by Henry Moore at King's Lynn', King's Lynn, UK
1963
Marlborough Fine Art, 'Henry Moore: Recent Work', London, UK
Arts Council, Forty Hill, Enfield, UK
Kunstamt Reinickendorf, 'Henry Moore: Zeichnungen und Aquarelle', Berlin, Germany (Travelling Exhibition)
Kunstamt Tempelhof, 'Henry Moore: Zeichnungen und Aquarelle', Berlin, Germany (Travelling Exhibition)
Galerie Wolfgang Gurlitt, 'Henry Moore: Zeichnungen und Aquarelle', Munich, Germany (Travelling Exhibition)
Galerie Manfred Strake, 'Henry Moore: Zeichnungen und Aquarelle', Kalkum bei Düsseldorf, Germany (Travelling Exhibition)
Kulturamt, 'Henry Moore: Zeichnungen und Aquarelle', Castrop-Rauxel, Germany (Travelling Exhibition)
La Jolla Arts Center, La Jolla CA (Travelling Exhibtion)
Museum of Art, Santa Barbara CA (Travelling Exhibition)
Municipal Art Galleries, Los Angeles CA (Travelling Exhibition)
City Art Gallery, 'Henry Moore: An Exhibition of Sculpture and Drawings', Wakefield, UK (Travelling Exhibition)
Ferens Art Gallery, 'Henry Moore: An Exhibition of Sculpture and Drawings', Kingston upon Hull, UK (Travelling Exhibition)
Kelvingrove, Glasgow, UK
Ashmolean Museum, 'Henry Moore: Exhibition of Sculpture and Drawings', Oxford, UK
Arts Council Gallery, 'Henry Moore: An Exhibition of Sculpture and Drawings', Cambridge, UK (Travelling Exhibition organised by the Arts Council)
City Art Gallery, 'Henry Moore: An Exhibition of Sculpture and Drawings', York, UK (Travelling Exhibition organised by the Arts Council)
Castle Museum, 'Henry Moore: An Exhibition of Sculpture and Drawings', Nottingham, UK (Travelling Exhibition organised by the Arts Council)
'Henry Moore: An Exhibition of Sculpture and Drawings', Aldeburg, UK (Travelling Exhibition organised by the Arts Council)
1962
Galerie Gérald Cramer, 'Henry Moore: Sculptures, Dessins, Estampes', Geneva, Switzerland
Knoedler, New York NY
Instituto Britanico, 'Henry Moore: Exposición de Fotografias y Reproducciones con Algunos Broncas Originales', Madrid, Spain
1961
Marlborough Fine Art, 'Henry Moore: Stone and Wood Carvings', London, UK
Scottish National Gallery of Modern Art, 'Henry Moore: Sculpture and Drawings from Sir Kenneth Clark's Collection', Edinburgh, UK
1960
Hamburger Kunsthalle, 'Henry Moore', Hamburg, Germany (Travelling Exhibition organised by the British Council)
Folwang Museum, 'Henry Moore', Essen, Germany (Travelling Exhibition organised by the British Council)
Kunsthaus Zürich, 'Henry Moore', Zurich, Switzerland (Travelling Exhibition organised by the British Council)
Haus der Kunst, 'Henry Moore', Munich, Germany (Travelling Exhibition organised by the British Council)
Galleria Nazionale d'Arte Moderna, 'Henry Moore', Rome, Italy (Travelling Exhibition organised by the British Council)
Musée Rodin, 'Henry Moore', Paris, France (Travelling Exhibition organised by the British Council)
Stedlijk Museum, 'Henry Moore', Amsterdam, The Netherlands (Travelling Exhibition organised by the British Council)
Akademie der Bildenden Künste, 'Henry Moore', Vienna, Austria (Travelling Exhibition organised by the British Council)
Louisiana Museum, 'Henry Moore', Humlebaek, Denmark (Travelling Exhibition organised by the British Council)
Whitechapel Art Gallery, 'Henry Moore: Sculpture 1950-1960', London, UK
1959
Zacheta Gallery, 'Henry Moore', Warsaw, Poland (Travelling Exhibition organised by the British Council)
Society of Fine Arts, 'Henry Moore', Krakow, Poland (Travelling Exhibition organised by the British Council)
National Museum, 'Henry Moore', Poznan, Poland (Travelling Exhibition organised by the British Council)
Central Board of Exhibitions'Henry Moore', Wroclaw, Poland (Travelling Exhibition organised by the British Council)
Museum of Pomerania, 'Henry Moore', Szczecin, Poland (Travelling Exhibition organised by the British Council)
Palacio Fox, 'Henry Moore', Lisbon, Portugal (Travelling Exhibition organised by the British Council)
Escola de Bellas Artes, 'Henry Moore', Oporto, Portugal (Travelling Exhibition organised by the British Council)
Galerie de National Bibliothek, 'Henry Moore', Madrid, Spain (Travelling Exhibition organised by the British Council)
Recinto del Antiguo Hospital de la Santa Cruz, 'Henry Moore', Barcelona, Spain (Travelling Exhibition organised by the British Council)
Metropolitan Art Gallery, 'Henry Moore Special Exhibition within the Fifth International Art Exhibition of Japan', Tokyo, Japan (Travelling Exhibition organised by Mainichi Newspapers and the British Council)
Sogo Department Store Gallery, 'Henry Moore Special Exhibition within the Fifth International Art Exhibition of Japan', Osaka, Japan (Travelling Exhibition organised by Mainichi Newspapers and the British Council)
Modern Art Museum, 'Henry Moore Special Exhibition within the Fifth International Art Exhibition of Japan', Takamatsu, Japan (Travelling Exhibition organised by Mainichi Newspapers and the British Council)
City Art Gallery, 'Henry Moore Special Exhibition within the Fifth International Art Exhibition of Japan', Yawata, Japan (Travelling Exhibition organised by Mainichi Newspapers and the British Council)
Fukuya Department Store Gallery, 'Henry Moore Special Exhibition within the Fifth International Art Exhibition of Japan', Hiroshima, Japan (Travelling Exhibition organised by Mainichi Newspapers and the British Council)
Daimaru Department Store Gallery, 'Henry Moore Special Exhibition within the Fifth International Art Exhibition of Japan', Fukuoka, Japan (Travelling Exhibition organised by Mainichi Newspapers and the British Council)
Public City Hall, 'Henry Moore Special Exhibition within the Fifth International Art Exhibition of Japan', Ube, Japan (Travelling Exhibition organised by Mainichi Newspapers and the British Council)
Culture Centre, 'Henry Moore Special Exhibition within the Fifth International Art Exhibition of Japan', Saseho, Japan (Travelling Exhibition organised by Mainichi Newspapers and the British Council)
Oriental Nakamura, 'Henry Moore Special Exhibition within the Fifth International Art Exhibition of Japan', Nagoya, Japan (Travelling Exhibition organised by Mainichi Newspapers and the British Council)
Arts Club of Chicago, 'Henry Moore: Sculpture and Drawings from Chicago Collections', Chicago IL
1958
Universitätsstadt, 'Henry Moore: Und Englische Zeichner', Tübingen, Germany
Hatton Gallery, Newcastle upon Tyne, UK
1957
Galerie Czwikltzer, 'Henry Moore: Farbige Lithographien und Handzeichnungen', Cologne, Germany
Galerie Berggruen, 'Henry Moore: Sculptures et Dessins', Paris, France
1955
Museum of Fine Arts, 'Henry Moore', Montreal, Canada (Travelling Exhbition organised by the British Council)
National Gallery of Canada, 'Henry Moore', Ottawa, Canada (Travelling Exhibition organised by the British Council)
The Art Gallery of Ontario, 'Henry Moore', Toronto, Canada (Travelling Exhibition organised by the British Council)
Art Gallery Association, 'Henry Moore', Winnipeg, Canada (Travelling Exhibition organised by the British Council)
The Art Gallery, 'Henry Moore', Vancouver, Canada (Travelling Exhibition organised by the British Council)
City Art Gallery, 'Henry Moore', Auckland, New Zealand (Travelling Exhibition organised by the British Council)
Canterbury Society of Arts, 'Henry Moore', Christchurch, New Zealand (Travelling Exhibition organised by the British Council)
Public Art Gallery, 'Henry Moore', Dunedin, New Zealand (Travelling Exhibition organised by the British Council)
National Art Gallery of New Zealand, 'Henry Moore', Wellington, New Zealand (Travelling Exhibition organised by the British Council)
George V Gallery, 'Henry Moore', Port Elizabeth, South Africa (Travelling Exhibition organised by the British Council)
Rhodes Centenary Art Gallery, 'Henry Moore', Salisbury, South Africa (Travelling Exhibition organised by the British Council)
National Museum, 'Henry Moore', Bulawayo, Zimbabwe (Travelling Exhibition organised by the British Council;
Art Gallery, 'Henry Moore', Johannesburg, South Africa (Travelling Exhibition organised by the British Council)
Leicester Galleries, 'Exhibition of Recent Sculpture and Early Life Drawings by Henry Moore', London, UK
Tomislav Pavilion, Zagreb, Croatia (Travelling Exhibition)
Kalemegdan Pavilion, Belgrade, Serbia (Travelling Exhibition)
Moderna Galerija, Ljubljana, Slovenia (Travelling Exhibition)
Daud Pash Hamaki, Skopje, Macedonia (Travelling Exhibition)
University of Colorado, Boulder CO (Travelling Exhibition)
Art Museum, Denver CO (Travelling Exhibition)
University of Wyoming, Laramie WY (Travelling Exhibition)
1954
Leicester Galleries, 'Exhibition of New Bronzes by Henry Moore', London, UK
Curt Valentin Gallery, New York NY
1953
Kestner Gesellschaft, 'Henry Moore', Hanover, Germany (Travelling Exhibition organised by the British Council)
Haus der Kunst, 'Henry Moore', Munich, Germany (Travelling Exhibition organised by the British Council)
Städelisches Kunstinstitut, 'Henry Moore', Frankfurt a. M., Germany (Travelling Exhibition organised by the British Council)
Staatsgalerie, 'Henry Moore', Stuttgart, Germany (Travelling Exhibition organised by the British Council)
Kunsthalle, Mannheim, 'Henry Moore', Mannheim, Germany (Travelling Exhibition organised by the British Council)
Kunsthalle, 'Henry Moore', Bremen, Germany (Travelling Exhibition organised by the British Council)
Stadtverwaltung Göttingen, 'Henry Moore', Göttingen, Germany (Travelling Exhibition organised by the British Council)
Der Senat für Volksbildung, 'Henry Moore', Berlin, Germany (Travelling Exhibition organised by the British Council)
Comitee voor Artistieke Werking, Antwerp, Belgium
Institute of Contemporary Arts, 'Henry Moore: Figures in Space, Drawings', London, UK
1952
Royal Academy of Arts, 'Henry Moore: Skulpturer och Teckningar', Stockholm, Sweden (Travelling Exhibition organised by Riksförbundet for Bildande Konst and the British Council)
Akademien, 'Henry Moore: Skulpturer och Teckningar' , Norrköping, Sweden (Travelling Exhibition organised by Riksförbundet for Bildande Konst and the British Council)
Akademien, 'Henry Moore: Skulpturer och Teckningar', Orebro, Sweden (Travelling Exhibition organised by Riksförbundet for Bildande Konst and the British Council)
Kunstmuseum, 'Henry Moore: Skulpturer och Teckningar', Göteborg, Sweden (Travelling Exhibition organised by Riksförbundet for Bildande Konst and the British Council)
Kunstföreningen, 'Henry Moore: Skulpturer og Tegninger', Copenhagen, Denmark (Travelling Exhibition)
Kunstnernes Hus, 'Henry Moore: Skulpturer og Tegninger', Oslo, Norway (Travelling Exhibition)
Kunstföreiningen, 'Henry Moore: Skulpturer og Tegninger', Trondheim, Norway (Travelling Exhibition)
Kunstföreiningen, 'Henry Moore: Skulpturer og Tegninger', Bergen, Norway (Travelling Exhibiton)
Boymans-van Beuningen Museum, Rotterdam, The Netherlands
Samlaren Gallery, 'Henry Moore: Skulptur, Teckningar', Stockholm, Sweden
1951
Haus am Waldsee, 'Henry Moore: Zeichnungen, Kleinplastik, Graphik', Berlin, Germany (Travelling Exhibition organised by the British Council)
Albertina, 'Henry Moore: Zeichnungen, Kleinplastik, Graphik', Vienna, Austria (Travelling Exhibition organised by the British Council)
Neue Galerie der Stadt Linz, 'Henry Moore: Zeichnungen, Kleinplastik, Graphik', Linz, Austria (Travelling Exhibiton organised by the British Council)
Leicester Galleries, 'Exhibition of New Bronzes and Drawings by Henry Moore', London, UK
Tate Gallery, 'Sculpture and Drawings by Henry Moore', London, UK
Buchholz Gallery, New York NY
1950
Galería de Arte Mexicana, 'Exposición de Dibujos de Henry Moore', Mexico City, Mexico
Galerías Arguitae, Guadaljara, Mexico
1949
Palais des Beaux-Arts, 'Exposition Henry Moore: Sculptures, Dessins', Belgium, Belgium
Musée Nationale d'Art Moderne, Paris, France
Stedelijk Museum, Amsterdam, Netherlands
Kunsthalle, 'Henry Moore: Ausstellung von Skulpturen und Zeichnungen', Hamburg, Germany
Kunsthalle, Berne, Switzerland
Zappeion Gallery, Athens, Greece
City Art Gallery, 'Henry Moore: Sculpture and Drawings 1923 to 1948', Wakefield, UK (Travelling Exhibition)
City Art Gallery, 'Henry Moore: Sculpture and Drawings 1923 to 1948', Manchester, UK (Travelling Exhibition)
1948
Roland, Browse and Delbanco, 'Henry Moore: Drawings and Maquettes from 1928 to 1948', London, UK
Galleria d'Arte Moderna, 'Sculpture and Drawings by Henry Moore', Milan, Italy
La Biennale di Venezia, 'Sculpture and Drawings by Henry Moore', Venice, Italy
Art Council Gallery, 'A Retrospective Exhibition of Drawings by Henry Moore', Cambridge, UK
1947
Art Gallery of New South Wales, 'Exhibition of Sculpture and Drawings by Henry Moore', Sydney, Australia (Travelling Exhibition organised by the British Council)
Tasmanian Museum and Art Gallery, 'Exhibition of Sculpture and Drawings by Henry Moore', Hobart, Australia (Travelling Exhibition organised by the British Council)
National Gallery of Victoria, 'Exhibition of Sculpture and Drawings by Henry Moore', Melbourne, Australia (Travelling Exhibition organised by the British Council)
Art Gallery of South Australia, 'Exhibition of Sculpture and Drawings by Henry Moore', Adelaide, Australia (Travelling Exhibition organised by the British Council)
Art Gallery of Western Australia, 'Exhibition of Sculpture and Drawings by Henry Moore', Perth, Australia (Travelling Exhibition organised by the British Council)
1946
Museum of Modern Art, 'Henry Moore: Retrospective Exhibition', New York NY (Travelling Exhibition)
Art Institute of Chicago, 'Henry Moore: Retrospective Exhibition', Chicago IL (Travelling Exhibiiton)
Museum of Modern Art, 'Henry Moore: Retrospective Exhibition', San Francisco CA (Travelling Exhibition)
Phillips Memorial Gallery, 'Drawings and One Work in Sculpture by Henry Moore', Washington DC
1945
Berkeley Galleries, London, UK
1943
Buchholz Gallery, 'Henry Moore: 40 Watercolors and Drawings', New York NY
1940
Leicester Galleries, London, UK
1939
Mayor Gallery, 'Exhibition of Drawings for Sculpture by Henry Moore', London, UK
1936
Leicester Galleries, London, England
1935
Zwemmer Gallery, London, UK
1933
Leicester Galleries, London, UK
1931
Leicester Galleries, 'Exhibition of Sculpture and Drawings by Henry Moore', London, UK
1928
Warren Gallery, London, UK

View more +
Selected Group Exhibitions
2021
Hauser & Wirth, 'Drawing On The Mind', Cur. by Zhang Enli, Central, Hong Kong
2019
Royal Horticultural Society Garden, 'Sculpture at RHS Wisley', Wisley, UK
2018
The Collection, 'From the Land - Henry Moore, Ewen Henderson & Other Artists', Lincoln, UK
Firstsite, 'Bronze Age', Colchester, UK
2017
Stiftung Seebüll Ada und Emil Nolde, 'Emil Nolde meets Henry Moore', Neukirchen, Germany
2016
Gemeentemuseum Den Haag, 'From Rodin to Bourgeois: Sculpture in the 20th Century', The Hague, The Netherlands
2015
Schaulager, 'Future Present. Emanuel Hoffmann Foundation. Contemporary Art from Classic Modernism to the Present Day', Basel, Switzerland
2014
Tate Britain, 'Kenneth Clark – Looking for Civilisation', Tate Britain, London, UK
Kunstsammlung Nordrhein-Westfalen, 'Beneath the Ground: From Kafka to Kippenberger', Düsseldorf, Germany
Akademie-Galerie, Kunstakademie Düsseldorf, 'Tracing the Process of Invention - Sculptors Draw', Dusseldorf, Germany
Wilhelm-Hack Museum, 'hackordnung #5 FormFRElheit', Ludwigshafen am Rhein, Germany
Sprengel Museum, 'Those Early Years: British and German Art after 1945', Hanover, Germany
Museo Nacional Del Prado, 'El Greco and Modern Painting', Madrid, Spain
Sheep Field Barn Gallery, Henry Moore Foundation, 'Body and Void: Echoes of Moore in Contemporary Art', Perry Green, UK
Centre Pompidou-Metz, 'Simple Shapes', Paris, France
Pallant House Gallery, 'Conscience and Conflict: British Artists and the Spanish Civil War', Chichester, UK
2013
Norton Simon Museum of Art, 'Beyond Brancusi: The Space of Sculpture', Pasadena CA
Museumlandschaft Hessen, 'Neu gesehen', Kassel, Germany
Palazzo Reale, 'Critique and Crisis: Art in Europe since 1945', Milan, Italy (Travelling Exhibition)
Kumu Art Museum, 'Critique and Crisis: Art in Europe since 1945', Tallinn, Estonia (Travelling Exhibition)
Kunsthalle Mannheim, 'NUR SKULPTUR!', Mannheim, Germany
Martin Gropius Bau, 'From Beckmann to Warhol. 20th and 21st century art. The Bayer Collection', Berlin, Germany
Carré d'Art, 'Moving. Norman Foster on Art', Nimes, France
2012
V&A Museum of Childhood, 'Modern British Childhood 1948-2012', London, UK
Deutsches Historisches Museum, 'Critique and Crisis: Art in Europe since 1945', Berlin, Germany (Travelling Exhibition)
Fundación Juan March, 'Treasure Island: British Art from Holbein to Hockney', Madrid, Spain
Royal Academy of Arts, 'Bronze', London, UK
Museum für Neue Kunst, 'Linie und Skulptur im Dialog', Freiburg, Germany
Scottish National Gallery of Modern Art, 'Picasso and Modern British Art', Edinburgh, UK
Tate Britain, 'Picasso and Modern British Art', London, UK
MoMA - Museum of Modern Art, 'Figure in the Garden', New York NY
Tate Liverpool, 'DLA Piper Series: This is Sculpture', Liverpool, UK
Museum Ludwig, 'Before the Law: Post-War Sculpture and Spaces of Contemporary Art', Cologne, Germany
Manifesta 9, 'The Deep of the Modern', Genk, Limburg, Belgium
Kunsthaus Kaufbeuren, 'Nationalgalerie Berlin zu Gast. Kleinplastiken aus der Sammlung', Kaufbeuren, Germany
Musée d'art de Joliette, 'Centuries of Images', Joliette, Canada
Kunsthalle im Lipsiusbau, Staatliche Kunstsammlung, 'In the Network of Modernism', Dresden, Germany
2010
The Baltimore Museum of Art, 'Advancing Abstraction in Modern Sculpture', Baltimore MD
Museum Würth, '75/65. The Collector, the Company and Its Collection', Kunzelsau, Germany
2007
Henry Moore Institute, 'Figuring Space: Sculpture/Furniture from Mies to Moore', Leeds, UK
2003
Kunstmuseum Wolfsburg, 'From Blast to Freeze: British Art in the 20th Century', Wolfsburg, Germany (Travelling Exhibition)
Les Abattoirs - Musèe d'Art Contemporain, 'From Blast to Freeze: British Art in the 20th Century', Toulouse, France (Travelling Exhibition)
1998
Kettle's Yard, 'Carving Mountains: Modern Stone Sculpture in UK 1907-1937', Cambridge, UK (Travelling Exhibition)
De la Warr Pavillion, 'Carving Mountains: Modern Stone Sculpture in UK 1907-1937', Bexhill-on-Sea, UK (Travelling Exhibition)
1994
Kulturhaus, 'Giacometti, Marini, Moore, Wotruba', Graz, Austria
1990
Museum and Art Gallery, 'Like the Face of the Moon: The Art of Discovery', Bolton, UK (Travelling Exhibition)
City Museum and Art Gallery, 'Like the Face of the Moon: The Art of Discovery', Stoke on Trent, UK (Travelling Exhibition)
Mead Gallery, 'Like the Face of the Moon: The Art of Discovery', Coventry, UK (Travelling Exhibition)
Glynn Vivian Art Gallery, 'Like the Face of the Moon: The Art of Discovery', Swansea, UK (Travelling Exhibition)
View more +
Selected Awards, Grants, Commissions
1984
Commission of Large Reclining Figure, 1984, Overseas Banking Corporation, Singapore
1984
Awarded title of Commandeur de l'Ordre national de la Légion d'honneur, France
1983
Commission, for St Paul's Cathedral, London, UK
1979
Three Piece Sculpture: Vertebrae, 1979 is commissioned for the Dallas City Hall, Dallas TX
1975
Elected President of the Turner Society, UK
1974
Commission of Goslar Warrior, 1974, Goslar, Germany
1971
Appointed Honorary Fellow of the Royal Institute of British Architects, UK
1968
Awarded the Erasmus Prize, Arnhem, The Netherlands
1963
Recipient of the Order of Merit, UK
1956
Commission for the UNESCO headquarters in Paris, which is unveiled in 1958, Unesco Reclining Figure, 1958 in Roman travertine marble, Paris, France
1955
Moore's only work in brick is commissioned for an extension to the Bouwcentrum, Rotterdam's Building Centre, Rotterdam, The Netherlands
1955
Commission Harlow New Town, the family group was chosen to represent the young families living in the town, Harlow, UK
1955 - 1974
Elected Trustee of the National Gallery, UK
1955
Made a Companion of Honour in the Queen's Birthday Honours List, UK
1953
Awarded the International Sculpture Prize, São Paolo, Brazil
1952
Commission to create the screen for the Time/Life building on Bond Street, London, UK
1949 - 1956
Re-elected Trustee of the Tate Gallery, UK
1948
Awarded the International Sculpture Prize, Venice Biennale, Venice, Italy
1947
Elected member, Royal Fine Art Commission, UK
1945
Awarded an Honorary Degree, University of Leeds, Leeds, UK
1942
Appointed to the Art Panel of the Council for the Encouragement of Music and the Arts, UK
1941 – 1948
Elected Trustee of the Tate Gallery, UK
View more +
Bibliography
Monographs
2020
Droth, Martina (ed.), 'Bill Brandt. Henry Moore', New Haven CT: Yale Center for British Art, 2020
2019
Higham, Hannah, Cox, Sylvia, 'Henry Moore Drawings The Art of Seeing', Perry Green: Henry Moore Foundation, 2019
Capwell, Tobias,
Higham, Hannah, 'Henry Moore. The Helmet Heads', London: Philip Wilson Publishers Ltd, 2019
Cholmondeley, David, Barassi, Sebastiano, 'Henry Moore At Houghton Hall', King's Lynn: Houghton Hall, 2019
2018
Fonds Héléne and Édouard Leclerc Pour La Culture, Henry Moore Foundation (eds.), 'Henry Moore', Landerneau: Fonds Héléne and Édouard Leclerc Pour La Culture, 2018
2017
Barassi, Sebastiano, Moore, Tania, Wood, Jon, 'Becoming Henry Moore', London: Art/Books, 2017
Kornhoff, Oliver (ed.), 'Henry Moore. Vision. Creation. Obsession', Munich: Hirmer Verlag with Arp Museum and Henry Moore Foundation, 2017
2016
Arnhold, Hermann, 'Henry Moore. Impuls für Europa', Munich: Hirmer Verlag Gmbh & Münster: LWL-Museum für Kunst Kultur, 2016
2015
Barassi, Sebastiano, Eggelhöfer, Fabienne, Gale, Matthew, 'Henry Moore', Cologne: Snoeck, 2015
Pheby, Helen, 'Henry Moore. Back to a Land', Wakefield: Yorkshire Sculpture Park, 2015
Calvocoressi, Richard, de Waal, Edmund, 'Henry Moore: Wunderkammer - Origin of Forms', London: Gagosian Gallery, 2015
2014
Feldman, Anita, 'Body & Void. Echoes of Moore in Contemporary Art', Perry Green: The Henry Moore Foundation, 2014
2013
The Ashmolean Museum, Oxford (ed.), 'Francis Bacon. Henry Moore. Flesh and Bone', Oxford: Ashmolean Museum, 2013
2012
Read, Benedict, Moore, Henry, 'Henry Moore and the Arts Council Collection', London : Hayward Gallery Publishing, 2012
Tregulova, Zelfira (ed.), 'Henry Moore and the Classic Canon of Modern Sculpture', Moscow: kremlin Museums, 2012
2011
Feldman, Anita, Woodward, Malcolm, 'Henry Moore. Plasters', London: Royal Academy of Arts, 2011
Eustace, Suzanne, 'Moore at Hatfield', London: Gascoyne Holdings Press, 2011
Calvocoressi, Richard, Piotrovsky, Mikhail, Feldman, Anita, 'Blitz and Blockade. Henry Moore at the Hermitage', London: Fontaka, 2011
2010
Stephens, Chris Stephens (ed.), 'Henry Moore', London: Tate Publishing, 2010
Moore, Henry, 'Henry Moore. On Being a Sculptor', London: Tate Publishing, 2010
Moore, Mary, Wagner, Anne M., Collings, Matthew, 'Henry Moore. Ideas for Sculpture', Zurich: JRP Ringier, Hauser & Wirth Publishers, 2010
Causey, Andrew, 'The Drawings of Henry Moore', Farnham: Lund Humphries, 2010
Mitchinson, David, 'Henry Moore. Prints and Portfolios', Geneva: Patrick Cramer, 2010
2009
Mitchinson, David, Fath, Manfred, 'Henry Moore. From the Inside Out. Plasters - Carvings - Drawings', Munich: Prestel Verlag, 2009
2008

Lichtenstern, Christa, 'Henry Moore. Work–Theory–Impact', London: Royal Academy of Arts, 2008

Feldman, Anita (ed.), 'Henry Moore Textiles', Aldershot: Lund Humphries, 2008
2007
Feldman, Anita, Eustace, Suzanne,
'Moore at Kew', London: Kew Publishing, 2007
Lewison, Jeremy, 'Henry Moore. 1898-1986', Cologne: Taschen, 2007
Curtis, Penelope (ed.), 'Figuring Space: Sculpture/Furniture from Mies to Moore', 2007
Mitchinson, David, 'Hoglands. The Home of Henry and Irina Moore', Aldershot: Lund Humphries, 2007
Dufrêne, Thierry, Feldman, Anita, Mitchinson, David, 'Henry Moore et la Mythologie', Paris: Paris Musées, 2007
Dyer, Angela (ed.), 'Moore. The Graphics ', Hertfordshire: The Henry Moore Foundation, 2007
2006

Borras, Maria, Bennet, Luisa, Feldman, Anita, (et al.), 'Henry Moore', Barcelona: Fundacio La Caixa, 2006
Mitchinson, David, 'Celebrating Moore. Works from the Collection of the Henry Moore Foundation', London: Lund Humphries, 2006
2004

Grant, Colin (ed.), 'Henry Moore at Dulwich Picture Gallery', London: Scala Publishers Ltd, 2004
2003

Berthoud, Roger, 'The Life of Henry Moore' [2nd ed.], London: Giles de la Mare, 2003
Dyer, Angela (ed.), 'Henry Moore: Imaginary Landscapes', Perry Green: The Henry Moore Foundation, 2003
2002

Andrews, Julian, 'London's War. The Shelter Drawings of Henry Moore', London: Lund Humphries, 2002

Fondation Maeght, 'Henry Moore', Saint-Paul: Fondation Maeght, 2002
Wilkinson, Alan (ed.) 'Henry Moore: Writings and Conversations', London: Lund Humphries, 2002
2001

Kosinski, Dorothy M., 'Henry Moore. Sculpting the 20th Century', New Haven: Yale University Press, 2001
1996

Allemand-Cosneau, Claude, Fath, Manfred, Mitchinson, David, 'Henry Moore: From the Inside Out', Munich: Prestel Verlag, 1996
Garrould, Ann (ed.), 'Henry Moore: Complete Drawings', Vols. 1-7, London/ Much Hadham: Lund Humphries/The Henry Moore Foundation, 1996-2003 (cat. rais.)
1995

Cohen, David, 'Moore in the Bagatelle Gardens', London/Paris: Lund Humphries, 1995
1994
Lichtenstern, Christa, 'Henry Moore Zwiteilig Liegende 1', Frankfurt Leipzig,1994
1993 

Rose, Bernice, 'Henry Moore: A Sculptor's Drawings', New York: Pace Gallery, 1993 (exh. cat.)
___, 'Henry Moore. Disegni, sculpture, grafica', Milan: Electa, 1993
1992
Davis, Alexander (ed.), 'Henry Moore Bibliography', Vols. 1-5, Much Hadham: The Henry Moore Foundation, 1992-1994
James, Philip, 'Henry Moore on Sculpture', New York: Da Capo Press, 1992

Mitchinson, David, Stallabrass, Julian, 'Henry Moore', New York: Rizzoli, 1992
Trimm, Timothee, 'Henry Moore Intime', Paris: Editions du Regard, 1992
1988

Compton, Susan (ed), 'Henry Moore', London: Royal Academy of Arts, 1988

Garrould, Ann, 'Henry Moore Drawings', London: Thames and Hudson, 1988

Power, Valérie, 'Henry Moore: Tapestries', London: Diptych, 1988
Gelburd, Gail, 'Henry Moore: Mother and Child Etchings', Much Hadham: Raymond Spencer Company, 1988
___, 'A Shelter Sketchbook', London: British Museum, 1988

Henry Moore: Sculpture 1923-1965, 'Drawings 1928-1950', London: New Art Centre, 1988
Mitchinson, David (ed.) 'Celebrating Moore: Works from the Collection of the Henry Moore Foundation', London: Lund Humphries, 1998

Seipel, Wilfried (ed), 'Henry Moore 1898 – 1986. Eine Retrospektive zum 100. Geburtstag', Vienna: Kunsthistorisches Museum/Skira, 1998 (exh. cat.)
1987

Berthoud, Roger, 'The Life of Henry Moore', London: Faber and Faber, 1987
Elliott, Ann, Mitchinson, David, 'Henry Moore. New Delhi 1987', New Delhi: National Gallery of Modern Art, 1987 (exh. cat.)
Gelburd, Gail (ed.), 'Mother and Child: The Art of Henry Moore', Hempstead: Hofstra University, 1987
1986

___, 'The Art of Henry Moore', Hong Kong: Hong Kong Museum of Art, 1986 (exh. cat.)

___, 'Henry Moore: My Ideas, Inspiration and Life as an Artist', London: Ebury Press, 1986
1985

Packer, William, 'Henry Moore: An Illustrated Biography', London: Weidenfeld & Nicolson, 1985
1984

Henry Moore. 'The Reclining Figure', Columbus: Columbus Museum of Art, 1984 (exh. cat.)
Wilkinson, Alan G., 'The Drawings of Henry Moore', London: Garland, 1984
___, 'Henry Moore: Sculpture in the Making', Leeds: Leeds City Art Gallery, 1984 (exh. cat.)
1983

Habarta, Gerhard, 'Henry Moore: Skulpturen, Zeichnungen, Grafiken', Vienna: Orangerie Palais Auersperg, 1983 (exh. cat.)
Strachan, Walter, 'Henry Moore: Animals', London: Aurum Press-Bernard Jacobson, 1984

___, 'Henry Moore', Caracas: Museo de Arte Contemporaneo, 1983 (exh. cat.)
1982

___, 'Henry Moore en Mexico', Mexico City: Museo de Arte Moderno, 1982 (exh. cat.)
1981

Aleixo, Jose, Ribeiro, Sommer, Barker, Ian + [et al.], 'Henry Moore', Lisbon: Fundacao Calouste Gulbenkian, 1981 (exh. cat.)
Fundacio Joan Miro, 'Henry Moore. Sculptures, Drawings, Graphics 1921-1981', Barcelona: Fundacio Joan Miro/Poligrafa, 1981 (exh. cat.)
Mitchinson, David, 'Henry Moore: Sculpture', Barcelona: Poligrafa, 1981
___, 'Henry Moore: Plastiken und Graphik', Salzburg: Galerie Welz, 1981 (exh. cat.)
1979

Bott, Gerhard, 'Henry Moore: Maquetten, Bronzen, Handzeichnungen', Darmstadt: Roether Verlag, 1979
Carandente, Giovanni, 'Mostra di Henry Moore', Florence: Il Bisonte Editore Nuovedizioni Enrico Vallecchi
, 1979
Read, John, 'Henry Moore: Portrait of an Artist', London: Whizzard Press, 1979
Deutsch, André, Wilkinson, Alan G., 'The Moore Collection in the Art Gallery of Ontario', Toronto, 1979
1978

Diamond, Michael, Lindsay, Vera, 'Henry Moore: Eightieth Birthday Exhibition', Bradford: Cartwright Hall/Lister Park, 1978

Shakerley, Geoffrey, Spendor, Stephen, 'Henry Moore: Sculptures in Landscape', London: Cassell Ltd, 1978
Steingraber, Erich, 'Henry Moore Maqueten', Munich: Pantheon/Studio Bruckmann, 1978

___, 'In Praise of Life: Henry Moore, Drawings and Sculptures', Iwaki City: Cultural Center, 1978 (exh. cat.)
1977

Sanesi, Roberto, 'Sul Linguaggio Organico di Henry Moore: annotazioni e diari', Pollenza-Macerate: Nuova Foglio, 1977

Wilkinson, Alan G., 'The Drawings of Henry Moore', Paris: Idea Books, 1977
___, 'Henry Moore. Sculptures et dessins', Paris: Orangerie des Tuileries, 1977 (exh. cat.)
1976

Müller, Georg (ed), 'Expo Henry Moore', Zurich: Zürcher Forum, 1976


Finn, David, 'Henry Moore: Sculpture and Environment', New York: Abrams, 1976
1975

McLeod, Margaret, 'Henry Moore: skuptur, techning, grafik 1923-1975', Oslo: Henie-Onstad Kunstsenter, 1975 (exh. cat)
1974

Clark, Kenneth, 'Henry Moore Drawings', London: Thames and Hudson, 1974
1973
Cramer, Gérald, Grant, Alistair, Mitchinson, David (eds.), 'Henry Moore: Catalogue of Graphic Work', Vols. I-IV, Geneva, 1973-1988
(cat. rais.)
Muller, Joseph-Emile, 'Henry Moore: Rétrospective 1927-1970', Luxembourg: Musée d'Histoire et d'Art, 1973 (exh. cat.)
1972

Carandente, Giovanni (ed), 'Moore e Firenze', Florence: Forte di Belvedere, 1972

San Lazzaro, Gualtieri di, 'Hommage à Henry Moore', Paris, 1972

___, 'Small Bronzes and Drawings by Henry Moore', London: The Lefevre Gallery, 1972 (exh. cat.)

___, 'Henry Moore: sculture, disegni, grafica', Florence: Il Bisonte, 1972
1971

Argan, Guilio Carlo, 'Henry Moore', Milan: Fabbri, 1971

Fezzi, Elda, 'Henry Moore', London: Hamlyn, 1971

Mitchinson, David, 'Henry Moore: Unpublished Drawings', Turin: Edizione d'Arte Fratelli Pozzo, 1971

Steingraber, Erich, Dube, Wolf-Dieter, 'Henry Moore 1961-1971', Munich: Staatsgalerie Moderner Kunst, 1971 (exh. cat.)

___, 'Henry Moore', Munich: Staatsgalerie Moderner Kunst, 1971 (exh. cat.)
1970

Melville, Robert, 'Henry Moore. Sculpture and Drawings 1921-69', London: Thames and Hudson, 1970
Wilkinson, Alan, 'Henry Moore: Drawings, Watercolours, Gouaches', Basel: Galerie Beyeler, 1970 (exh. cat.)
___, 'Henry Moore: Plastiken und Zeichnungen', Cologne: Baukunst-Galerie, 1970 (exh. cat.)

___, 'Henry Moore. Carvings 1961-1970, Bronzes 1961-1970', New York: Knoedler and Marlborough, 1970
1969

___, 'Henry Moore in Japan', Tokyo: National Museum of Modern Art, 1969 (exh. cat.)
1968

Hedgecoe, John, 'Henry Spencer Moore', London: Nelson, 1968

Jianou, Ionel, 'Henry Moore', Paris: Arted, 1968

Mitchinson, David (ed.), 'Henry Moore', Otterloo: Rijksmuseum Kröller-Müller, Rotterdam: Museum Boijmans-Van Beuningen, 1968 (exh. cat.)

Russell, John, 'Henry Moore', London: Allen Lane The Penguin Press, 1968

Sylvester, David, 'Henry Moore', London: Lund Humphries, 1968
1966

Gamzu, Haim (ed.), 'Henry Moore', Tel Aviv: Tel Aviv Museum, 1966 (exh. cat)

Hall, Donald, 'Henry Moore: The Life and Wolf of a Great Sculptor', London: Gollancz, 1966


Read, Herbert, 'Henry Moore: Mother and Child', London: Unesco-Collins, 1966

___, 'Henry Moore', Prague: Narodni Galerie, 1966 (exh. cat.)

___, 'Sculptures and Drawings by Henry Moore', Washington: Smithsonian Institution, 1966 (exh. cat.)

___, 'Expozitia Henry Moore: sculpture si desen din 1924 pina in 1964', Bucharest: Sala Dalles, 1966
1965

Read, Herbert, 'Henry Moore: A Study of His Life and Work', London: Thames & Hudson, 1965
1964

___, 'Henry Moore: esculturas, dibujos 1928-1962', Caracas: Museo de Bellas Artes, 1964 (exh. cat.)

___, 'Esculturas y Dibujos de Henry Moore', Mexico City: Instituto Nacional de Bellas Artes, 1964 (exh. cat.)
1963

___, 'Henry Moore: Zeichnungen und Aquarelle aus den Jahren von 1929 bis 1962', Berlin: Kunstamt Reinickendorf, 1963

___, 'Henry Moore: an exhibition of sculpture and drawings', Wakefield: Wakefield City Art Gallery, 1963 (exh. cat.)
1962

___, 'Henry Moore: exhibition of sculpture and drawings', Oxford: Ashmolean Museum, 1962 (exh. cat.)

1961

___, 'Henry Moore', Rome: Galleria Nazionale d'Arte Moderna, 1961 (exh. cat.)

___'Henry Moore', Berlin: Akademie der Künste, 1961 (exh. cat.)
1960

___, 'Henry Moore', Essen: Museum Folkwang, 1960 (exh. cat.)
___, 'Henry Moore', Zurich: Kunsthaus Zürich, 1960 (exh. cat.)
Grohmann, Will, 'The Art of Henry Moore', Berlin: Rembrandt Verlag, 1960
1959
___, 'The Archetypal World of Henry Moore', London: Routledge, 1959
1957

Sylvester, David (ed), 'Henry Moore. Volume 1. Sculpture and Drawings 1921-48', London: Lund Humphries, 1957
1956

Holdin, J.P., 'Henry Moore', Amsterdam: De Lange, 1956
1953

___, 'Henry Moore', Hanover: Kestnergesellschaft, 1953

___, 'Henry Moore', London: Lund Humphries, 1953
1951

Sylvester, A.D.B., 'Sculpture and Drawings by Henry Moore', London: Tate Gallery, 1951 (exh. cat.)
1944
Read, Herbert, Sylvester, David, Bowness, Alan (eds.), 'Henry Moore: Complete Sculpture', Vols. 1-6, London: Lund Humpries, 1944-1988
(cat. rais.)
1943

Grigson, Geoffrey, 'Henry Moore', London: Penguin Books, 1943
1936

___, 'Catalogue of an Exhibition of Sculpture and Drawings by Henry Moore', London: Leicester Galleries, 1936 (exh. cat.)
1934
Read, Herbert, 'Henry Moore, Sculptor: An Appreciation', London: Zwemmer, 1934
View more +
Selected images
View all
Gallery Exhibitions
View all