About
Henry Moore Ideas for Sculpture
Rare and unseen works from the Henry Moore Family Collection
Exhibition design by Zaha Hadid and Patrik Schumacher
Hauser & Wirth presents a major exhibition of important and previously unseen works from the Henry Moore Family Collection. Our Old Bond Street gallery has been transformed by Zaha Hadid & Patrik Schumacher, whose bold organic creations – specially commissioned for the exhibition – provide a sympathetic and novel context for re-approaching Moore's oeuvre. Celebrated as the most important British sculptor of the twentieth century, Moore's radical addressing of the human form and uncompromising vision make him an abiding influence for contemporary artists.
The exhibition features works with close family ties, offering a highly personalised view of Moore's private world. More than 60 works spanning 50 years of his career are on display at Hauser & Wirth, from drawings that he executed as a student at the Royal College to pieces he made in the 1970s. Sculptures on show include one of his earliest carvings, significant reclining figures, the seminal Warrior with Shield (1953/4) and Mother and Child (1953), Moore's most striking and violent treatment of this theme. Among the drawings are life studies from the 1920s, the highly experimental Ideas for Sculpture works from the 1930s, an intimate depiction of his own wife and child, and the 18 part literary commission Prométhée Sketchbook (1949/50). These bodies of work, curated by Gregor Muir and selected with the Moore family, betray the ceaseless experimentation and invention that shaped his practice and the tender, often candid attention with which he examined human life.
The human figure, enigmatically isolated or in relationship with others, is both the stimulus and the crux of all Moore's works. For him, creating his sculptures wasn't so much an abstract exercise in looking at the human figure but a personal investigation and violation of the artist's own body: "when I carve into the chest," he told David Sylvester, "I feel as if I were carving into my own."
Hadid and Schumacher have dramatically reconfigured the space of the downstairs Red Room gallery into an organic white space, whose biomorphic walls cocoon works on paper. Many of these are life drawings from the 1920s, never before shown in public and representing both the origins of Moore's practice and the importance of a discipline he regarded as vital: 'You can't understand life drawing without being emotionally involved,' he wrote. 'It really is a deep, long struggle to understand oneself'. Occupying the centre of the room is Hadid and Schumacher's Henry Moore Table, a curvilinear steel structure whose multiple mirrored surfaces allow viewers to experience the sculptures it platforms truly in the round, encouraging an almost tactile appreciation of the works. These include one of Moore's first attempt at carving, the tiny Two Heads: Mother and Child (1923) chiselled from Cornish Serpentine stone and two later works whose subjects are unusual amongst his oeuvre: Ear Piece (1962), whose peculiar amorphous shape suggests rather than describes the body; and the enigmatic Anvil (1966).
The table also supports Reclining Woman (1927), one of the earliest major sculptures of what was to become the artist's favourite subject. Moulded from concrete, a material whose properties were just being discovered by artists, it reveals the influence of the Mexican sculpture 'Chacmool' and carved the terrain that Moore's future works would inhabit: its taut, confident pose and heavy rounded limbs conveying the solid, imperviousness of landscape and re-imagining the figure as a site for evocative experimentation with form. Reclining Figure (1935), carved out of Corsehill stone, represents the most surreal treatments of this theme. Its shape is more symmetrical and less organic than his other works, the figure forming a smooth, horizontal slab from which its head protrudes as though attempting to raise itself from a tomb. In the later Working Model for Reclining Figure (1951) the body has become intriguingly architectural, riven in two, a being glimpsed from within a spiralling external form.
The personal nature of the exhibition comes to the fore in Mother Nursing a Child (1946), which depicts his wife Irina and her baby, their only child, Mary Moore, and two drawings of The Artist's Hands, made when Moore was in his seventies. A further excursion into their family life is granted by the magnificent Bird Table (1942) that greets visitors in the foyer. This is a concrete cast Moore made of a terracotta version that stood on the lawn of the family home, Hoglands, which he'd created not long after they'd moved there during the Second World War. Standing at six feet high, it's an exuberant totem-esque structure whose tiers jangle together different geometries and artistic cultures.
On the stairs leading to the second floor are 18 drawings from Moore's famous Prométhée Sketchbook (1949/50). This, the second literary commission he undertook, illustrated André Gide's translation of Goethe's 'Prometheus', which was published in 1951. Combining watercolour and wax crayon, these depict Prometheus as a noble, spectral figure, rather than the tormented victim often portrayed.
A series of densely scribed pages from the artist's sketchbooks of the 1930s entitled Ideas for Sculpture hang in the upstairs gallery. These reveal the melding of observation and imagination that informed Moore's move away from the primitive-looking figures of his early works towards the uncanny, metamorphosed forms that characterised his output from the pre-war decade. Ideas for Sculptures: Transformation Drawing, Lobster Claw (1932) is one of the earliest of what Moore termed his 'Transformation Drawings'. These studies of gnarled and disfigured natural objects found on the Norfolk and Suffolk coasts gradually mutated through successive sketches into recognisable figures from which he would then make carvings. In Ideas for Lead Sculptures (1939) and Standing Figures (1940) he experimented with the possibility for upright figures, depicting people as hollow, ancient-looking structures whose insides appear to have been eviscerated by the elements. Their whittled skeletons — reminiscent of snail shells and other found carapaces — powerfully suggest a vulnerable, wounded body imperfectly protected.
The division of the body into internal/external forms explored by these drawings became one of Moore's major themes, directly relating to his feelings about war and to his investigation in the early 1950s into armour. In the uncanny Helmet Head and Shoulders (1952) the helmet, pierced with two tiny eye-like holes and curiously organic looking, seems not to be a means of protection but rather to stand in for the head itself, eerily bereft and empty.
Similarly dark, Warrior With Shield (1953/4) is one of very few male figures that Moore made. He explained in a letter of the time: 'The idea for the warrior evolved from a pebble I found on the sea shore in the summer of 1953, and which reminded me of the stump of a leg, amputated at the hip…. At first it was reclining but I added a shield and altered its position into a seated figure so it changed from an inactive pose into a figure, which, though wounded, is still defiant. The head has a blunted and bull-like power but also a sort of dumb animal acceptance and forbearance of pain.' Conveying action and suffering, alertness and mutilation, the figure, Moore suggested, was 'emotionally connected with one's feelings and thoughts about England during the crucial and early part of the last war….'; its up-held shield protecting itself from above evoking memories of aerial bombardment.
This appreciation of a jagged, energised form is heightened in the bronze Mother and Child (1953) which portrays a mother choking her baby by the neck as it attempts to breastfeed, her face aggressively spiky and ridged and the infant nearly the same size as her. The most disturbing all of Moore's treatments of this theme, it is also, in its active depiction of struggle between two otherwise intimate beings, one of the few explicit representations of violence in his oeuvre.
Selected images
View all
Installation views
View all
About the artist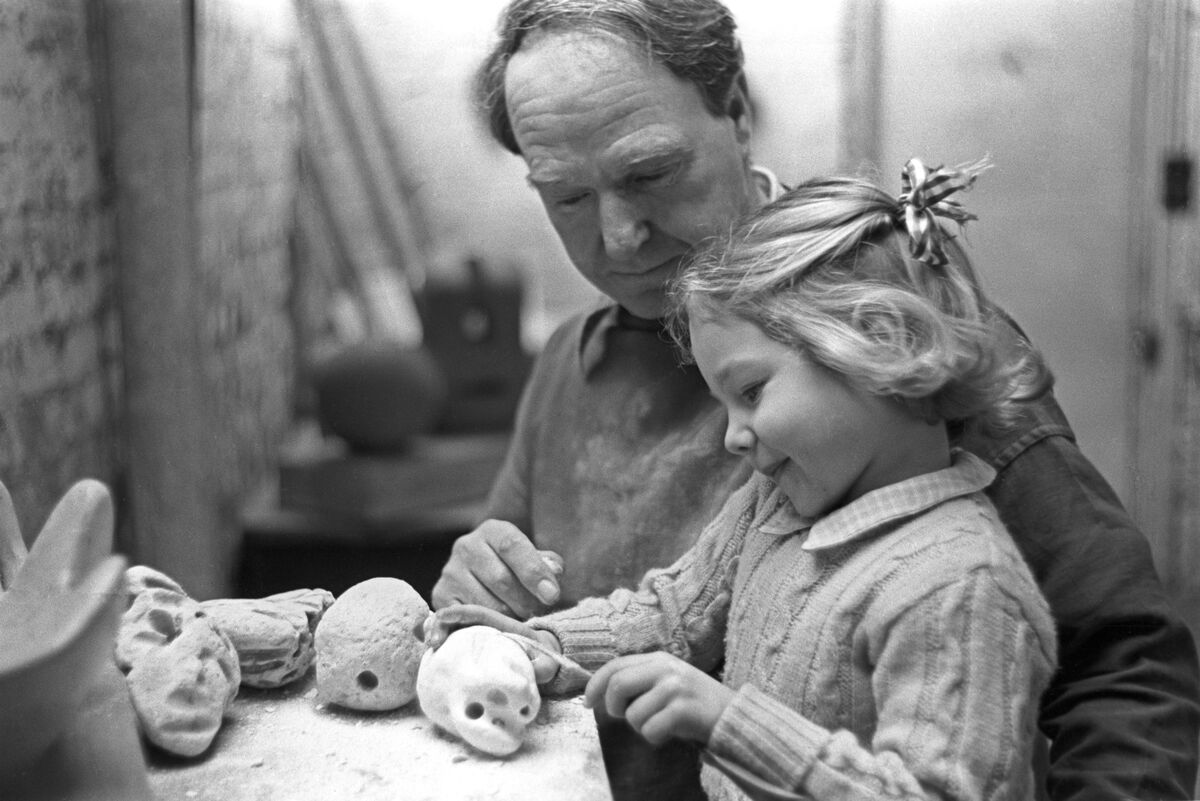 The human figure, enigmatically isolated or in relationship with others, is both the stimulus and the crux of all Henry Moore's works. For him, creating his sculptures was not so much an abstract exercize in looking at the human figure, but a…
Learn more