Strategic Climate Funds
As our industry evolves its' understanding of environmental sustainability, the Gallery Climate Coalition have developed the concept of Strategic Climate Funds. Art to Acres and other environmental advisors to the GCC have developed this terminology to differentiate carbon offsetting from funds that help accelerate wider systemic change. Our priority is to reduce our emissions through our energy decarbonisation programs, influencing our suppliers and making changes to minimise waste in all we do. While reduction is our priority, in addition we are building a program of carbon sequestering and donations.
Hauser & Wirth and Art to Acres: Supporting Permanent Forest Conservation
Over 4,000 acres have been conserved by gallery efforts.
Beginning in 2020, we have funded carbon-dense forest conservation through our partnership with Art to Acres, a non-profit that supports permanent old-growth forest conservation in high biodiversity regions. Through this partnership, in 2020 we supported the conservation of 1,300 hectares (or 3,200 acres) of cloud forest, a contribution matched by Global Wildlife Conservation, ensuring a positive impact on climate, biodiversity, and irreplaceable ecosystems.
Through a fundraising print by Jenny Holzer launched on World Earth Day in 2020, an additional 596 acres of forest was conserved. With a fundraising print by Rashid Johnson released on World Earth Day in 2021, a further 500 acres of forest was conserved. To date, 4,296 acres have been conserved by gallery efforts.

 Art to Acres is a not-for-profit that connects the art community with permanent climate-based forest conservation and the protection of historic carbon reserves. The organization has orchestrated land conservation on behalf of approximately 50 artists, including gallery artists Rashid Johnson, Mika Rottenberg, George Condo and Jenny Holzer, and 30 museums or institutions such as the MCA Chicago, Guggenheim, Kunstmuseum Bonn and MOCA. To date, the initiative has supported the conservation of 22 million acres of forests. 100% of funds go to the land conservation acquisition or governmental designation selected; administrative and travel costs are paid by the non-profit board and partnering conservation non-profits. Funds receive project-dependent matching funds from partner foundations and projects focus on local leadership, indigenous-led conservation and carbon-dense landscapes. The non-profit organizes the due diligence, project research and matching funds to support conservative and scalable results.
Carbon Sequestering
In 2019, we double offset emissions by supporting certified forestry and biodiversity projects in cities and regions where the gallery is active through The Swiss Forest Protection project and The Garcia River project in California.
Swiss Forest Protection – Community climate action in the Swiss mountains
This forestry project in the mountainous Canton Schwyz of central Switzerland has set about increasing the carbon stock of 7,000 hectares of alpine forest through improved forest management. As a result, 8,000 tCo2e emissions are stored annually, 10+ species of native trees have been regenerated, and the habitat of rare and endangered birds have been protected.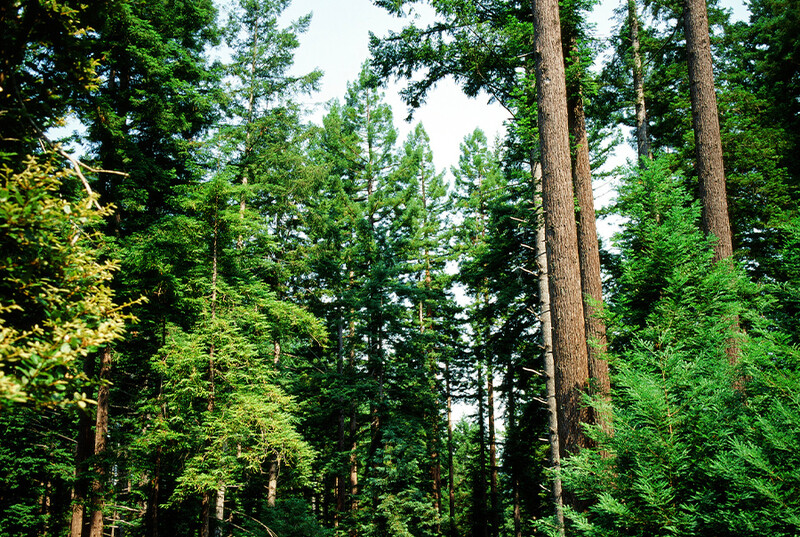 Garcia River Forest Conservation, California USA – Protecting and restoring California's native Northern Redwoods
Along California's northern coast are the ancient redwood forests, home to the tallest trees on Earth, rich wildlife and stunning landscapes. However, decades of aggressive timber harvesting have depleted this landscape and battered the local economy. Now, a collaboration between Climate Action Reserve, private and public entities and community stakeholders has established the first large non-profit owned working forest that will keep this remarkable forest standing and local economy supported for years to come. Storing more carbon per hectare than any other forest type, the pioneering Garcia River Forest project is of globally significance, demonstrating that protecting our remaining forests can be economically viable. Benefits of the overall project include 200 + jobs created by bolstering the local economy by improved land management and sustainable timber harvesting, 53 miles of streams protected which are home to multiple fish species, and 77,000 tCo2e emissions stored annually.
Kootznoowoo, Prince of Wales Island, Alaska, USA – Improved forest management
In 2020, we supported a dedicated forestry and biodiversity project in Alaska, USA saving 1,600 verified carbon units, supporting a project that protects 20,159 acres of forest.
Located on the Dolomi and Dora Bay tracts of Prince of Wales Island, Alaska the Kootznoowoo Project is made up of approximately 8,000 acres of old-growth forest. By committing to keep the forest carbon stocks above the regional baseline level, the project provides significant climate benefits through carbon sequestration. The land is owned by the native Haida and Tlingit people and managed by the U.S. Forest Service. Carbon proceeds allow locals to avoid aggressive timber extraction, conserving historically and culturally important sites.
We have worked with Flow Carbon to secure high quality certified carbon credits to offset our 2020 building and fuel emissions from the above forest conservation and biodiversity project in Alaska, USA. For our energy emissions, South Pole advised us on the purchase and cancellation of energy attribute certificates (EACs) where indirect renewable energy is the best current option.