Conversations
Instant Diamonds
A Conversation between Pipilotti Rist and Johanna Burton for Earth Day
On 12 September 2021, The Museum of Contemporary Art (MOCA) in Los Angeles, opened 'Pipilotti Rist: Big Heartedness, Be My Neighbor,' a long-waited West Coast survey of more than three decades of Rist's celebrated work, which served as a watershed for the museum for reasons beyond art: It was the first carbon-calculated exhibition to be organized by MOCA, aligned with the museum's goal to reduce emissions by over 50%. With the exhibition, MOCA joined a small but growing group of pioneering American museums and cultural institutions that are reducing their carbon footprints in accountable ways.

Rist, whose studio has long practiced sustainable methods for shipping, travel, and other activities, sat down recently by Zoom with Johanna Burton, The Maurice Marciano Director of MOCA, for a wide-ranging conversation about both the practical and philosophical considerations of becoming better stewards and citizens of the planet.
Johanna Burton: Hi Pipi. It's so nice to see you, even if just on a screen, to get to talk about this. I should start out by saying that I began my job as director here relatively recently, in September of last year, so I'll stress that I'm speaking a little retroactively about some things that I can't take credit for—which is always nice, actually, to talk about things you're proud of that you inherit, that already exist, but that excite and inspire you. The Environmental Council at MOCA was established in October 2020, the first such council for a major art museum in the United States. It is co-chaired by the artist and activist Haley Mellin and MOCA Life Trustee David Johnson. The 15 members of the group are incredibly thoughtful and also very knowledgeable environmental and sustainability experts, who have focused the council's work on climate conservation and environmental justice. The MOCA Environmental Council furthers the museum's core mission in really key and interesting ways. In seven years, MOCA will turn 50, and so we have an interesting runway to be thinking about that span of time and what we can do with it. The museum's mission is to be socially responsive but also socially responsible. Pipilotti's show was already on the books as the council was being formed and it was the first major exhibition to open after the pandemic and so it was a natural fit to introduce our institutional carbon reduction goal. Of course, Pipi's studio has been working for a long time already with expanded ideas of sustainability, which are practical but also quite philosophical, which is very exciting. I'm a person who likes to see direct results, but also to think big ideas—like, cleaning the house while also reading a great book. The Environmental Council allows us to do that: There are very clear actions to take and results to measure. But then there are also big, and sometimes, I think, poetic ideas in play as well, that fit with the whole idea of what a museum is.
Pipilotti Rist: You say it nice! About the different levels of how people can do this.
JB: I think your work does that. So, I'll hand it over to you, but I get really interested thinking about this exhibition, which unpacks ideas in quite amazing ways, about sustainability and social engagement and recycling and being thoughtful. All of these were already in the exhibition that Anna Katz, MOCA curator, and Pipilotti were making.
PR: When it was proposed by MOCA that we would be the first show to be net-zero I, of course, jumped in. Because for years as a studio we have been compensating our flights with sustainability payments. Even double and triple compensating. It has to do in part with us being totally against the idea that we are asking emerging Africa and Asia not to use as much energy as Europe and the West, to put the crisis on their backs economically, so to speak. And that's where our compensation is going. Of course, the carbon I spit out by traveling is out. But with the money we pay we can reduce by five times the amount of carbon produced in another place, where it costs less to launch sustainable technologies. Besides compensating, we also try hard to ship anything we send anywhere in the world in containers and on ships, to avoid flight carriage, which produces much more carbon. So, that we have all of this in our balls, and what it means practically, in part, is that we have to plan further in advance. It takes much longer by ship than by air.
Randy Kennedy: How long have you and your studio been thinking and planning to reduce your footprint?
PR: It's been for about 20 years now. Many of my works are not heavily physical, being films and videos. I just bring the files and the software and the pieces adapt to whatever systems and sites exist in the places where they are shown. But there are works like 'The Apartment' (2006–19) that are large physical environments, we think years in advance about optimally stuffing a container. Of course, shipping pollutes. Gladly there are legal initiatives underway and economic incentives coming. The ships will get more efficient.
JB: Anna and I talked a little bit about how this worked in our space, which is interesting—that you used the video monitors and projectors that we own, that we already have on site. You didn't ask us to buy new things or have new things shipped, except in rare cases. And so the work really takes the form of and in some sense is shaped by the existing material conditions of the museum, which I love. Anna was also talking about the way in which so much of your work and in particular the earliest work in this show, called 'The Innocent Collection,' which you began in 1985 and which keeps growing, is about containers, ostensibly worthless plastic things that you 'recycle' into work that looks almost magisterial. It's the things we as humans make and use, most of it related to consumption and to hygiene, the stuff we use to clean ourselves and keep ourselves presentable. And of course, the irony is that all becomes endless mountains of trash on the earth and in the oceans, fouling them, cycles of consumption and pollution.
Pipilotti Rist, Ever Is Over All, 1997. Installation view, 'Pipilotti Rist: Big Heartedness, Be My Neighbor,' The Geffen Contemporary at MOCA, Los Angeles, 2021–22. Courtesy of The Museum of Contemporary Art. Photo: Zak Kelley
Pipilotti Rist, The Innocent Collection, 1985–ongoing. Installation view, 'Pipilotti Rist: Big Heartedness, Be My Neighbor,' The Geffen Contemporary at MOCA, Los Angeles, 2021–22. Courtesy of The Museum of Contemporary Art. Photo: Zak Kelley
'It's one of the many deep contradictions in which we live … things [that] are often … beautiful objects in themselves, made by us for us. I call them instant diamonds. Even they are made to be thrown away.'—Pipilotti Rist
PR: It's one of the many deep contradictions in which we live. These things are often also beautiful objects in themselves, made by us for us. I call them instant diamonds. Even they are made to be thrown away. I love plastic and many things made from it, and I feel sorry that we turn it so quickly into waste. But the idea that we use the resources of the earth, in this case, oil, billion years pressed shrimps, just to burn for energy is even more to ask. But I am one of the people who is hopeful that we can change more renewable energy in time—more solar, more wind and maybe also more nuclear; I think we abandoned that too quickly, but that's another point. As a studio, we work much by recycling. For example, the lot of curtains we use for the sound dampening or the carpets that are in the installations are things that we use as long as possible. All the pillows we wash and reuse. And depending on the place, we might even use things from other artists. For example, at the Hayward Gallery a decade ago, there was a Tracey Emin exhibition before me, and she had one dark blue room. I needed a dark room, so why repaint it? Why not just use it? So I asked her if it would be okay.
JB: It's a great thing when an artist is already interested in doing this kind of work. It makes for synergy. We've hired a sustainability consultant and we're in the process of making that a full-time, in-house position now. I've been learning about considering carbon emissions from the very beginning in preparing plans: things like shipping speeds, different kinds of shipping containers, recycling many things, whether it's walls or exhibition materials or even material that's used for art itself. Something really exciting that just happened is that we reignited a project first started by Phillipe Vergne, one of our former directors, in which the Grand Avenue building is wrapped in large-scale artworks by artists. Njideka Akunyili Crosby and Jonas Wood each participated in this project earlier, and Derek Fordjour, who's an amazing painter really interested in civic address and in bringing the museum outside of the walls into the city, has just unveiled a piece called 'Sonic Boom,' a reference to the renowned Jackson State University marching band in Mississippi, known as the Sonic Boom of the South, and to the history of Historically Black Colleges and Universities in general. It's a fantastic piece. But it is also an enormous piece of plastic. So we looked into the most environmentally friendly inks and plastics that are being produced. We had these conversations with Derek and mentioned our concerns, and as we were talking he lit up and said, 'No one ever asks an artist about things like this at the beginning of the process. And this is something that's really critical to me, too, and that I've been thinking about too.' So, when his wrap comes down he will repurpose this material, several thousand feet of it, and he'll utilize it in another form for a future artwork! So the idea of pre-planning in this way with artists will hopefully become second nature. I think many of them will want to support the practical efforts but also to be involved in research and development around projects where they can make a difference in exhibitions and the museum's overall commitment.
RK: Structurally and procedurally how do you think it will change the way the museums work? Museums typically already plan years in advance.
JB: We do, and so this is in part about getting the staff on board, constantly assessing practices and plans, which takes effort and time. But some of it will also be in the day-to-day. For instance, our sustainability consultant, Simone Paz, just integrated organics recycling so that at the office, when people eat, they're able to recycle the food waste that would have ended up in the landfill. We're also looking at printers, reducing and consolidating machines so the office limits resource use and waste. Some things are that simple and some things are really big and fundamental.
Derek Fordjour, Sonic Boom, 2022. Installation view. Courtesy of the artist and The Museum of Contemporary Art. Photo: Elon Schoenholz
Installation view, 'Pipilotti Rist: Big Heartedness, Be My Neighbor,' The Geffen Contemporary at MOCA, Los Angeles, 2021–22. Courtesy of The Museum of Contemporary Art. Photo: Zak Kelley
PR: It's very important to focus on small things but then not to forget the bigger. May I show you my favorite graphic, which I have had up on my wall here in Zurich in the studio for the last two years?
It was a global GHG abatement chart that was used somewhere by the consulting company McKinsey and I came across it. I love it so much because it shows all the things we can do to reduce CO2 and how effective they all are and how much they cost or yield. So, for example, waste recycling is so effective and costs relatively little money as an economic process. Coal retrofits, as you can see, are quite effective in reducing pollution but also very costly. Switching from incandescent lights to LED is very cost saving and wonderful but in the larger scheme doesn't do as much in reducing carbon. And then, in contrast, making new buildings more environmentally friendly costs not so much and is very effective. Pastureland conversion costs almost nothing and is extremely effective! It's fascinating to see these things and think about them.
RK: You were talking about nuclear energy and we can see that the benefits related to the costs are really great.
PR: It's one of the widest bars on the chart, which is why I was mentioning it before. In the art world of course there's a lot that we do with transport, so you look at the line for motor-system efficiency. I like the whole process of thinking that it's not only how we go forward with reducing emissions, but also what we can do about fundamentally changing our behavior.
RK: Looking at this, even though it has nothing to do with the art world, I also really like the sound of rice management, a crop which takes huge resources to grow.
PR: It's actually a great example. It's a crop that has a huge effect on the planet, and many decades ago the Rockefeller Foundation and other research foundations did work to improve rice crops through mutation, to make the quality better and to create strains that needed less water, fewer resources. I like to use the example of the Rockefeller work to tease my left-wing friends about where beneficial things can all come from. [Laughs]
'It's good to remember that humans are in bubbles. We in the art world are often in one and it limits thinking, hurts our ability to find new ways to solve problems because we get stuck in the same circles of thought.'—Rist
RK: I guess occasionally it does come from the plutocracy and other unexpected places.
JB: Wasn't Nixon the biggest funder of the National Endowment of the Arts? And he also created the Environmental Protection Agency! How times have changed.
PR: It's good to remember that humans are in bubbles. We in the art world are often in one and it limits thinking, hurts our ability to find new ways to solve problems because we get stuck in the same circles of thought. But then if we look closer, it's always a bit more complex. Nevertheless, the art world can be a very effective force for changing public opinion about sustainability, but in the end, we all know it will be political change, fundamental changes in laws and tax policy and enforcement and incentive, that will make the big difference. It's good to model better practices, as the art world and art industry are slowly adapting to do, but some incentives for better technologies and practices will have to be legislated and industries compelled. Let's support them. And there has to be justice in it, because the poor countries, when they come out of poverty, cannot be asked not to use the energy they need. We just all have to invent better ways to use it.
JB: These things obviously are intertwined, social justice and environmental work. One of the best pieces of advice I got from somebody who worked in both areas was to not rely on changing hearts and minds. You can't necessarily change people's belief systems. What you change are the protocols and policies. And creating incentives is the best way forward. It's about establishing shared meanings but it's more about what you get rewarded for and what is made easy and what you just can't do anymore. I just read this morning that the unincorporated areas of Los Angeles County are very close to phasing out single-use plastics in foodservice and doing away with many uses of Styrofoam. So they just won't be available anymore in this jurisdiction. It won't be as if anyone has to make a choice anymore, which I think of as a little liberating.
PR: That's super, because we've had the problem for a long time now of the labeling telling us that we're using recycled or recyclable plastic, and became clear that was a lie. It gave us permission to use more and create more, just contributing to the problem.
RK: This is maybe jumping ahead a little bit, but are there, on a state level or federal, programs available to museums now to help encourage use of more solar, for example, or other alternative energy systems?
JB: There are things happening and one thing that reminds me to highlight is that a lot of this work is deeply collaborative. It's never just one institution. MOCA, for example, is part of the GCC, the Gallery Climate Coalition, and we helped support the formation of an LA chapter. We've gotten grants from the Frankenthaler Climate Initiative and from the Los Angeles Low Carbon Leaders pilot program. So, infrastructural change is supported both on the local and state level and by the field. We are looking at installing solar on The Geffen Contemporary at MOCA building now, for example, but to the point of Pipi's graph, it's very expensive to do. So we're working on finding funding for that. I think California is obviously, like New York, going to be a space where those dollars are going to become more available.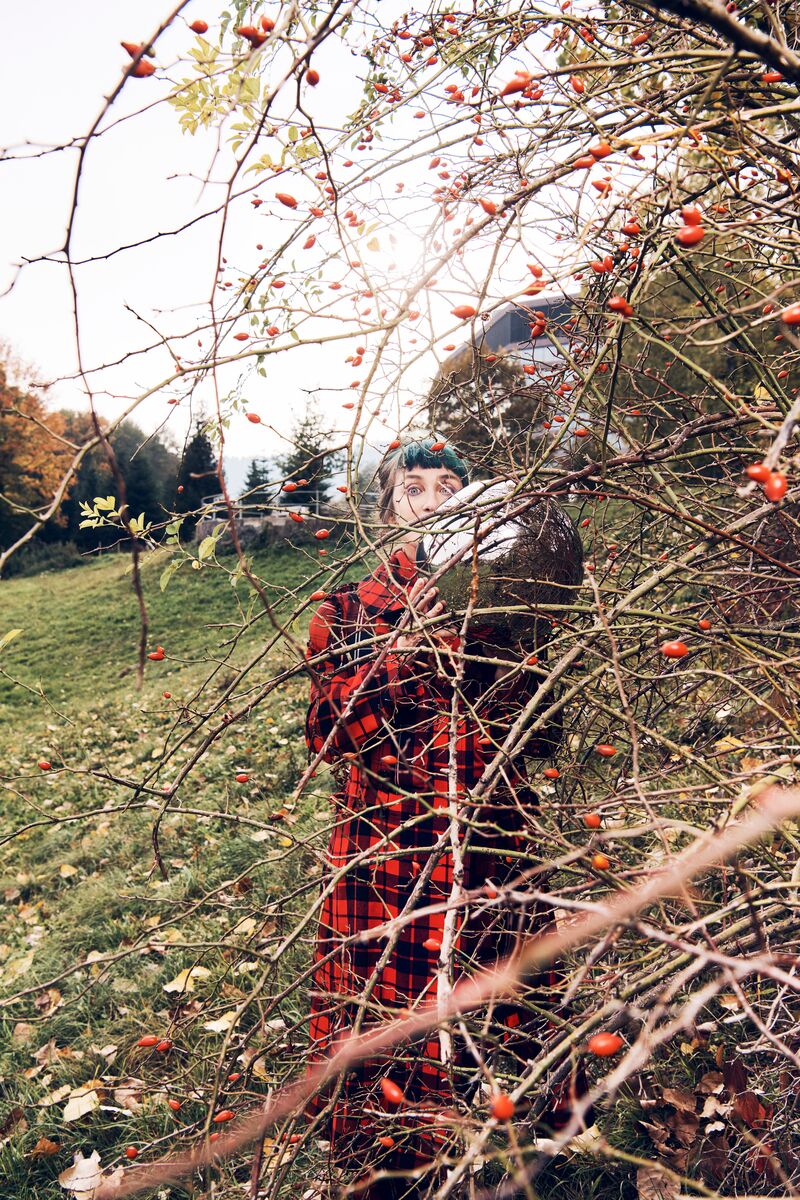 PR: May I say something I've always wanted to say to New Yorkers?
RK: Please.
PR: It's probably a topic you've already discussed. But why in the city does it seem as if you cool lower in the summer than is naturally comfortable and also heat higher in winter than is comfortable? So that you go into a place in the summer in New York and it's almost chilled, for example. And we all know that cooling requires a lot more energy than heating.
RK: I don't have an answer, but you're right, especially in the summer. It's a strange thing.
JB: Studies have been conducted showing that changing indoor temperatures even by a degree can save so much money and power. Pipilotti, wasn't the temperature something you actively engaged with for the show in your space at MOCA Geffen?
PR: Yes, I always ask: 'Can we have it a bit warmer?' Because it always seems too cold to me in many spaces, cold in an unfriendly way, in particular, if it's warm outside like in LA.
JB: It was actually one of the first conversations I came into when I started here, asking: 'What is the temperature of the space? What does it mean? How do people experience it? What does it take? What's the experience of the exhibition if you're a little too cold or a little too hot? I thought it was really interesting.
RK: Pipi, when you think about things like temperature, it concerns the environment in one sense but do you also think about the temperatures of bodies in the spaces as an element of the work?
PR: Oh yeah. Our exhibitions try to really be welcoming to bodies. There is so much video all the time coming to you wherever you are. But if you come to a museum, the difference is that you bring your body and of course, there are different ideas of what is good and right as far as temperature and what the level of clothing does for that, and for your experience.
"…One of the first conversations I came into when I started here, [was] asking: 'What is the temperature of the space? What does it mean? How do people experience it? … What's the experience of the exhibition if you're a little too cold or a little too hot?"—Burton
JB: It's funny, I recently read an article about some of the gender- and race-specific assumptions embedded in the museum experience and, as you might expect, what is considered a comfortable temperature has historically been determined by white men. I remember as a curator when I first learned that the midline height of a painting was 60 inches, which is geared to the height of the average white man. So I've always hung at 58 inches instead. Such ongoing conventions are supposedly keyed to a neutral body, which of course doesn't exist.
PR: I read also about research that shows that men prefer it to be colder than women, which is certainly linked to the way many men and women dress, women often wearing less.
JB: What's amazing thinking about those kinds of things is the response to your show, Pipilotti, which has been incredible. People have been so grateful there's so much pleasure and joy in it. There are also many complicated emotions and effects. But it's a space where people want to come and stay and so things like the temperature are very important. Those things are related and it's really beautiful.
PR: It's so cool that you say that, no pun intended. I've been surprised at how well our exhibition is being taken in by the people who come. My wish is that they come, and they think of it as their own common backyard. And I'm pleased that has worked.
JB: You sent a great phone picture that you took in which you can see a big group of teenagers sitting at the table in the show reading the brochure. Just hanging out and reading intently.
PR: Yeah. Four cool-looking young guys, all sitting there and all reading our MOCA brochure!
Installation view, 'Pipilotti Rist: Big Heartedness, Be My Neighbor,' The Geffen Contemporary at MOCA, Los Angeles, 2021–22. Courtesy of The Museum of Contemporary Art. Photo: Zak Kelley
Visitors to 'Pipilotti Rist: Big Heartedness, Be My Neighbor,' reading material on the exhibition. Photo: Andreas Gegner
JB: I don't want to go too far down a rabbit hole, but I think you'll both appreciate this: The feminist philosopher Jane Bennett has written about the cellular reality of what we put into our bodies impacting how we think. Her argument is, in essence, what you eat translates into how you think and how you operate as a social being. I think it's something that's key. We're cellular beings. We bring things in, and we send them out, and there's an ecology of being a human being among other beings. And for artists, that ecology of course plays out too. It's a very interesting political argument because it's about sustainability, but it's also about ideology in a very particular way. Pipilotti, the dinner celebrating your show was sustainable, correct?
PR: Yes, it was vegetarian, made by the restaurant Manuela, which as a starting point uses as much local produce as possible. We also made the decision to print a physical brochure for the show, because there are accessibility questions for some visitors, depending on whether they have smartphones or computers. But we printed on the most sustainable, recycled paper we could find. So, yes, there's a bit of paper waste, but maybe they keep it or use it for something else, which makes me think of the four R's: reduce, reuse, recycle and rethink.
RK: In the context of your work, would you rethink any of it, looking back now, in the context of sustainability?
PR: Well, it was always something that concerned me. And I've never really made a huge amount of material stuff in my career, so it was never me leaving tons of sculptures around the world or trying to ship it. And I've always recycled things in my work, which is a tradition of many artists that I have loved. It's an interesting thing that, so often in the last century or more, artists work through recycling or engaging with so-called garbage.
RK: From Schwitters, at least, all the way to you. It's a great tradition, which has produced some of my favorite works of art.
PR: This idea of recycling comes with a lot of different reasons. The material has stories in it already, lives from other uses, but the tradition also gives a sense of caring, paying attention, thinking twice. It's so many character traits that are also important for all the environmental reasons. Like Johanna, I like that idea that it's practical in one sense, but it's also philosophical and tender and how humans should think about treating each other.
–
'Pipilotti Rist: Big Heartedness, Be My Neighbor,' is on view at the Museum of Contemporary Art, Los Angeles, until 6 June 2022.