Essays
A Great Shout of Pure Joy
Jack and Mary Whitten's Life in Jazz
On the occasion of 'Jack Whitten' at Hauser & Wirth Hong Kong, the artist's first solo exhibition in Asia, on view through 31 July, Ursula is pleased to present a new biographical essay by Mary Whitten, the artist's widow, a previously unpublished piece of writing by Jack Whitten (1939–2018) about the centrality of jazz to his conception of painting, and the artist's original manuscript for his contribution to 'Blues for Smoke,' the 2012 catalog accompanying an exhibition at Museum of Contemporary Art, Los Angeles, that explored art, music, literature and film through blues and blues aesthetics.
Jazz was the background music of our lives.
Jack grew up in Bessemer, Alabama, with six siblings who all played an instrument and loved to dance. In high school, Jack played tenor saxophone in the marching band, dance band and the jazz band. His band teacher played jazz for the students and Jack loved it. When Jack moved to New York to attend Cooper Union he lived on the Lower East Side, where jazz was in the air. As an art student, Jack thought he would like to continue playing music, but after visiting jazz clubs, he sold his horn and leaned into his art studies, knowing that he would never have the 'chops' to compete with the virtuoso musicians he heard.
In 1964, Jack and I started seeing each other and going out to hear music. We were often with Jack's brother, Tommy, who had played tenor sax professionally in Europe after leaving the military. I remember one evening we drove to Brooklyn with Tommy in his VW bug to hear music in a place called Charlie's Pink Room, painted bubblegum pink with scattered sparkles. It was not particularly classy—the ceramic ashtrays of reclining nude women caused one to have to put one's cigarette out between their breasts.
The Five Spot Café at 5 Cooper Square, New York, ca. 1957. Photo: Michael Ochs Archives, Getty Images
Ornette Coleman and Don Cherry performing at the Five Spot Cafe, New York, 1959. Photo: Bob Parent, Hulton Archive, Getty Images
Jack spent a lot of time at jazz clubs. He loved and revered Monk, Coltrane, Ellington, Sarah Vaughn and so many other musicians. He often spoke about talking to Monk outside a club between sets, most likely at the Five Spot, near Cooper Square. He remembered seeing Monk outside the club along with some other young painters, Monk circling around in his usual manner, the painters telling him how hard it was to make it in the art world, hoping that Monk might offer to buy a painting or two. He agreed that art was a tough and sad situation, but he just kept moving and made no offers.
Jack used to say that he pestered John Coltrane, especially at the Blue Coronet Club in Brooklyn. Coltrane graciously took the time to explain that he conceived of his music as coming to him in sheets and that he would catch only as much as he needed. Jack thought deeply about this, later using Coltrane as a reference point and an inspiration for the development of his painting in plastic terms, like a sheet of passing light.
Among the great musicians on the scene that Jack knew were Cecil Taylor, Albert Ayler, Sunny Murray, Pharoah Sanders and Archie Shepp. We went to hear Sun Ra and just for the chance to see him too, as he would come out on stage holding a huge golden cutout sun in front of his face and rock it back and forth before beginning to play. We heard Marion Brown in a loft space with a small rapt audience. He looked like a ghost but played beautifully. We would often go to the Five Spot and sometimes to Slugs' Saloon in the East Village, a rough place where Jack told me he once picked up his friend's teeth from the floor after a fight at the bar.
Ornette Coleman lived near Jack's studio on Lispenard Street and once, when Jack had just finished a painting dedicated to a jazz musician, he spotted Ornette from his window and dashed outside to invite him in. Ornette looked the canvas over for a while before saying, finally: 'I can hear it, man, I can hear it.'
We were friends with the trumpeter Kenny Dorham, who was going out with a friend of ours. He was a charmer with a soft Texas accent. We lived near Chinatown and often went out to eat together, but Kenny would first stop at a deli for a ham sandwich—he was a famously picky eater, and though he loved company he didn't trust Chinese food. I once made dinner for him at our home, with Greek meatballs called keftedes, and I was so relieved when Kenny liked them and called them 'real food.' The sculptor Melvin Edwards, a good buddy and another Texan, from Houston, introduced us to the bass player Ron Carter. Mel and Ron shared the same birthday and they often planned joint celebrations, so through them we got the chance to meet many of the great musicians Ron knew—including the vibraphonist Milt Jackson—enlarging our jazz circle even further.
One particularly memorable concert featured Ornette Coleman and John Coltrane with their groups, the crowd overflowing the hall where they were playing. And then, not long after, we had the single most thrilling jazz evening of our lives, standing at the a bar (we didn't have enough money for a table) at what I think was the Half Note, practically at Coltrane's feet, looking up at him as he played 'My Favorite Things' for 40 minutes. I don't remember breathing the whole time. Coltrane was truly our god.
I knew that Jack had sold his sax soon after he moved to New York, so I never heard him play. When we were visiting Savannah, Georgia, in 2012, we had the opportunity to meet with a well-known collector, Dr. Walter O. Evans, to see his collection of African American art and manuscripts in his beautiful rowhouse. Just before we had to leave, Dr. Evans wanted to show Jack something and pulled out an instrument case, inside of which was a tenor saxophone his father had given him and which he recently refurbished. Jack's eyes lit up. He picked it up and started playing as if he had been playing jazz for the last 30 years. I was stunned. It sounded pretty good to me.
'…he started to breathe as Coltrane was breathing so that I could understand the control necessary to play as he played. Jack's own deep explorations in art and soul chimed with Coltrane's ever-yearning reach.'—Mary Whitten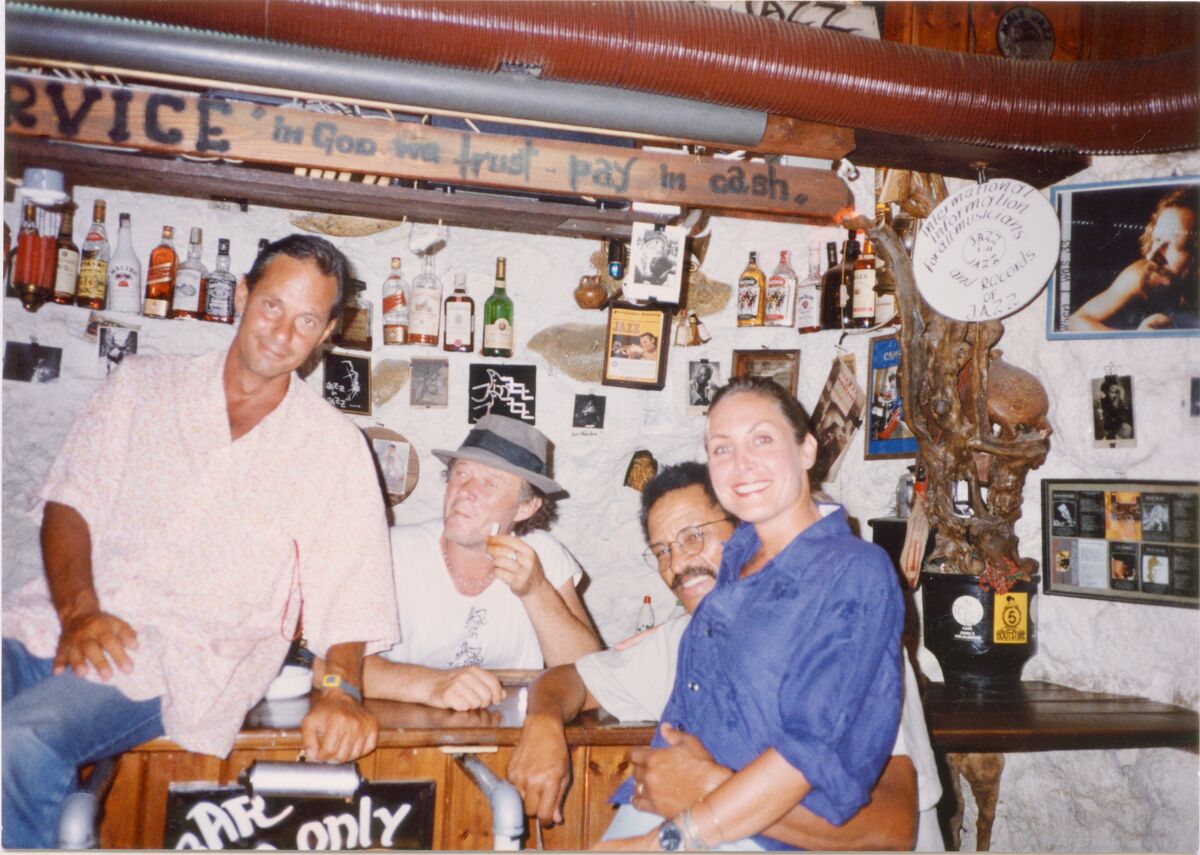 From left, Steve Gianakos, Jack Whitten, and Cynthia Radocy at Jazz-in-Jazz, with owner Costas Spanos behind the bar, Aghia Galini, Crete, Greece, 1989 © Jack Whitten Estate. Photo: Mary Whitten
Costas Spanos and Jack Whitten at Jack and Mary Whitten's home on Crete, Greece, 2006. © Jack Whitten Estate. Photo: Mary Whitten
We spent our summers in Crete and listened to music there every day. Once, after lunch, Coltrane was playing on the stereo, and Jack was explaining his technical mastery to me. Then, to illustrate, he started to breathe as Coltrane was breathing so that I could understand the control necessary to play as he played. Jack's own deep explorations in art and soul chimed with Coltrane's ever-yearning reach for something beyond. Jack sensed these kinships in a visceral way.
We found jazz even in our small Greek village, Aghia Galini. There was a small club near the beach in a cave—really, in a cave—called Jazz-in-Jazz. It was run by a funny and eccentric man named Costas Spanos. Costas had worked on cargo ships and had seen the world and kept an eight ball on the bar that had once been hurled at him as he was chased out of a dive in Brooklyn. The walls were covered with photographs of musicians and articles about jazz and crazy artifacts he had collected. There were few American tourists in that part of Crete but many tourists from Europe who loved jazz and who accordingly adored Costas. He had stacks of CDs and could fill almost any request for music or booze, though he refused to make cocktails. Jack and our buddy Steve Gianakos and an English friend named Rick were there most nights, arguing about whether East Coast or West Coast jazz was better. (Costas liked New Orleans jazz and didn't like Coltrane). Luckily, there was a tiny table and a few chairs outside on the steps to the harbor, set up to allow patrons to a catch a breeze and cool off when the cave got too hot. After Costas died, a German filmmaker came to the village to interview the jazz lovers and friends who had been part of his unlikely scene. Jack spoke movingly about our times in that cave.
We both looked so forward to our time in Crete. Jack was away from painting and could recharge, do sculpture, fish, garden, listen to music. When we arrived at our house after the long trip, we had to get the house into some order, although Jack was always itching to get right outside to get his fingers into the dirt, to check all the plants, do some digging and pruning. I would immediately get the music set up and blast out Dexter Gordon's ballads. It probably terrified the goats across the road. But Jack would give a great shout of pure joy.
John Coltrane performing at the Half Note Club, New York, 1965. Photo: Adam Ritchie, Redferns
Growing up in the South provided me with a wide range of experiences. Bessemer, Alabama, was a totally segregated society. Whites maintained power in every aspect of black life. Employment, public transportation, education, health, politics, finance, consumer goods, including food and water, were controlled by whites. Our spirituality was founded on a belief system borrowed from white culture. The concept of beauty was dictated by white taste. Confronted by such overwhelming restrictions and control on one's freedom and dignity, black people somehow managed to survive on the margins of society. We learned to rely on our black sensibility as expressed through music, dress, food, spiritual awareness, family structure, language, the dignity of labor and the intense desire for education. My black teachers always emphasized that 'we are educating you for something.' That something was not the simple notion of money. We had to reconstruct our culture.
I have picked cotton. I have plowed a field for planting with a mule. I have killed cotton mouth moccasins and rattlesnakes. I have caught catfish and snapping turtles with my bare hands. I have hunted, skinned, and eaten rabbits, deer, squirrel, raccoon, possum, and birds of all kinds. I have slit the throats of pigs, goats and chickens. I have heard the lonely haunting sound of the hobo's harmonica, the blues guitarist's mournful seductive sound of love's lament, sorrow and pain late at night from the tracks of the Southern Pacific Railway. Do you know the smell of a ripe Alabama persimmon? Have you tasted a Fourth of July rattlesnake watermelon or the intoxicating flavor of an Alabama peach? Have you eaten river catfish with cornmeal, black pepper, salt and paprika or Southern home raised chicken fried in pure lard? Have you tasted white lightening or Andy Halls' hickory barbecue? Do you know what a gin-soaked fist buster is? Has the Ku Klux Klan paraded down your street with a burning cross? Have you ever witnessed a full-grown black man bow… and bow… and bow with, yes sirs, to a white man? Have you seen the flag draped coffin of a young black soldier who was killed on a Bessemer city bus by the white bus driver for moving the WHITE/COLORED sign? Did you walk past the white swimming pool in the middle of July? I have tasted, heard, seen and felt the Southern experience. The Southern experience is my experience.
America during the 1960s was a virtual battleground of competing forces; Vietnam, the Civil Rights Movement, Political Assassinations, Feminism, Drugs, the Sexual Revolution, Black Identity Issues. All of these cataclysmic forces exacted a tremendous price on the psychic well-being of every individual. The young black artist was vulnerable to every nuance of uncertainty. The foundation of my personal aesthetics was formed during this period. After 10 years of working with autobiographical identity issues in painting, in 1970, I turned my attention to the formal possibilities of paint.
'Experimentation expands consciousness. When consciousness expands freedom expands. The expansion of freedom is the philosophical underpinning of jazz. My art shares the same philosophy as jazz and therefore is the physical equivalent to jazz.'—Jack Whitten
Abstraction has enabled me to explore a wide range of knowledge and emotions without depending on narration. My art is an art of materiality. I deal with paint as matter. I do not paint a painting. I make a painting. The subject/narrative is in the paint. Storytelling is an important part of the Southern sensibility. Storytelling, yes, but not as illustration. I do not illustrate. Experimentation is the key. Without experimentation we simply dry up and die. Whenever I spoke to older painters whom I admired they all emphasized the importance of plasticity and sensibility as the stone and mortar of making art. Experimentation expands consciousness. When consciousness expands freedom expands. The expansion of freedom is the philosophical underpinning of jazz. My art shares the same philosophy as jazz and therefore is the physical equivalent to jazz.
I have maintained a studio in New York City since 1960. Bill de Kooning, Franz Kline, Philip Guston, Mark Rothko, Romare Bearden, Norman Lewis, Jacob Lawrence and numerous other important painters have inspired me and offered council. My older brother, Tommy, was a jazz saxophonist and introduced me to the New York jazz scene. On a regular basis we frequented Birdland, Jazz Gallery, Five Spot, Vanguard, Village Gate, Half Note, Slugs', Smalls and Minton's uptown and Club Coronet in Brooklyn. The jazz musicians were my heroes! I have had the opportunity to know Thelonious Monk, Miles Davis, John Coltrane, Kenny Dorham, Ron Carter, Ornette Coleman, Cecil Taylor and many other jazz greats. I was a competent tenor saxophone player in high school and college, but what I heard in New York in the 1960s forced me to choose painting as my art medium. Growing up in Alabama, living and working in New York for the past 50 years, summer spent in Greece on the island of Crete for the last 40 years have all contributed to the art of Jack Whitten. My Southern experience has become a global experience. Every day in the studio is one of experimentation with acrylic paint. As a result, my freedom continues to expand. The expansion of freedom is my objective in life.
—Jack Whitten, Aghia Galini, Crete, Greece, July 2010
–
'Jack Whitten,' the first solo exhibition in Asia dedicated to the American abstractionist, is on view at Hauser & Wirth Hong Kong 30 March – 31 July 2021. 'The Spirit Is With Me,' a jazz trio performance of John Coltrane's legendary music in celebration of Jack Whitten, will take place at the Hong Kong gallery on 18 May 2021.