Conversations
King of the Surf Guitar
An oral-history remembrance of Rodney Graham (1949–2022)
The Canadian artist and musician Rodney Graham was widely known and admired for his idiosyncratic, far-reaching interests, insatiable curiosity and humor, traits that informed all of his work—his highly conceptual pieces in the 1980s; his meticulously staged films; the cinematic photo lightboxes for which he became famous; his music, and eventually his paintings. Here, those who knew him and who lived and worked closely with him speak about his life and career.
Shannon Oksanen
Rodney was born in Matsqui, British Columbia, a small suburb of Vancouver. His father worked for a lumber company, and Rodney always told stories of working as a very young teenager in the lumber camp, peeling potatoes and washing dishes. On weekends, they would screen films using a projector, which greatly influenced him. He especially fell in love with Michael Powell's The Red Shoes. In the summers, he often traveled with his family and cousins to the interior of British Columbia, a vacation spot near the gorgeous Lake Okanagan. Rodney was an ace water-skier; his family often boasted about him doing a handstand on a lawn chair while water-skiing on a disc! They moved to various places in and near Vancouver, but when he was around sixteen, they moved into the city. He hated the high school he attended in Vancouver because the teachers were often cruel, and he was becoming a hippie, which did not go over well. He was sent home for wearing jeans, for example. He and his mates had a blues band and generally missed as much school as possible.
"I remember one piece involved him being given a sedative and driven around asleep in the back seat of a van… and I also remember being quite impressed by the sheer peculiarity of it."—William Gibson
Rodney Graham, 3 Musicians (Members of the Early Music Group "Renaissance Fare" performing Matteo of Perugia's "Le greygnour bien" at the Unitarian Church of Vancouver, Late September, 1977), 2006. Photo: Sampo Linkoneva. Courtesy Rodney Graham Studio and Hauser & Wirth
Rodney Graham, Illuminated Ravine, 1979. Production still (Graham in the foreground). Photographer unknown. Courtesy Rodney Graham Studio
William Gibson
Rodney and I first met in 1972. He was already an art student at Simon Fraser University, and he did speak often of a very early piece, Illuminated Ravine (1979), which was mostly just what its title describes. I assume we were introduced by David Wisdom, whom my wife had known here in Vancouver before moving to Toronto. Rodney, David Wisdom and Jeff Wall were all neighbors, and David liked to have friends over for drinks and conversation. I hadn't yet written anything, and Rodney hadn't yet made any art.
I remember one piece involved him being given a sedative and driven around asleep in the back seat of a van [Halcion Sleep, 1994], and I also remember being quite impressed by the sheer peculiarity of it. Matchbox photographs, which began with his camera being stolen in Italy, then gradually grew into his splendid inverted camera obscura images of trees. I remember a bookmark work he made for an edition of the Ian Fleming novel Dr. No, which inserted a new scene into the story, a description in Fleming's style of a centipede crawling over the flesh of a paralyzed James Bond—which may have been around the time I'd begun, however secretly, to think about writing fiction myself.
Oksanen
Rodney started attending the University of British Columbia, taking general arts. There, he took a class with Ian Wallace that made him want to study and become an artist.
Rodney and I met in the late '80s when I worked at a coffee shop near his studio. He would come in for hours a day and just chat. Soon we started dating, working together and generally having the jolliest time despite being incredibly poor. We were obsessed with London and spent as much time as we could there. We loved Brit Pop (specifically Saint Etienne and Suede) and were the biggest Anglophiles ever. After twelve years together, we reluctantly split up because I wanted children, but sadly he didn't. Happily, Scott [Livingstone] and I got together and did have children (Ray in 2003 and Coco in 2007). Scott had worked with us for a few years, and we had all traveled together. So we were already like a family, and although it might sound scandalous, it was never anything of that nature. Rodney was very pragmatic, knowing he was already older and couldn't cope with babies. That said, he ended up being like a parent to our kids, although he didn't have to deal with the sleepless nights of being a parent.
Stan Douglas
When I first got to know Rodney in the 1980s, the thing that most impressed me about him, aside from his charisma and boundless enthusiasm, was his indifference to artistic genre or style. Like the true conceptual artist he was, he would follow the logic of his ideas wherever they led him: If he discovered a permutational element in Wagner's Parisfal, he would produce an impossibly long musical score to play it out, and if he had a hallucination while reading a short story by Edgar Allan Poe, he would write an entire novel in the style of Raymond Roussel to fully realize it. I am, of course, referring to his The System of Landor's Cottage (1986–87), which is still a favorite of mine. Unlike most people to whom he gave a copy of the book, I cut the pages in order to read it. By doing so, I immediately diminished its monetary value, but it was totally worth it. It made the act of reading performative and, like Rodney himself, the book was by turns hilarious and audacious.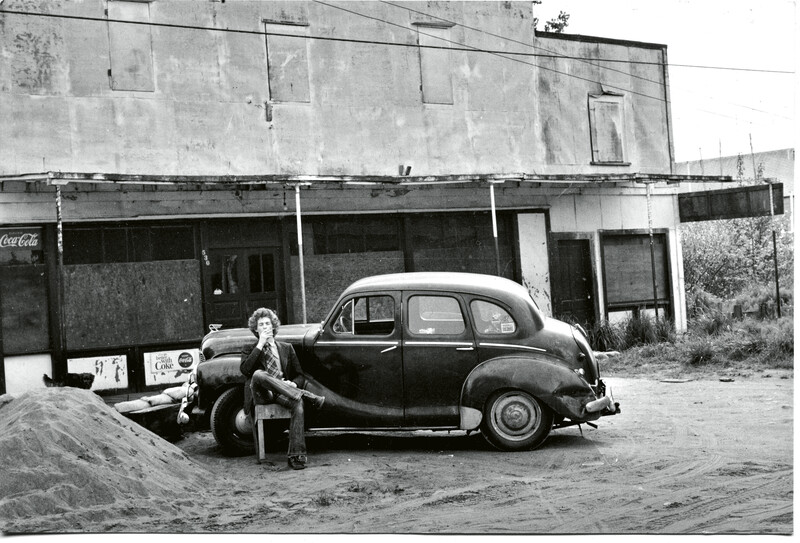 Oksanen
So many things inspired Rodney. Learning to look at things the way he did was a gift. In the '90s, he and I would go to thrift stores and make funny displays with dishes or clothes. Although we were killing time, more often than not an artwork would come out of it, like his Carole King paintings [Black Tapestry (2014), twenty-four copies of Carole King's 1971 album Tapestry overpainted in dark inks]. We would always put the Carole King Tapestry albums out in front of every pile of records. They were ubiquitous at the time (not so much now), and it was just one of our gags. Music was his number one passion. He always knew about the latest, oldest and rarest music; he was a true savant but he was not a music snob. He would get as excited about a Tiffany song as he would about his newest obscure indie discovery. I don't know what motivated him exactly, but he was very driven. The man always woke up early and wanted to get to work immediately, although "work," could take many different forms.
Alessandro Vincentelli
Rodney had such restless energy. I think he was driven by a fantastic curiosity and by a real polymath's pleasure in crossing different disciplines—an exploration of the sciences, physics, the mechanics of vision. He had a remarkable way of making genuinely joyful work that was coded, layered and complex. The first time I met him was during a performance at the old space of the David Roberts Art Foundation [now the Roberts Institute of Art] in Camden, north London. It was at one of those performance evenings during Frieze art fair weekend. There was a buzz to it because Kim Gordon was playing guitar, too, next to Rodney, and it was set against a projected backdrop of the film loop with all of the love scenes in the dunes from Antonioni's film Zabriskie Point.
Lisa Spellman: I flew to Vancouver to meet Rodney to ask if he would join the gallery in 1992. We met at a hotel and had breakfast together. I proposed a three-person show with him and Allen Ruppersberg and Hans-Peter Feldmann and he agreed. Then Rodney and Shannon showed me all of their favorite spots, from vintage record shops to the best Thai and the Vancouver Art Gallery. I left so happy.
"Like the true conceptual artist he was, he would follow the logic of his ideas wherever they led him… if he had a hallucination while reading a short story by Edgar Allan Poe, he would write an entire novel in the style of Raymond Roussel to fully realize it."—Stan Douglas
Mark Godfrey
He followed his own impulses to make work, without caring what other people thought about it. He came out of the Vancouver School of Conceptualism in the 1980s, and the audience then was very small indeed. The pleasures of engagement you could have with it required you to be immersed in understanding other conceptual artists and their theoretical debates.
I think a shift started in his practice with the film Vexation Island (1997), where the complex research and theoretical basis was still there, but he had found a way to be more visually entertaining—to make works many different kinds of people could look at and appreciate and get the humor of without overloading the theory, which had been the case in the works of the 1980s, where if you didn't know Donald Judd, you might not get the point of what he'd done. I fell in love with his films—I saw the 2005 retrospective at the ICA Philadelphia, curated by Lynne Cooke. The props and outfits became sculptures, which was very effective.
Vincentelli
I remember traveling up to Newcastle upon Tyne for the second Tyne International in 1993, where there was an installation of Parsifal (1990), the early conceptual work by Graham in a room consisting of a self-playing piano and framed scores on the walls. It was an unusual and puzzling work. It brought together ideas of time, philosophy, mathematics and music. So much of it was about the non-visual! It felt like a distinctively European kind of conceptualism. I could see the humor and an obsession with mirroring and repetition. Much later, there was a psychological probing going on, I think, of the male psyche and the role of being an artist. There was also just sheer joy in the work, humor, gently poking fun at himself and at art history in general. Just when you thought you had a handle on his references, it seemed more would be introduced. He even had a photo lightbox work called Can of Worms (2000). Understanding and decoding some of his most engaging works was indeed like opening a can of worms.
Graham playing guitar, ca. 1970s. Courtesy Rodney Graham Studio
Graham playing with UJ3RK5, Arcadian Hall, Vancouver, June 1980. Photo: Gordon McCaw. Courtesy Rodney Graham Studio
Florian Berktold
I met Rodney twenty-five years ago when he did one of his first major exhibitions at the Kunsthalle in Vienna, where I was working at the time. I saw one of the books he had made at the time, and it was one of those very artsy artist's books, and I thought it looked kind of boring and very conceptual! But then we met. He was traveling with Shannon. We hung out a lot, went to concerts and had the best of times.
He would always leave for an afternoon nap—an excuse to get away from standing around when the show was being installed; later he actually recorded a song called "Afternoon Nap."
The exhibition in Vienna also featured for the first time his music. He created a listening lounge, a platform with beanbags and headphones to listen to the very first album he had recorded. He had actually needed only one song as a soundtrack for a new piece, but in true Rodney style, he ended up recording a whole album. Sometimes he'd joke: "Is being an artist just a good excuse to have a band?" He liked the idea, taken from Freud, that while you're doing something serious, your main job, it can lead to something much more interesting.
Oksanen
Our work life together was incredible fun. Rodney was always enthusiastic about everything and full of concepts, but he relied heavily on both of us for ideas and was always very kind about acknowledging us. Scott designed all the sets for the lightboxes and has the most incredible eye for detail and authentic details. Rodney and I were into the decor part of the sets, and I was into designing the costumes. But it was all three of us in discussion on almost everything. Scott and I always say it was the best job in the world, and we are gutted that we won't be doing any more lightboxes.
There was no typical day in the studio. Scott took care of the administrative side of the studio, while Rodney and I were slackers, but we also would take drives together to discuss ideas. When we were in production mode, we were all at the studio all the time. Watching a set come together was exciting and put us all in the best mood. When Rodney wasn't working on photos, he often experimented with painting and making sculptures—that guy could make the best assemblage sculptures of all time in no time flat. But he was also the messiest artist ever when he was in the process of working. I would always be nagging him to cover the floor and stop using so many sparkles—they're still floating around the studio! But honestly, despite the destroyed studio floor, watching him work was magic. He also played the guitar constantly, which was a treat when it was an acoustic guitar and torture when he decided to plug in an amp to try one of his new electric pedals. The fact that he liked to jack the amp up to eleven probably damaged his hearing, but it didn't seem to bother him. Very Spinal Tap!
Vincentelli
I loved the way he dressed. He was so damn cool. I believe he got that from his mother, Janet Graham, who always immaculately dressed, too. One of my favorite memories is of walking around Dublin with him, browsing record stores and guitar shops. He would always try to get time to find a cool guitar shop, striking up conversations with the owners. On more than one occasion, I was given instructions from his studio team, something along the lines of: "Please don't let Rodney buy another guitar!"
Douglas
I hadn't intentionally listened to Black Sabbath since high school, but when I heard that their farewell tour was coming to Vancouver I was curious to know what that would look like. When I thought about who would like to join me, Rodney came immediately to mind. He was totally game.
Godfrey
I remember when I visited him in Vancouver, he had an old amplifier, made decades ago, but it sounded better than anything I'd ever heard. It was an astonishing bit of kit. You never knew where ideas would come in from. Sometimes it was from his Anglophilia. The cover of his British Weathervanes book was based on the design of a series of old English how-to books that he had collected.
Iwona Blazwick
He was interested in anachronism and the obsolete. He would reinvent things. He made a 19th-century postal carriage in the 1990s, just as email and instant communication were becoming the norm. He had that eccentricity and slight denial of the contemporary. He was also interested in repetition and circularity, and of course how it connected to Freud's ideas about neurosis. He embraced absurdity and never took himself too seriously; there was always the deadpan delivery. I think he remains very relevant—for instance, right now with all the revisionism in art history and the focus on the absurdity of heroic male figures.
Vincentelli
I remember the care he took when Dan Graham was seriously ill five or six years ago and how they looked out for each other. There was a real concern for others. Rodney was part of a very special community—his studio, his friends, his galleries.
Rodney Graham, Vexation Island, 1997. 35mm film, 9 min. Courtesy Rodney Graham Studio and Hauser & Wirth
Rodney Graham, Vexation Island, 1997. 35mm film, 9 min. Courtesy Rodney Graham Studio and Hauser & Wirth
Godfrey
Tacita Dean did an exhibition at the Camden Arts Centre where they projected his work Rheinmetall ⁄Victoria 8 (2003). He'd set up this gorgeous German typewriter from the 1930s he'd found in a Berlin junk shop and had fake snow falling on it to ruin it. The film is silent, projected by an Italian Victoria projector, a kind of a tank of a machine. Rodney once described it as "two obsolete technologies facing off." It's an astonishing work for its conceptual tightness and how evocative it was. It's one of my favorite works of art by him.
Blazwick
In 2008, we had raised the money to buy the former library building next to Whitechapel and absorb it into the gallery. It was an amazing project, but when we got the permission from English Heritage, they said we could proceed to acquire on only one condition: that we had to install a weathervane on the roof. I looked at the drawings, and in fact there was a stand on the roof where a weathervane should have gone, but it was never actually made. A month later, Rodney was in town, and we had lunch together. I asked him what he was working on, and he said "Well, I'm making a weathervane." I nearly fell off my chair! He'd been researching Erasmus, and in particular In Praise of Folly, a riposte to the absurdities of superstition and religious dogma. He fashioned an Erasmus figure based on a photograph of himself in costume, riding backwards on a horse, inspired by an anecdote that Erasmus had written the book while traveling on horseback from Italy to England. It was just perfect. He made a photograph first, then a cast in bronze, and it was made as an edition of three. We acquired one for the roof of the Whitechapel, and it's been spinning around up there gloriously ever since.
Godfrey
One of the last times I visited him, he was already in his seventies, and he was talking about taking up surfing. It was totally believable that Rodney might stop being an artist and become a surfer. There was no value judgment to something like that. He didn't see being an artist as any more important a calling than anything else.
Blazwick
The Gifted Amateur was one of the extraordinary series of lightboxes he worked on for about a decade. In it, he takes up the role of the 20th-century genius, of Modernism, in the figure of the AbEx artist. It's an enormous work and very bright—in fact, it was so dazzling that with Rodney's permission we had to take some of the lights out when we presented it at the Whitechapel's "A Century of the Artist's Studio" exhibition in 2022. Again, he did huge amounts of research and made this huge life-size lightbox, which I believe was based on Morris Louis, the Color Field painter, who worked in his parents' dining room. In this tableau, the painter appears smoking a cigarette, wearing silk pajamas. And every single object in the scene—the piles of books teetering around, the sound system, the brick stone fireplace, the Tupperware bowls—everything was so precisely 1950s. The figure is presented as a genius, but at the same time he's called an "amateur." He's taking up the role of genius. It's an act—something he steps into. It's an ironic reflection on what we think of the artist, the role of the artist. It's funny and reflexive. He offers conundrums in the works that you have to unpack, and that's the pleasure of it.
"One of the last times I visited him, he was already in his seventies, and he was talking about taking up surfing. It was totally believable that Rodney might stop being an artist and become a surfer.… He didn't see being an artist as any more important a calling than anything else."—Mark Godfrey
Godfrey
In the lightboxes he's a chef on his lunch break, a media studies professor, a hunter, a lighthouse keeper, an interior decorator, a member of a 1970s musical group playing "medieval" music. They're such strange decisions. Why did he get interested in fake medieval musicians from the 1970s? But once you go there with him, the image pulls you in and makes you think about culture. No one else could've made those jumps that way except him, and each one was so perfectly done.
Berktold
I think his art was very deeply rooted in a Modernist tradition between the two poles that sort of sum up the 20th-century—Picasso and Duchamp. He was trying to achieve something timeless. He would often say that he made his early work late: He picked up painting very late, after having never done it as a young artist, and he picked it up only because he needed a prop for one of his lightboxes. So he started fiddling around in the studio to achieve what he wanted and from there it took off. There were always these riddles and diversions, conundrums that were elegantly put together and very open to interpretation. You don't have to like it, but it doesn't polarize. And that's how he was a person. He was never difficult. He never made a fuss about the context.
He wasn't the sort of person who was constantly cracking jokes, but there was always humor, and he used humor as an entry point into his work. It was a bit of a strategy. But if you dig deeper, a more fitting sentiment for his work is perhaps melancholy—not sadness, not resentment, but a little bit of positive melancholy. In his music, you get a little closer to his persona than you do in his art, which is maybe meant more for critical audiences. In his music, he is more open—laid back, funny, and there, too, a little bit melancholic.
Oksanen
I know Rodney would want more people to hear his music. That's what he took the most seriously, and it's still underappreciated. He was a beautiful songwriter!
David Carswell
I was out on tour the last few months of his life and unaware how serious his illness had become. The last time he called me he was convinced he could see a vocal coach to be able to sing again. We had one track that we had tried a million different ways, and he hadn't put a vocal on it yet. He was calling from hospital saying that he wanted to do it. It's still so hard to believe he's gone.
Gibson
Two things I'm sure we never discussed were the two things we were known for, art and science fiction. We probably mainly discussed whatever popular music we were listening to. He was a person with an extraordinary mind and a uniquely delightful sense of humor. I imagine him coming to be seen as having transcended something quite central to the direction of art in his day. But in any case, he leaves the legacy of having been a very kind and amusing man.
–
Florian Berktold is a partner of the gallery Hauser & Wirth.
Iwona Blazwick, OBE, is chair of the Royal Commission for Al-Ula's Public Art Expert Panel.
David Carswell is a Canadian musician.
Stan Douglas is a Canadian artist.
William Gibson is an American-Canadian author.
Mark Godfrey is a British art historian, critic and curator.
Shannon Oksanen is a Canadian artist.
Lisa Spellman is founder and director of 303 Gallery, New York.
Alessandro Vincentelli is a freelance curator.
–
Charlotte Jansen is a British Sri Lankan arts journalist based in London. She has written for The New York Times, The Guardian, The Financial Times, British Vogue, Frieze and The Art Newspaper, among others. She is the author of two books on photography, Girl on Girl (LKP, 2017) and Photography Now (Tate/Ilex, 2021) and the host of the Dior Talks podcast series The Female Gaze.