Conversations
Charles Dowding and Alice Workman on our Somerset Pumpkin Festival
The last joys of summer are ceding to cooler and darker days, making way for the autumn season at Hauser & Wirth Somerset. Every year, the local community gathers for seasonal games, storytelling, talks and live music at our Pumpkin Festival in Bruton. As the event approaches, we talk to gardener Charles Dowding and Hauser & Wirth Somerset's Senior Director Alice Workman about the rich history of this autumn celebration.
How did the Pumpkin Festival begin and how has the celebration evolved since this time?
Alice Workman: Hauser & Wirth Somerset is firmly embedded in the local community, agriculture and rural landscape of Somerset. The Pumpkin Festival felt like a fitting occasion to bring local families and visitors from further afield together in a seasonal celebration. Integrating a love for food and regional produce with art and architecture has always been part of the initial ethos of the gallery.
Durslade Farm is a working free-range farm and our Kitchen Garden is always thriving with edible flowers, herbs and vegetables. We have held the Pumpkin Festival for the past four years, collaborating with the national Family Arts Campaign, FACE – Farming & Countryside Education, and Hubbub as part of their 'Pumpkin Rescue' initiative, helping to raise awareness and educate young people about food and farming in a sustainable countryside. In 2013 we donated a plot of land to the local council as part of a community garden project. It is here that we grow our own pumpkins throughout the Summer—harvesting over 200 this year—which we give away at the end of each festival alongside pumpkin recipes.
Family storytelling at the Pumpkin Festival 2016. Photo: Clare Walsh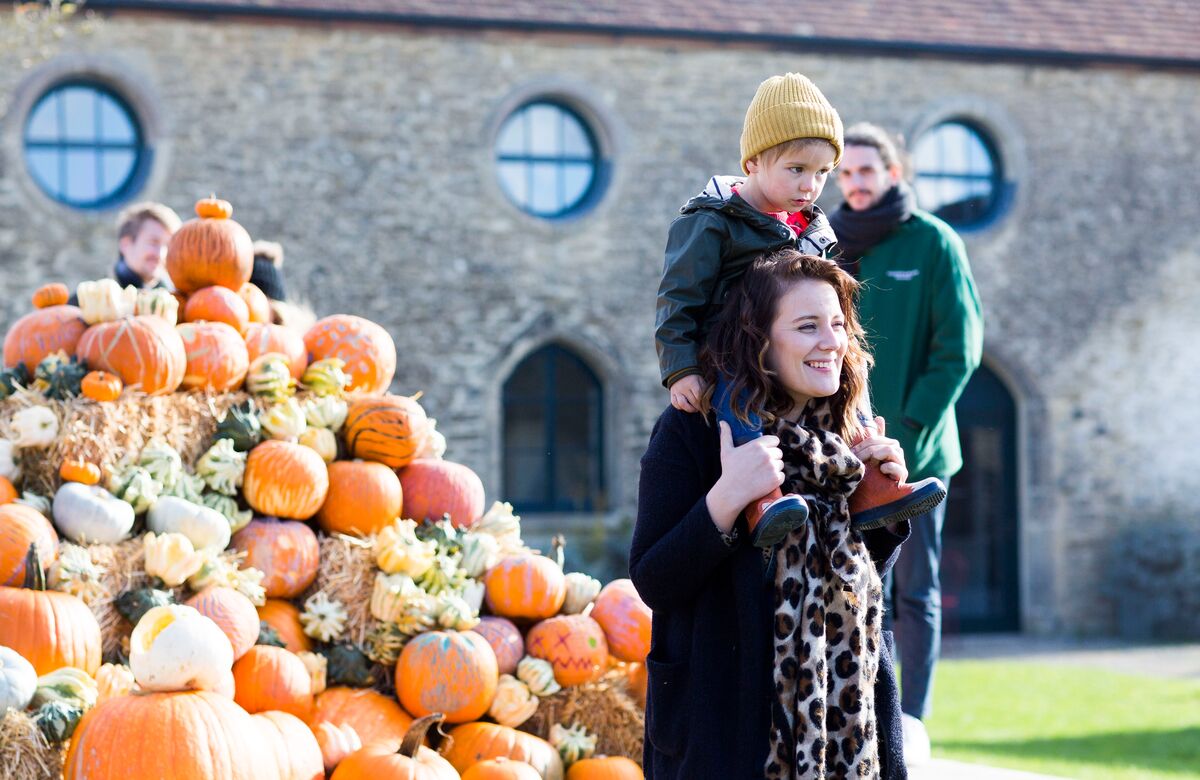 The Pumpkin Festival in 2018. Photo: Clare Walsh
What characterizes the spirit of the Pumpkin Festival?
AW: The Pumpkin Festival is full of energy with a convivial atmosphere as we embark on a new season at Durslade Farm, including live music, vintage tractors, storytelling, pumpkin competitions and family activities. We host nature-inspired workshops and welcome local stallholders to join the Roth Bar & Grill in providing delicious honest food, produced within a five-mile radius of the gallery. The team work incredibly closely with local schools, wildlife organizations and horticultural groups to ensure the festival reaches as many people as possible, donating all funds raised to our annual charity (which this year will be Bruton Primary School PSA) and enjoying a celebratory day outdoors—come rain or shine!
Pumpkin Carving at the Pumpkin Festival in 2016. Photo: Clare Walsh
Charles Dowding Judging the 2017 Grand Pumpkin & Squash Competitions. Photo: Mark Pickthall
Based at Homeacres and Lower Farm in Somerset, Charles Dowding has explored and shared new ways to garden since 1983, most notably 'no dig' organic gardening. Part of our growing community at Hauser & Wirth Somerset, Dowding's renowned approach demonstrates how vegetables grow stronger and healthier on no dig beds, for less effort and time, whilst proving ecologically beneficial. Dowding has shared his knowledge with people both locally and internationally, appreciating the elegant simplicity of growing nourishing vegetables and salad leaves at home year-round.
The Pumpkin Festival is a wonderful celebration of gardening, and those who use the no dig approach will have enjoyed an easy summer followed by a fine harvest.
What is special about this time of year in your garden?
Charles Dowding: Many vegetables end their seasons in late autumn, meaning these months serve as a period of renewal and a new beginning. Kale, leeks, swede, broccoli, spinach and many salad plants are frost resistant, and continue to grow through winter in the mild UK climate.
Pumpkins and squash are one of the easiest harvests, because they allow powdery mildew to decay their leaves, leaving the fruits gloriously visible. They gather together before burgeoning frost. Butternut squash are an exception because they need a slightly hotter summer than the United Kingdom's climate allows. Their green leaves and unripe fruits subsist throughout October. Uchiki Kuri or Crown Prince squash make for an interesting alternative, both of which have fine flavour and are earlier to ripen.
Homeacres Farm in Somerset
Charles Dowding beside the compost heap at Homeacres Farm
Can you tell us about 'no dig' gardening and its benefits during this season?
CD: 'No dig' is a straightforward process, copying nature's own simplicity. Compost heaps, however, do not exist in nature because old leaves and plants die and fall in situ. Woodlands and pastures have a mulch of decaying plant matter and associated wildlife, which includes slugs. 'Chop and drop' copies this process, slightly speeding it up by chopping, and that creates suitable conditions for many herbaceous borders. No dig allows a wonderful process of growth to happen in an easy and natural way. A major bonus is that undisturbed soil grows fewer weeds. 
The year's end point in a no dig garden is marked by feeding soil organisms, whose work keeps soil open and aerated. This is the time to spread a thin mulch of compost on top of clean soil, as food for soil over the coming year.

What does the Pumpkin Festival mean to you?
CD: The Pumpkin Festival is a wonderful celebration of gardening, and those who use the no dig approach will have enjoyed an easy summer followed by a fine harvest.
– 
Hauser & Wirth Somerset's annual Pumpkin Festival takes place on 27 October 2019. This special day with activities for families, children and adults, includes the popular Grand Pumpkin & Squash Competition adjudicated by Charles Dowding. To learn more about 'no dig' gardening visit Dowding's website.