Profiles
Design by Function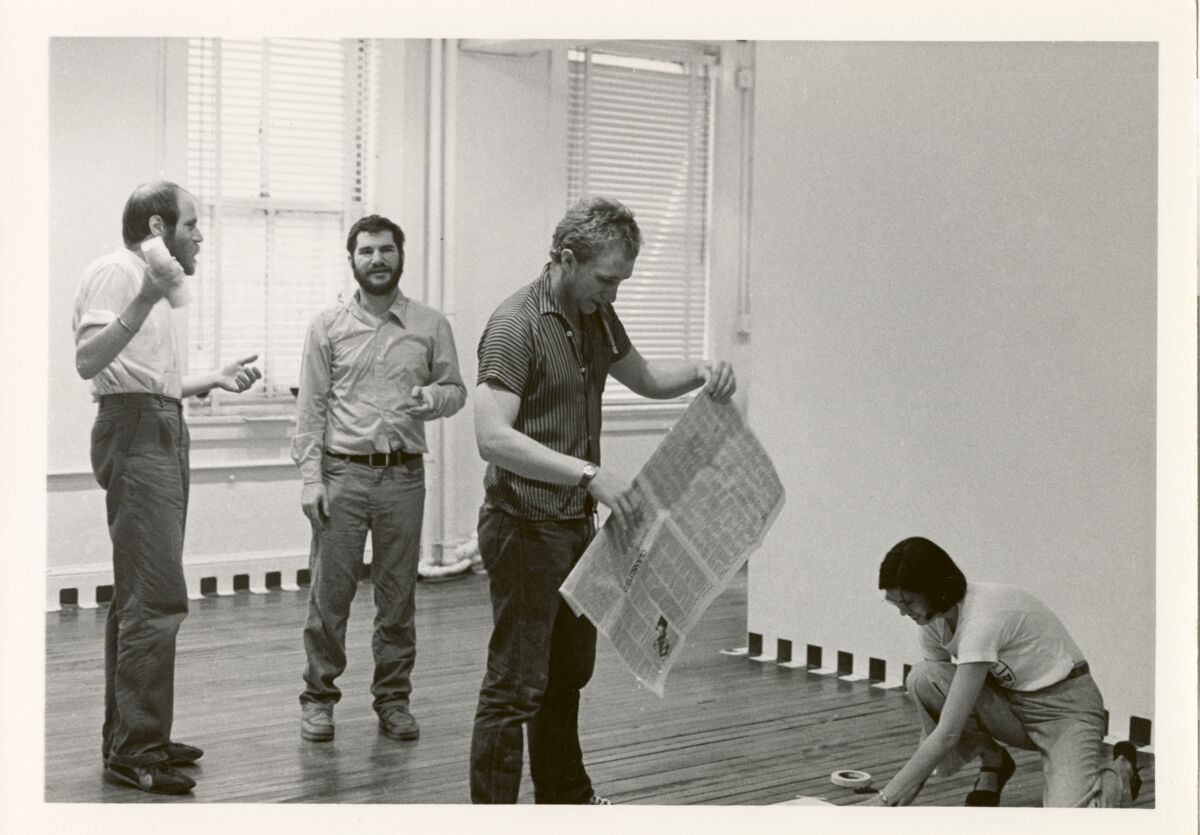 In 1978, the New York artists Peter Nadin and Christopher D'Arcangelo conceived an idea for an open-ended, improvisational art space in which work by their artist friends would be made in situ and live, in essence, as the young artists themselves were living in the city—cheaply, densely, collaboratively (by choice and necessity) and often in intense response. None of the art was intended to be for sale and probably would have confounded buyers if it had been. Participants signed onto the concept of work being layered on top of others' work, being lived in and upon, and being essentially ephemeral, allowed to wear and disintegrate over time.
The physical space, at 84 West Broadway, between Chambers and Warren streets, was a plain industrial loft, of the kind artists, musicians and performers had begun to colonize in TriBeCa as SoHo became too expensive. Nadin, a painter who had moved to the city from England in 1976, lived and worked in the loft. Along with D'Arcangelo, he made ends meet by taking on construction jobs, often interior refurbishment of rough spaces like his own, for fellow artists and art patrons. D'Arcangelo, son of the painter Allan D'Arcangelo, operated as a self-declared anarchist and outspoken critic of the commercial and institutional art world; his influential performances had included chaining himself to the doors of museums—including the Whitney—to prevent visitors from entering.
The two artists, for both conceptual and political reasons, had begun in early 1978 to define their construction work as artwork—something in the way of both performance and minimalist readymade, a working-class twist on 1970s architectural interventions like those of artists Michael Asher, Robert Irwin and Gordon Matta-Clark. After being hired to paint, sand and build interior walls in Louise Lawler's loft on Greenwich Street in January 1978, the two—with Lawler's cooperation—issued an invitation to her empty loft as a temporary exhibition, titled 'Nine Days Work,' along with the specifics of that work: '912 sq. feet, 38' x 24.' Function by Louise Lawler. Design by function. Execution by Peter Nadin and Christopher D'Arcangelo. Materials: Celatex, Drywall, Lath and Nails. Purchased by Louise Lawler.' From that unlikely piece grew the idea for 84 West Broadway, whose opening show, '30 Days Work,' was simply the exhibition of the results of the labor that the two, along with a friend, Nick Lawson, had performed to create the art space by separating a small living quarter for Nadin from the rest of the open, empty loft. (Nadin and D'Arcangelo were, in a sense, taking up the mantle of a long-gestated notion within 20th century art. 'Attempts to link art and labor have been central to American modernism,' wrote Julie Bryan-Wilson in her 2011 study 'Art Workers: Radical Practice in the Vietnam War Era.')  
Over the course of seven months, 11 artists added work to the space, which was opened to visitors during the day. Daniel Buren painted his trademark stripes along the baseboards and the tops of the walls. Sean Scully created a striped painting on drywall in a corner, which sat atop a stretch of Buren's stripes. Jane Reynolds installed two peephole viewers in the middle of Scully's painting, allowing viewers to look through it, into Nadin's living space, and Nadin to look back. Peter Fend borrowed an iron lung from Bellevue Hospital, and turned it on inside the loft, to 'breathe' the room. Lawson and his girlfriend Rebecca Lisle lived inside the space on a cot, as a public performance. And the avant-garde guitarists Rhys Chatham, Glenn Branca and Nina Canal played an ultra-high-volume performance of Chatham's landmark 'Guitar Trio,' composed just two years earlier, as a way to fill the space with sound. Amid all of this activity, Nadin and D'Arcangelo's friends and acquaintances—the dancer Julie Barnsley, the budding musician Kim Gordon, fellow artist Richard Prince—sometimes used the loft as a place to meet and talk, a quasi-public crossroads where gallery and residence melded. The plan was to continue the accretion of works and performances there indefinitely, but on April 28, 1979, D'Arcangelo inexplicably took his own life at the age of 24, and Nadin decided to end the gallery experiment, after a final work that included himself, Lawrence Weiner, Dan Graham and Lawler.
View from Nadin's living quarters into gallery, a work by Jane Reynolds.
Nadin's living quarters.
Perhaps because of the space's brevity, and the way it came to an end, the history of 84 West Broadway—and its importance to both conceptual artists and painters at the time—has been all but lost in accounts of the art world in those years, with the exception of writings about D'Arcangelo and a few small shows, including the 1992 'One Leading to Another' at 303 Gallery, inspired by the space. Recently, Nadin—who lives in the West Village and works in a studio in the Catskills on a functioning farm that he and his wife, Anne Kennedy, operate— began to retrieve materials and documents about the loft from long-term storage, revisiting those years and some of the participants for the first time. What follows is a first attempt at a telling of the life of the space by those involved.—Randy Kennedy
Peter Nadin: I had moved to New York in September 1976 from Newcastle, where I'd studied. Painting for me, art, had always felt like a way to gain an understanding of the world, which had been a difficult thing growing up, because I'd had dyslexia and went to school in the North of England at a time when the system was brutal for children with those kinds of problems, brutal really for everybody. I suppose there was no good reason to come to New York then—we all knew it was in freefall, a dangerous place—but it was the place you had to go. If you were interested in theology in the 16th century, for example, you'd go to Rome, and if you felt the way I did then about art, it seemed that you had to go to New York. I fell into doing construction work to make a living, and Sean Scully helped me at one point get a job for the Pop artist Bob Stanley, who was having a show out at P.S. 1. And Chris was also out there, at P.S. 1, working on that show, and that's where we met and we hit it off.
Daniel Buren: Chris was my best friend for many years. We met the first time in 1972. I guess he was about 17 years old then. He was working helping out at the John Weber Gallery, and we met around one of the first big works I did there ['Within and Beyond the Frame,' 1973; 19 striped banners hung along cables that began inside the gallery and extended out the window, above West Broadway.] Then we became close, and he went with me everywhere, helping me for a show in Amsterdam, in other places in Holland, in Los Angeles. He was quite extraordinary, I must say. Very smart, very quick, for being so young, and he was already forming his ideas about what we wanted to do. We were really close, like fingers on same the hand.
Louise Lawler: I met Chris through the idea of labor as 'work,' in a way. I'd gotten a job through some friends of mine who were architects, who were designing some kind of office cubicles, a cheap way of making them, and they needed someone to stretch canvas over Homasote. And they thought, 'Well, Louise is an artist. She can stretch canvas.' But it was a huge job, so I hired Chris and Allan McCollum to help me. And we all had a lot of time to talk while we were working with each other.
Sunlight, 84 West Broadway.
Final collaborative artwork in the gallery, 1979 (work by Daniel Buren and Sean Scully in the background).
Rhys Chatham: By 1975, SoHo had become invaded, rents went up, and a lot of us moved on to TriBeCa. This was before the age of the internet, so we all had to live very close if we wanted to see each other regularly. And people would come down to see us. It's where normal people went to dream, I guess. Magoo's Bar, at Sixth Avenue and Walker, was an artists' hangout where lots of us liked to go. Everybody lived in the neighborhood, and there were performances all the time. You'd stick up a poster, and everybody would come. It was really an amazing time to be living in New York. We could all still afford it.
Julie Barnsley: I was 23 at the time, but I still felt like a child. Everyone had such an intense personal agenda. It was individuality, hedonism, madness and genius, all at their maximum expression, all trampling and rubbing shoulders on the same streets.
Nadin: When I'd first gotten to the city, I didn't know anyone, didn't know where to stay. I ended up at a YMCA on 36th Street that was like a welfare hotel. Broken arms, wheelchairs, people acting crazy, shooting up; it was really something. I didn't really know what to do so I got on the subway, I think the next day, and ended up getting off at a place and, unbelievably, ran into somebody else from Newcastle, an artist who was in the city teaching. He was living in a loft on 18th Street between Sixth and Seventh, and he told me he was leaving the next day, and so he moved out and I moved in. It was one of those incredible places with people from all over the world. A lot of French guys, a couple of Japanese dudes. At one time, there was a country-and-western band living there as well. You just had to build your own space, so I was living in the furnace room for a while with the heater. Scully lived two floors below, so I got to know him, and he knew how to use a floor sander. So he showed me how, showed me on a couple of jobs, and I put an advert for myself in the 'Village Voice' and started sanding floors.
'It was as if I was making the frame, or a frame, for what was to follow, even though I had no idea at the time who that would be.'—Daniel Buren
Sean Scully: We liked each other immediately. He was more interested in conceptual art then, and I was more interested in painting. But at that time, there were a lot of wonderful things going on that brought those two crowds together—even the conceptualists who were intent on killing painting forever. I don't want to romanticize poverty too much, but the lack of money and relatively cheap real estate really did make a lot of things possible, like the dealer Julian Pretto's gallery on Hudson Street, which showed Allan McCollum and Rosemarie Castoro and lots of paintings shows. There were so many experimental spaces.
Lawrence Weiner: You were out in the street a lot back then and you saw people serendipitously. Peter's place was close to where I bought cigars. That stretch where he lived was sort of like the Fifth Avenue of illegal residential lofts at the time. We all had to work to make it, but you didn't have to work all the time to earn enough; I was stretching canvases for the painter Terry Krümm.
Nadin: Probably in spring of 1977, I was down on West Broadway and saw the shingle outside, only a few blocks from the World Trade Center, saying there were floors available. The landlord said, 'Yeah, it's gonna be $250 a month. Sign here.' Why not? So we sanded it and put in the plumbing, and I moved in. There was really nothing in that neighborhood at all. There was a Greek restaurant, the Delphi, near me on Reade Street, but that was it south of Canal. There weren't even enough people to make it seedy. It was just empty.
Nina Canal (with back to camera), Rhys Chatham, Glenn Branca and Wharton Tiers, 1979.
Nadin with work by Daniel Buren, 1979.
Scully: I ended up at 110 Duane Street, in a big loft, and Peter was literally about a three-minute walk away. We used to meet in the middle a lot and chat.
Buren: Peter was helping Chris on a job of fixing up the loft that I had gotten in the city. I think we had all talked about this kind of work they were doing, hard work, and we talked about, well, why not take all of that as your work as an artist? And then all of the sudden you change the perspective. It's not anymore just something to survive, but it's something you can show. It was an abstract discussion, mostly. But when they opened the space at 84, I was extremely interested. I said 'Okay, you jumped! Let's see what you can do.'
Nadin: Chris and I had gotten to be pretty good at spackling drywall, at taping. At that time, I was mainly writing, poetry, but I was also keeping sketchbooks, and I started to think about the essence of art being, of course, leaving the mark of your activity. That was what I was doing at night, with my hand, in the sketchbooks, making very elemental, almost primitive marks. But when you're doing construction, the mark of the hand is meant to disappear entirely. If it's a good job, the marks you make are invisible, which was pretty interesting to me, because the activities began to feel the same. And it began to strike me how beautiful things like the sanding of a floor were—the texture of the pine and how it changes when you put down the finisher, how beautiful the spackling mud could be when you applied it to the sheetrock. When Chris and I started thinking of showing the manual labor as art work, it was the idea of it being an exhibition and at the same time a kind of professional calling card: If you like what you see, you can hire us to work for you!
'Chris thought a lot about… what goes into things, into work, what and who gets attention, trying to come at the value of what people do from a different point of view… I thought the loft as a way to get into that was a great idea.'—Louise Lawler
Buren: When Chris asked me to make the first work after theirs for the space on West Broadway, I was thinking, 'Anyone who comes after me will probably want to use the walls, so I did not touch the walls except the places where usually no one touches, especially the baseboards and at the ceiling.' I called it 'Following and to Be Followed' because that was the idea. It was as if I was making the frame, or a frame, for what was to follow, even though I had no idea at the time who that would be.
Lawler: I think Chris thought a lot about the understanding of what goes into things, into work, what and who gets attention, trying to come at the value of what people do from a different point of view. And I thought the loft as a way to get into that was a great idea. I went to all of the shows and performances, and I sometimes worked there, minding the place like a front desk person. Peter was never there when I was there taking care of it, but I remember looking through Jane's peephole and seeing his kitchen, seeing the cockroaches run around. I remember a lot of weird specifics from being at Peter's: It was always overheated, something about the radiators going nuts. And also remember that Peter was a great wheat-paster, great at putting up the posters around the neighborhood for the shows. That was really important, to put those up around the neighborhood. All the information, the history, was right there. The posters functioned in the same way the gallery did.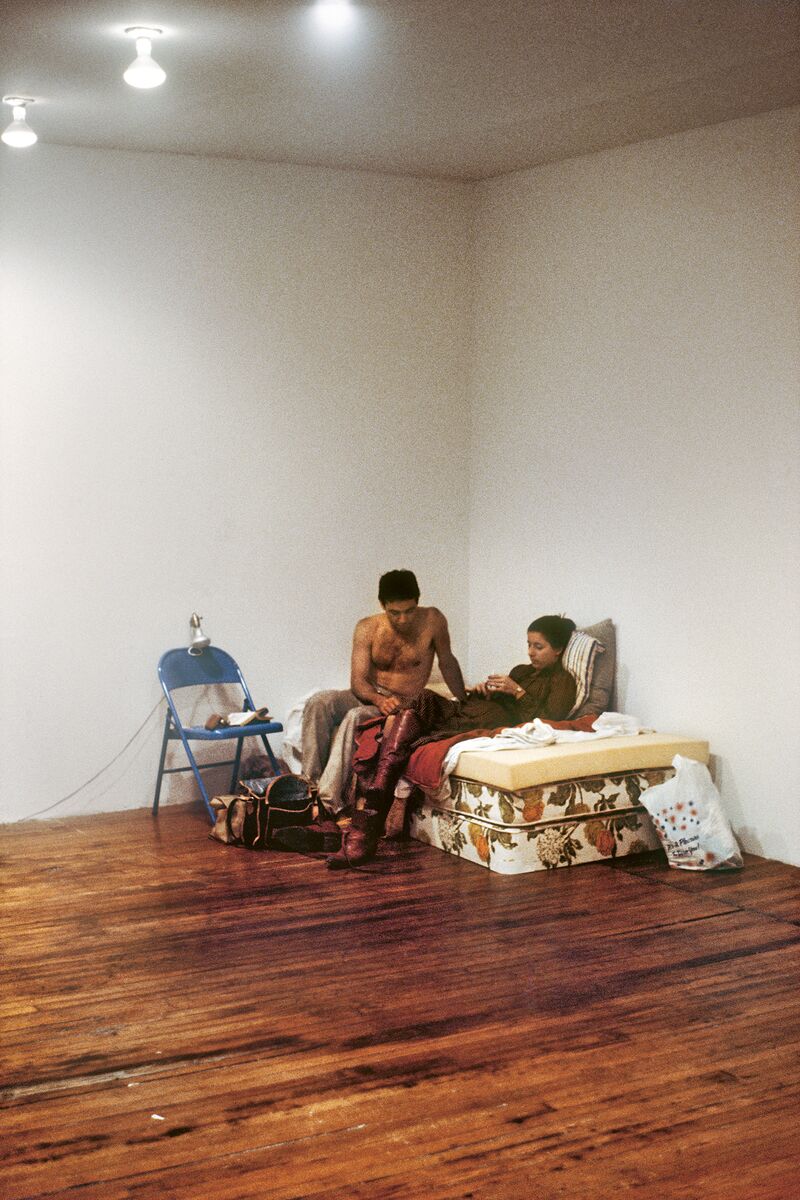 Lawson and Rebecca Lisle in their work A Place to Stay/Concerning a Duality of Function, 1979.
Jane Reynolds, 1979.
Scully: I was the third one, following Buren, and I pretty soon scoped out what I wanted to do. I wanted to get the most options out of following the wall. And so I followed it in a way that gave me a huge corner in the space. I was thinking about following and to be followed, as Buren phrased it, and so I wanted to do something that was a response to what he'd done. I was always very committed to painting, but my painting lends itself to architectural spaces very well, as Buren's did in other ways. And it was wonderful to get to work that way because it was actually like New York. What was going on inside the space was merely echoing the way the city was put together, because in New York there is almost no dead space. It's all used because Manhattan is finite. Everything is flat up against everything else. It makes life very different. It's like a collection of collisions.
Nadin: Sean really took to heart the idea of the works not just responding, sitting with each other, but literally being layered on top of one another, and his with Buren's was quite an interesting combo.
Scully: Buren and I take the same basic principle of using obsessive lines and do the absolute opposite with them, but somehow we still seem to end up in shows together. [Laughs] I used electric tape to make the stripes for that work, and I left the tape in, to give a nod to the proletariat, you might say. Peter and I actually painted it together because it was so enormous, on ladders next to each other. It was dark brown with the black stripes, and it looked like a big hulking geometric animal crouched in the corner. It was right on sheetrock, and so of course it was never meant to survive the installation. I still have a piece of it, a fragment that I saved when Peter moved out of the loft.
Lawler: At that time, there were other small spaces operating in the same spirit around that neighborhood, like Poppy Johnson's $100 Gallery in her apartment on Greenwich, where I also sometimes worked. It was mostly on weekends, and everything really was $100. Carl Andre would make these little tiny Carl Andres, which were great. I'd say to Poppy, 'You know, sometimes the crumbs are as good as the whole cake!' And we could afford them.
Jane Reynolds: I had met Chris when he was out here in Los Angeles, where I'm from. I'd had a show at the Claire Copley Gallery, and Daniel Buren was having a show there, and Chris was there with him. I'm a very shy person, so I went outside the gallery into a hallway at some point during the opening. It was very dark, a moonless night, and I thought I saw someone, like a specter, at the end of the hall. I had this weird intuition that I needed to know whoever it was. I didn't normally have those kinds of feeling, but I had it very powerfully that night. And it was Chris. I was living at that time in a building on Sunset and Gardner, where Larry Bell and David Lamelas were also living, and David was doing these works where he drew pictures of people he knew. At one point, I knew Chris was living briefly in Los Angeles, and so I told David that he needed to draw Chris. And I told him that when Chris came, to knock on my door because I'd finally gotten up the nerve to meet him. And that's how we met. That's what led to him asking me to come to New York to do the piece at Peter's.
'There wasn't a strange hierarchy of selection by outside forces; people didn't really know what we were doing. It was us, and we knew what we were doing and how to show it.'— Peter Nadin
Nadin: There was a strong feeling with what we were doing, and what some other people we knew were doing at that time, that the artists controlled the game. It wasn't a top-down relationship; it was bottom up. There wasn't a strange hierarchy of selection by outside forces; people didn't really know what we were doing. It was us, and we knew what we were doing and how to show it.
Reynolds: I was a young artist at a time when a woman's only role, no matter what anyone believed, was to support men. I wasn't one of those kinds of women. I believed in myself, and I wasn't pleasant in that ingratiating way. And Chris liked me for that. It was like meeting my other self, in a way. I had no money, so I came to New York on a Greyhound bus and barely ate anything along the way. I went to see Peter and pretty much already knew what I wanted to do in the space. I remembered Chris telling me that when they did the work in Louise's loft, they were putting in a ceiling, because the guy who lived above Louise complained about being able to hear her voice. And I thought about that, about separation between people or lack of it. And that's how the peephole idea came along. I put one in so that you could see into Peter's bedroom, and then another so that Peter could see out of his closet back into the space. I went down to Canal Street to a hardware store to get the peepholes, and Peter helped me drill them in. I've never had an easier installation in my life. I didn't meet Sean, but I'm still very grateful to him for letting me do what I did in his painting. I was too shy to go to the opening, so I just got on a bus and went back to L.A. Before I left, a girlfriend came and took a couple of Polaroids of me and Chris. I still have one of those. I didn't know it was last time I'd ever see him.
Nadin: When Peter Fend decided to do the iron-lung piece, somehow the photographer and filmmaker Robert Polidori got together with us to document the journey of the thing from Bellevue Hospital, down to West Broadway. But the film has been lost; no one seems to have a copy of it. I was on my motorcycle that day. Fend had a truck with an open trailer, and so people could see this big iron lung as we took it down the FDR. It weighed a lot. We had to dismantle the whole fucking thing until it was just the cylinder and then goose it into the elevator standing up and then hump it up into the exhibition space and put the whole thing back together. Iron lungs in those days were really no longer in use, so I guess they had a lot of them sitting around. As a response to the space, it was really brilliant. You'd come in and hear it breathing the room, a remarkable idea. Later, of course, after everything had wound down, people would come into my loft and not understand. They'd wonder if I had a sick relative in the back. They'd see it sticking out of the corner.
Chatham: It was during my second time as director of the Kitchen, I think, that I got a phone call from Peter asking me to play for a kind of piece in an art space. This was at the height of the punk explosion—Patti Smith and Blondie and Richard Hell and that whole crew had been playing at CBGB, and everybody was really figuring out what it was. It got to the point that half the art world was hanging out at CBGB and the other half were in the bands. It was really exciting to me. It was when I started looking for my own voice. I'd worked as piano tuner for La Monte Young. The way La Monte had worked with Robert Morris, doing music in Morris environments, impressed me. It seemed like he was fine-tuning techniques he was already using, in response to Morris. I realized I had to do something similar to find my own voice. I'd never been to a rock concert in my life. Seeing the Ramones made me want to pick up a guitar for the first time. My work really became a merger of minimalist music with the rhythms and instrumentation of punk rock. We 'Guitar Trio' at Peter's in what was essentially an open room, as I remember it. The place was pretty packed. And we played it loud. The overtones of the sound were permeating every single centimeter of the space.
Interior page of Nadin's sketchbook, titled Brick Walls, 1977–79.
Chris D'Arcangelo and Peter Nadin in Louis Lawler's loft, 1978.
Nadin: As I remember it, it felt like the air pressure in the room changed. It was like the sound was a physical thing filling the space, making the room feel completely solid.
Chatham: You listen to it, and it sounds like one chord, and it's like, 'Okay, extreme minimalism,' right? But really that's not what's going on because you're hearing all these harmonics. The overall effect, nontechnically, is like choirs of angels singing in the frequencies of the low E string. And depending on where you were in the room, you were hearing different things. It worked out really well in Peter's space because it was a live space. The overtones shimmered. For me and Nina and Glenn, it was like a party. We played two long sets, if I remember, maybe 40 minutes '
Buren: For Chris, who believed that there was no way to separate political power from power in the art world, 84 West Broadway was the perfect kind of space. He was extremely alert, extremely aware of everything. Certainly radical, I mean probably too radical. When he died, I was not only very sad, but very upset. He never seemed like the kind of person who would take his own life. He was always someone extremely concerned and involved with other people, a lot of generosity. We even talked about people who took their own lives, and he said it was terrible because it's too selfish toward the people who are close to you and who remain. So all of that was in complete contradiction to what he did.
Nadin: It was a Saturday morning, and it was raining. His girlfriend Cathy Weiner called me and told me to hurry over to his place on Elizabeth Street, that something terrible had happened. When I got there, there was just nothing to be done. We sat and waited for his father and for the police. It was unbelievable to me. It is to this day.
Reynolds: Chris was so young, but he always said he felt like an old soul, a very ancient man. And he had so much affection for Peter. It was like he was Peter's doting grandfather sometimes. Not like an authority figure to him or anything, but just like an indulgent grandfather. He was very different from other people, especially in the art world—he truly cared about other people. And he was very, very important to me. It took several months to get over a level of grief that was so intense it felt like I was sick. When I was in New York, I couldn't walk down Elizabeth Street, past where he'd lived, for very a long time.
Peter Fend's A Room Defined Not by Its Walls but by a Pump, 1979.
Nick Lawson lying in Peter Fend's iron-lung work, A Room Defined Not by Its Walls but by a Pump, 1979.
Lawler: After Chris died, the piece that Dan and Lawrence and Peter and myself did was a piece in which Lawrence stenciled and painted our four names on the floor of the space. We photographed that, and the photograph was added to the poster, and that poster was wheat-pasted around, so that it was back out on the street again. It was something that made sense to us after Chris was gone, to show the work in the space along with the space's history
Weiner: I made the stencils at my place on Bleecker Street and took them over. There's nothing wrong with the idea of that last piece, I guess, being a marker, a memorial for the end of it all. The space was really important. And it was so sad that it ended that way, that Chris took his life.
Nadin: After Chris's death, the space stopped functioning as the gallery we had started, but exhibitions continued there, in different ways, in my studio, off and on until I had to leave it in the mid-'90s. Fend did a piece in which he remapped the world. Julie Barnsley did a piece with dance. Kim Gordon was around, and Jenny Holzer and I did work together in the space. With the exception of Fend's iron lung, which eventually went back to the hospital, the rest of the work from 1979 stayed in the space until I left it, about 1993 or 1994, when the landlord kicked me out. Nothing stayed pristine. I mean, I was living there and working there, and the cat was scratching things. But when I had to leave, I saved bits of what I could, pieces of Buren's work and Jane's peephole in Sean's painting, things I tore out before the place was gutted and took along with all my paintings. That's what the whole space really was about for me—about how you could make art with your friends, live with it, think about it more as a way of living and not a career, how you could have it all be part of your life.