Essays
Driving—Annie Leibovitz
'Years before it ever occurred to me that one could have a life as a photographer, I had become accustomed to looking at the world through a frame.'
The frame was the window of our family's car as we traveled from one military base to another. My father was in the Air Force and we moved every two years or so—Youngstown, Ohio; Biloxi, Mississippi; Fairbanks, Alaska; Fort Worth, Texas; Silver Spring, Maryland.
We would leave before the sun rose in whatever car we had then—the '49 Packard, the '53 Mercury, the '56 Chrysler New Yorker. We didn't have much money, but my father always made sure that we had a great car, and we always left in style.
Dad equated driving with being alive, with living. He drove until he died. Road trips were at the heart of my early work at Rolling Stone, in the 1970s. I jumped into the car with Hunter Thompson several times, although Hunter didn't really want anyone working with him. Hunter was charismatic. Everybody, including me, was in love with him. He got his stories by sitting in bars with people who didn't realize he was reporting. They thought he was socializing. The only time I remember him asking me to pick up my camera was one beautiful moonlit night when we were driving north on Highway 1 with no headlights on. A policeman stopped us, and when he started to give Hunter a sobriety test, Hunter pulled me out of the car and told me to take pictures. The policeman let us go.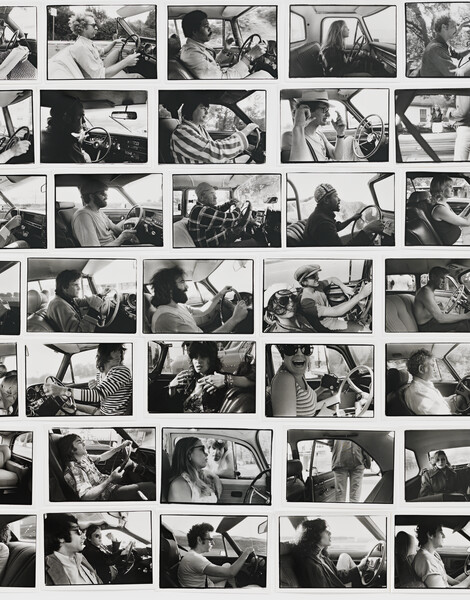 My last car when I lived in California was a '63 Porsche—a 356C Cabriolet. I would throw my equipment in the back and drive south from San Francisco down Route 101. If I wanted to make better time, I would go inland to Highway 5, which is not so scenic, but that section is flat and built for speed. It wasn't a big deal to go 80 or 90 miles an hour, and you could push it to 100. The Porsche wouldn't go that fast, but Janie Wenner's Mercedes would. Then, in 1974, because of the oil embargo and ideas about fuel efficiency, President Nixon changed the speed limits on all the federal highways to 55. I got tired of spending the whole trip looking into the rearview mirror for policemen, and just let them pull me over. I had a new Polaroid SX-70 and I would ask them if they minded if I took their picture. The SX-70 was a beautiful camera—sleek and fast. It was dazzling. I would take two pictures and give the policeman one. They were mesmerized, although they always gave me a ticket anyway.
It was devastating to me when I finally left California and moved to New York and realized that I couldn't go out and just drive. I missed the meditative time. During many sleepless nights before I left, I would get up and get dressed and pull my car out of the garage and drive. First east across the Bay Bridge, then north up Highway 580 and west across the bridge to San Rafael and down Highway 101 South to the Golden Gate Bridge and back into the city.
I still dream about California.
When I was working on an edit of my early work for an installation that originated at LUMA Arles and then traveled to Hauser & Wirth in Los Angeles, I found that it was hard to separate individual images out from one another. The final installation was a river of pictures. Prints from the show were collected in framed grids. This is a new format for me. I have used grids of photographs in my books before, but most of my prints are single images.
—Annie Leibovitz, 2019
–
Annie Leibovitz's 'Driving Series' is included in Hauser & Wirth's presentation at Art Basel, from 13 – 16 June 2019.