Essays
Rebecca Smith on 'Zig I' by David Smith
In The Context of Her Father's Sculpture
In the Zig series, my father really had to push against received notions, very ingrained at the time, that sculpture should not be painted, that color and three- dimensional form should be separate, that painterly marks and color were really only for the flat surface of a canvas. But he had begun as a painter, and he always said that he wanted to be counted among the painters. Color was very important for him in his thinking about sculpture. Part of this conviction, I think, was about not wanting to leave anything behind, not to lose anything. He had trained as a painter; he admired and learned from his fellow painters. Why not use that? Why abandon color?
After his death, the critic Clement Greenberg became one of the trustees of the estate, and there was a situation, widely reported and debated in the early 1970s, of Greenberg stripping white paint from four or five works. He was very direct about it, about his view that the pieces were stronger without color and that sculpture in general should not be painted. Greenberg told my sister, Candida, and me in the 1970s that he wanted to let the color of the painted pieces eventually be washed off by the elements and the rain. He said, 'They'll be much better without the paint.' In response we asked Greenberg and the other trustees to build a storage place for the painted pieces, specifically to protect the paint. Even though it was tough car paint, well, we all know that cars fade, too. And Greenberg gave in and we did build a place to protect them. Our belief – and I think it's the only belief one should have – is that you leave the artworks the way the artist left them. You don't have a posthumous dialogue with the work. You just leave it alone.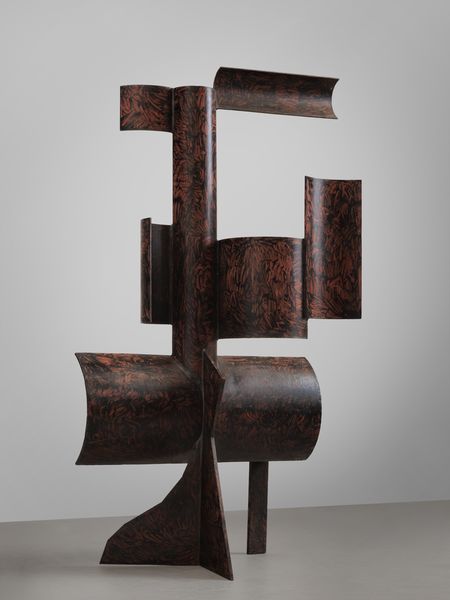 I think part of that Modernist resistance to color early on was about a certain idea of purity. But my father was always looking for impurity and for mixing things up. It was about resisting homogeneity, and he very much admired what Picasso had done with sculpture, often using color, not abiding by any rules. My father had a sense with painting that there was more freedom in it. Sculpture was so dominated by these obdurate materials that take a lot of planning to manipulate, requiring technical know-how and a grasp of physics, plus a lot of physical effort and skill. Whereas with painting or drawing, you can just do whatever you want, without concern with the laws of gravity and balance. You can pretend that anything can stay up in the air. One of my father's great breakthroughs was understanding that welding, using a welding torch, could give him a measure of that kind of freedom. Welds were like superglue. Early on, he had worked early on the assembly line for the Studebaker auto company and later for the American Locomotive Company, welding automobiles and train cars. Welding was a skill he mastered as a young man. It empowered a sculptor to work in his own studio, not to have to rely on a foundry and other people, and to be more improvisational. It was a really powerful instrument that liberated him from earlier physical limitations of sculpture.
He loved ancient art. I can't tell you all the long hours my sister and I spent with him in museums, looking at tiny seals and artifacts and figures. Having said that, it's not clear that the title of the Zig series, which is a reference to ancient ziggurat structures, was meant to suggest that these pieces were in any way representative of ziggurats. The sculptures are full of curves and circles, convex and concave shapes, while ziggurats were rectilinear. But there is certainly a layering of space in the Zigs that gives them a kind of density and monumentality. They allude to greater depth than is actually physically there. There are also what you might describe as geometric arrangements, but they never feel to me like idealized geometry. They feel more like nature, like natural forms. My father called our place in the country a 'sculpture farm.' And I think that the colors of 'Zig I' – a deep black and a rust brown – were intuitively arrived at by someone who lives in nature. That color combination gives a sense of light struggling through darkness, of something emerging from the dark, maybe kind of like daylight filtering through a dense forest. I think that the colors also come from his keen awareness of rust, not only on the metal around him – all metal just wants to go back to rust, to the earth – but in the landscape, in rocks that become rust colored around streams because of their iron content. He would even mix paint to look like the color of rust.
Every summer Candida and I would go up to Bolton Landing [the property near Lake George in upstate New York where Smith established a permanent studio in the early 1940s] and sculptures were always in the field. Some of them had been out there so long they were starting to rust, and others had paint on them, some had the shiny silver surface of stainless steel. When I discovered he had painted a sculpture in bright colors, I thought it was a good move. Children are artists, and I felt that my father, unlike other adults, was still being an artist. It was sort of embarrassing that he spent his life making these big, mysterious things that surrounded our home in a remote place in the country. I was a little embarrassed that he didn't work in an office like the other fathers I knew. He was rather an authoritative, traditional parent, but he seemed to be spending his life doing what children did.
He saw his sculptures in nature from the start. Even the earliest little sculptures that he made up there, he photographed outside. The work was always conceived with a backdrop of nature, in natural light. When you look at the works in the Zig series, there are several with a kind of color that's layered, with something beneath and another color put thinly on top so that you see this interplay. That effect is related to the Cubis, which he was working on at the same time. He worked the stainless steel with a grinder to create a brushed, abraded surface that reflected the light – the sky, the trees, the grass – in a faceted way that was comparable to the painted gesture. A lot of those sculptures were placed by him in an east-west orientation so that you'd get the reflection of the sun rising and setting – very dramatic effects of light. He wrote about the 'Zig' forms growing out of an earlier piece called Bouquet of Concaves [1959, the Phillips Collection, Washington D.C.] and that his vision then 'grew to concaves larger than my own being.' I think that if he had lived, the work definitely would have gotten bigger.
He kept so many things going in his head simultaneously, sometimes almost in conflict. In the '60s, he even returned to nude paintings from the figure – the way a student would do – at the same time as he was making his most abstract sculpture. He built a painting studio in addition to the sculpture studio, and in the painting studio he would be working from a nude model the same way he had done decades before at the Art Students League. He was always very experimental, both in terms of materials and in terms of ideas. And at the heart of it all, he was fundamentally dedicated to the act of making. A lot of his ideas emerged out of the physical making of things, out of drawing, seeing what it was going to be only while in the process of making the thing. I think that's part of the reason he liked living in the country. He didn't want to dilute his experience with distractions. He wanted to be in the studio, with his hands on the materials, as much as he possibly could.
The Zig series was very important to him and, looking at the series today, it feels very realized right from the beginning. He titled this one 'Zig I', I think, because it declares some themes that were going to come in the pieces to follow. It also declares itself and the theme that he came back to again and again: man in nature, man taking a stand in the universe.
'Zig I' by David Smith features in Hauser & Wirth's presentation at Art Basel Miami Beach 2018.