Cal State LA Community Impact Media Spring 2019 Documentaries
On 19 May 2019, the Cal State LA Television, Film and Media Department's Student Production Unit premiered four student-directed documentaries at Hauser & Wirth Los Angeles.
Photo: Heather Fipps
Photo: Heather Fipps
During the course of the semester, student groups and their paired nonprofits collaborated to create short documentaries. The resulting films communicate how the local organizations use the arts as a means to encourage positive change across diverse audiences, from underserved youths and individuals with neurodegenerative diseases, to communities facing mental health challenges. As a call to action, the organizations plan to use these films to share their message to a wider network and to support fundraising activities.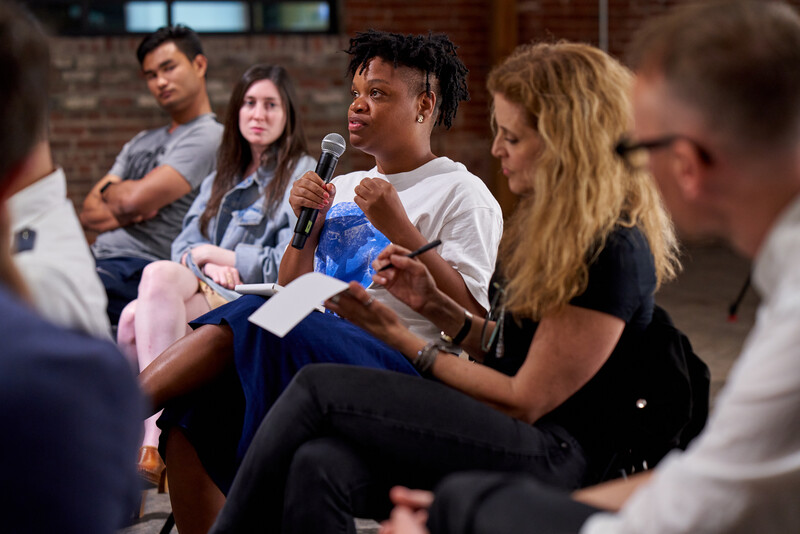 Photo: Mario de Lopez
Photo: Mario de Lopez
Mentorship for this semester took shape in the form of expert feedback from film director Gina Angelone and Hammer curator Erin Christovale who joined the class for a special workshop session at the gallery. During this workshop, students received first-hand guidance from working professionals and learned new techniques to advance the stories of the nonprofits.
Andre Moore, student director of the Music Mends Minds documentary states the benefits of hands-on learning and professional mentorship:
'For new filmmakers this is a great experience to learn because you get advice from professionals while going out and doing the work yourself. Before I took this class I did not even touch a 4K camera or know about that workflow, I have never worked with a client only my own personal projects, and I have never received as much advice from professionals. Everyone was supportive and helpful and I could not be more thankful.'
Photo: Mario de Lopez
Photo: Mario de Lopez
The partnership between Cal State LA and Hauser & Wirth began in fall 2017 with the development of the Community Impact Media course. This innovative course led by Professor Heather Fipps provides student filmmakers with hands-on experience and storytelling mentorship to guide them through creation of original short documentaries for different local nonprofits each semester, encouraging the students to reimagine film as a tool to catalyze social change.
View the student-directed documentaries: