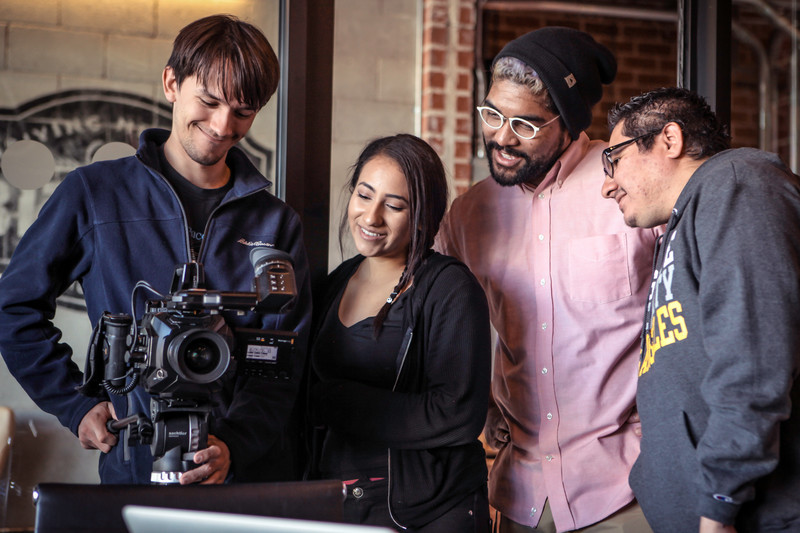 Cal State LA Community Impact Media Fall 2018 Documentaries
On 15 December 2018, The California State University Los Angeles Television, Film, and Media Department's Student Production Unit premiered three student-directed documentaries at Hauser & Wirth Los Angeles, the culmination of the course Community Impact Media.
For the fall 2018 semester, students focused on nonprofit organizations in California dedicated to environmental justice: Green Technology, Grades of Green, and Communities for a Better Environment. The student-directed documentaries draw attention to the ways in which the regional nonprofits are developing solutions that address environmental challenges in California and beyond. The organizations plan to use these films to share their message with an extended audience and in their fundraising and outreach activities.
Screening: Cal State LA Community Impact Media Documentaries Premiere, Hauser & Wirth Los Angeles, 15 December 2018. Photo: Sarah M. Golonka
Community Impact Media, a shared project between the university and the gallery, provides neighboring youth with hands-on media making and storytelling mentorship toward the production of video projects written and directed by the student filmmakers. It not only encourages students to reimagine the role of filmmakers as neighbors and citizens committed to meaningful social change, but also illustrates each organization's commitment to engage and develop a positive, lasting relationship with their shared LA community.
The three student directors, Lola Salgado, Sean Nesler, and Nate Lewis worked directly with the organizations and received one-on-one mentorship from local filmmakers throughout the process of making the documentaries. 'The Community Impact Media production experience helped me realize how important it is to give these non-profit organizations, and their members, the opportunities to tell their stories,' notes student director Sean Nesler. 'This production taught me more than any classroom environment could have, and I think of it more as my first professional directing job.'
The partnership between Cal State LA and Hauser & Wirth began in fall 2017 with the first iteration of Community Impact Media. The project was co-developed to establish an ongoing program that brings together media making and storytelling mentorship to support a new generation of diverse filmmakers and to encourage students to reimagine film as a tool to catalyze social change.
View the student-directed documentaries:
Communities for a Better Environment
Directed by Lola Salgado
Green Technology
Directed by Sean Nesler
Grades of Green
Directed by Nate Lewis