Welcoming the Estate of Cathy Josefowitz
First exhibition to open at Hauser & Wirth New York, 69th Street, on 11 May 2023
Prolific, prescient and powerfully original yet under-recognized in her lifetime, Josefowitz (1956 – 2014) produced a diverse body of work that ingeniously transcends hierarchies of medium and genre. Over the course of four decades, this New York-born, Swiss-raised artist created an oeuvre of remarkable ambition, spanning drawing and painting, theater and dance, as she developed a deeply personal visual syntax in her quest to represent the body as an expressive vehicle of individual experience. Josefowitz's practice reconciled the visual arts and performance, leaving an exceptional legacy as substantial in scale as it is intimate and potent in its impact.
Cathy Josefowitz, Untitled, c. 1974 © Estate of Cathy Josefowitz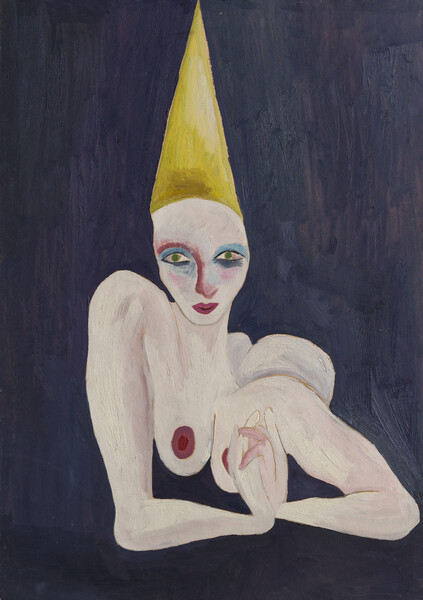 Cathy Josefowitz, L'Acrobate (The Acrobat), 1972 © Estate of Cathy Josefowitz
Our inaugural solo exhibition of the artist's work, 'Cathy Josefowitz. Forever Young,' will re-introduce Josefowitz's gifts and vision through a meticulous selection of works—including some exhibited publicly for the first time—from the whole of her career. Opening with a collection of early works from the 1970s, including oils on cardboard and drawings on paper in ink, pastel, watercolor and gouache, the exhibition reveals Josefowitz's incipient, yet voracious, determination to depict the body in both its anatomical and metaphysical dimensions. In portraits and self-portraits from this period, Josefowitz's subjects appear in a variety of poses accentuating their physical and internal presence alike, as well as their relationships with other bodies.
The exhibition at Hauser & Wirth New York, 69th Street, will present film footage of two of Josefowitz's notable choreographies from the 1980s—'Woodstock' and 'For Ever Young'—to illuminate how dance became inseparable from drawing and painting in the artist's practice. Later works in the show, from pastels made in the 1980s to the cryptic paintings of empty but eerily anthropomorphic chairs from the 1990s, trace the evolution of Josefowitz's practice, which she continued to expand in the last decade of her life as she created larger paintings on canvas that further isolate the body and emphasize the geometry of the space it inhabits.
Cathy Josefowitz, Untitled, c. 1979 © Estate of Cathy Josefowitz
Cathy Josefowitz, Untitled, c. 1979 © Estate of Cathy Josefowitz
Manuela Wirth, President of Hauser & Wirth, commented: 'Cathy Josefowitz's oeuvre has been nothing short of a revelation to us. This is a rare occasion where we encounter an artist for the first time yet feel we have known her work forever. An artist, activist and performer, Cathy possessed a voice that resonates so strongly with the art of today while at the same time connecting aesthetically and conceptually to the work of Louise Bourgeois and Maria Lassnig, among others in our gallery's family of artists. We are looking forward to sharing her work in our forthcoming exhibition in New York City, and to collaborating with the artist's Estate to celebrate her contributions and safeguard her legacy.'