Discover Open-Air Sculpture This Summer
This summer Hauser & Wirth artists will present a number of significant outdoor sculptures across five gallery locations globally. The international presentation features a new sculptural intervention by Phyllida Barlow encompassing the central open-air courtyard at Hauser & Wirth Los Angeles, as well as Hauser & Wirth Menorca's recently launched sculpture trail integrated into the landscape of Isla de Rey, featuring the work of Louise Bourgeois, Eduardo Chillida, Joan Miro and Franz West.
Over five decades, British artist Phyllida Barlow has continuously challenged the conventions of sculpture. 'untitled: corral; 2019' consists of a series of nearly 100 brightly colored triangular cement posts that extend above the perimeter roofing at 20 feet high, forming a circular barricade that fills the entire courtyard. The expansive work blocks visitors from inhabiting or traversing the space in the casual way they normally can. Instead, it forces circumnavigation, resulting in a new engagement for visitors to the gallery—new paths forged, new sight lines experienced—and speaking to Barlow's interest in the absurd, frustrating, and often felicitous interactions that result from unexpected everyday encounters between people and their surroundings. 'untitled: corral; 2019' is on view until August, acting as a precursor for Barlow's forthcoming solo exhibition in Los Angeles in February 2022.
Franz West's striking 'Autostat' (1996) greets visitors as they approach the welcome deck of Isla del Rey, Menorca. The sculpture of welded sheet steel painted a pale pink was the first work by West to pursue a primarily aesthetic approach. Referencing the human body, its bright hue is offset by the irregularities of its scar-like welded seams, suggesting both the organic and the artificial. Alongside the inaugural exhibition 'Masses and Movements' by Mark Bradford, a range of seminal sculptural works by European artists and Spanish masters can be found across the art center and surrounding landscape designed by Dutch plantsman, Piet Oudolf.
Eduardo Chillida, Eligio del Vacío VI (Praise of the Void VI), 2000 © Zabalaga Leku. San Sebastián, VEGAP, 2021. Collection The Estate of Eduardo Chillida. Courtesy Hauser & Wirth. Photo: Daniel Schäfer
Eduardo Chillida, Harri VI (Stone VI), 1996 © Zabalaga Leku. San Sebastián, VEGAP, 2021. Collection The Estate of Eduardo Chillida. Courtesy Hauser & Wirth, Photo: Ken Adlard
Eduardo Chillida's 'Eligio del Vacio VI (Praise of the Void VI)' (2000) and 'Escuchando a la Piedra III (Listening to the Stone III)' (1996) celebrate Basque materiality and the relationship between space and organic form, reflecting on the artist's philosophical dialogue between monumental outdoor sculpture and nature. Chillida commented, 'One day I dreamed I was in a utopia: a space where my sculptures could rest and people could walk among them as if it were a forest.' At Hauser & Wirth Somerset a dedicated presentation of over 43 indoor works and 5 outdoor sculptures by Chillida continues. Much of the artist's practice is marked by a rebellion against gravity, with works appearing as though they are floating or suspended in space. In making the outdoor sculpture, 'Harri VI (Stone VI)' (1996), Chillida rounded off and perforated the edges of the solid granite block to produce an effect of lightness from a material of great density, mass and weight.
'One day I dreamed I was in a utopia: a space where my sculptures could rest and people could walk among them as if it were a forest.'—Eduardo Chillida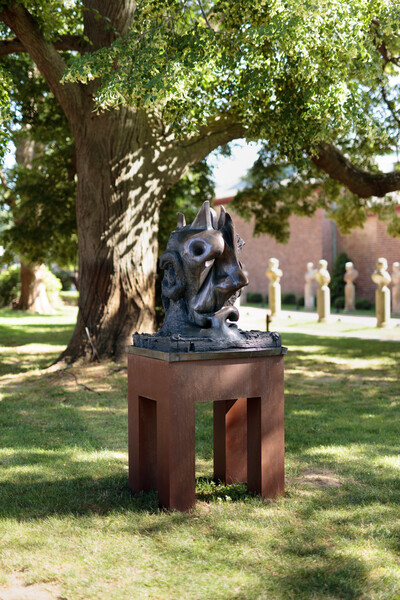 Nicole Eisenman, Head With Demon, 2018 © Nicole Eisenman
Nicole Eisenman, American Goth, 2018 © Nicole Eisenman
From spring to late summer, outdoor sculptures will evolve in and around the Village of Southampton, New York. Henry Taylor's first outdoor bronze sculpture is installed in the Southampton Arts Center garden, behind the gallery, following its initial unveiling in Somerset, UK earlier this year. The powerful work emerged from a conversation between the artist and his older brother Randy in the 1980s. Randy—a founding member of the Black Panther chapter in Ventura County, California—shared the words of an explicit bumper sticker, which stayed with Taylor for nearly two decades until he embodied them into this striding, antlered figure. In addition, two large hanging works by French-American master Louise Bourgeois— both 'Untitled' (2004)—are suspended amid the verdant branches of trees in the garden. Often displayed as a pair, the spirals are Bourgeois' attempt at both controlling and letting go of chaos. Also on view are three works by New York–based artist Nicole Eisenman, including 'Head with Demon' (2018), a modernist bronze fountain sculpted in Eisenman's signature style, combining rough unfinished areas with highly polished details, and 'American Goth' (2018), which incorporates limestone designed to age naturally over time.
Louise Bourgeois, Untitled, 2004 © The Easton Foundation/VAGA at ARS, NY
Henry Taylor, Untitled, 2020 © Henry Taylor. Photo: Lance Brewer
In conjunction to the inaugural exhibition, 'Louise Bourgeois. Maladie de l'Amour' at Hauser & Wirth Monaco, 'Spider' (1996) sprawls across the gardens adjacent to the gallery. A recurrent motif in the artist's career, Bourgeois conceived of the spider as an ode to her mother, who was a seamstress in the family's tapestry restoration atelier. Both a predator and a protector, the symbol evokes the emotional entanglements of her own childhood. Bourgeois stated, 'The spider is a repairer. If you bash into the web of a spider, she doesn't get mad. She weaves and repairs it.' Another work from the same series can be viewed in the central patio in Menorca, conveying universal themes of emotion, anxiety and longing.
'The spider is a repairer. If you bash into the web of a spider, she doesn't get mad. She weaves and repairs it.'—Louise Bourgeois
Louise Bourgeois, Spider, 1996, Installed in Monaco © The Easton Foundation / ADAGP, 2021. Photo: François Fernandez
Louise Bourgeois, Spider, 1994 © The Easton Foundation/ VAGA at ARS and DACS, 2021. Photo: Daniel Schäfer