Philanthropy
Our philanthropy has a dual focus: improving access to the arts through institutional support for both art colleges and museums and leveraging art's unique power as a fundraising platform for causes most meaningful to our artists.
Fundraising
Online Sales – Supporting the COVID-19 Solidarity Response Fund for the WHO
Since April 2020, we have donated ten percent of profits from our online exhibition program to the COVID-19 Solidarity Response Fund for WHO, starting with the sold-out George Condo online exhibition 'Drawings for Distanced Figures.'

Charity Editions
Annie Leibovitz – Upstate, 2020
Black Lives Matter, the Equal Justice Initiative, WHO
On the occasion of her online exhibition 'Still Life,' which opened 20th June, 2020, American photographer Annie Leibovitz unveiled a new print 'Upstate' (2020).
Comprised of a grid of photographs taken while in quarantine, 100% of the proceeds of sales of 'Upstate,' will be split equally between Black Lives Matter, the Equal Justice Initiative, and COVID-19 Solidarity Response Fund for the World Health Organization.
The edition of 100 + 15AP are priced at $1000 (excl. taxes and shipping) to purchase a print please inquire here.
Simone Leigh – Sentinel IV' (2020)
Color of Change
On 30 June 2020, Simone Leigh debuted a new bronze sculpture, 'Sentinel IV' (2020), created to benefit the nonprofit organization Color Of Change in its efforts to combat racial injustice in the United States. One hundred percent of the proceeds from the sale of the work were donated to the progressive civil rights advocacy group.
The 'Sentinel IV' is a 20-inch-tall cast bronze edition derived from the monumental 'parent' sculpture of the same name. Leigh's practice is informed by her ongoing exploration of Black femme subjectivity, and her objects often employ materials and forms traditionally associated with African and African American art and material culture.
Color Of Change is the nation's largest online racial justice organization. As a national online force driven by millions of members, Color Of Change moves decision-makers in corporations and government to create a more human and less hostile world for Black people in America.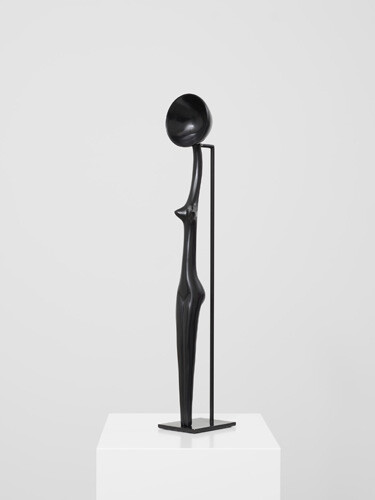 Simone Leigh, Sentinel IV, 2020. © Simone Leigh. Courtesy the artist.
Jenny Holzer – DELICATELY INTERCONNECTED
WHO, Art for Acres
To commemorate the 50th anniversary of earth day we collaborated with Jenny Holzer on a limited-edition benefit print featuring one of the Jenny Holzer's iconic 'Truisms', relaying a timely message that speaks to the global health and environmental crises of 2020.
The new print was created during the period of lockdown subsequent to the COVID-19 outbreak by Powerhouse Arts, a not-for-profit based in Brooklyn.
100% of the sales price were donated equally between the conservation initiative Art for Acres and the COVID-19 Solidarity Response Fund for the World Health Organization.
Staff Matching Fund 2020
Our philanthropy and social programs would not be possible without the passion of Hauser & Wirth team members around the world. In 2020, we established a staff matching fund to support the commitments made by our staff to the causes most meaningful to them. This year, donations were focused on a range of social justice and antiracist organizations listed here, and were accompanied by an additional contribution to Black Lives Matter from the gallery.
ACLU, Advancement Project, Avenues For Justice, Aware LA, Black Lives Matter Global Network, Black Lives Matter Los Angeles, Black Trans Advocacy Coalition, Black Visions Collective, Campaign Zero, Color Of Change, Crenshaw Dairy Mart, LA Regional Food Bank, Minnesota Freedom Fund, NAACP Legal Defense and Educational Fund, National Bail Out, Northstar Health Collective, Project EATS, Reclaim the Block, Summaeverythang, The Bail Project, The Center, The Collective PAC, The Marshall Project, The National Police Accountability Project, The Underground Museum, Tip to ActBlue Charities, Women's Prison Association, Unicorn Riot, Unlock Tomorrow.
Project EATs with GrowNYC in Greenmarket at Rockefeller Center. Image Courtesy of Project EATS
Marcus Garvey Harvest, image courtesy of Project EATS
Improving Access and Institutional Support
We are committed to play an active role within the arts communities in each of our gallery locations. One important way that we do this is by supporting arts institutions in their mission to improve arts access to local audiences. Some of our most significant institutional contributions of 2019 included:
Hauser & Wirth New York
Bard College
Dia Art foundation
Hirshhorn Museum
Nasher Sculpture Center
Studio Museum, Harlem
Swiss Institute / Contemporary Art New York
The Bronx Museum
The Brooklyn Museum
The Drawing Center
The Guggenheim
The Museum of Modern Art
The New Museum
The Whitney
Hauser & Wirth LA
Cal Arts
Cal State
Hammer Museum
LACMA
Museum of Contemporary Art
San Franciso Museum of Modern Art
Hauser & Wirth London
South London Fine Art Gallery & Library
Tate London
The Fruitmarket Gallery, Edinburgh
The Royal Academy
The Serpentine Gallery
Whitechapel Gallery
Hauser & Wirth Hong Kong
UCCA Foundation