Charles Gaines Receives Edward MacDowell Medal
The 60th Edward MacDowell Medal will be presented to American artist Charles Gaines in August 2019 during a public event at The MacDowell Colony's grounds in New Hampshire. The prestigious medal has been awarded annually since 1960 to artists who have made an outstanding contribution to American culture. Gaines joins a long list of previous MacDowell Medal recipients, which include the significant artists and writers Robert Frost, Georgia O'Keeffe, Willem de Kooning, Louise Bourgeois and Toni Morrison.
Born in 1944 in Charleston, South Carolina, Gaines began his career as a painter, earning his MFA from the School of Art and Design at the Rochester Institute of Technology in 1967. In the 1970s, Gaines' art shifted dramatically in response to what he would later call 'the awakening.' Gaines' epiphany materialized in a series called Regression (1973 – 1974), in which he explored the use of mathematical and numeric systems to create soft, numbered marks in ink on a grid, with each drawing built upon the calculations of the last. This methodical approach would carry the artist into the subsequent decades of his artistic journey.
Charles Gaines, Shadows VIII, Set 1, 1980 © Charles Gaines. Photo: Fredrik Nilsen
Charles Gaines, Librettos: Manuel De Falla/Stokley Carmichael, Set 1, 2015 © Charles Gaines.
Gaines' work is conceptually concerned with the spaces that both inhabit and fall outside of systems, often pointing to the tensions between the empirical objective and the viewers' subjective response. Identity politics have also played a central role within Gaines' oeuvre, and the radical approach he employs addresses issues of race in ways that transcend the limits of representation. His recent work continues to use this system with sociopolitical motivations at the forefront. 'Faces 1: Identity Politics' (2018) is a triptych of colorful portraits of historical icons and thinkers, from Aristotle to Maria W. Stewart and bell hooks. Gaines reduces the images to pixelated outlines, layered among the faces of the preceding portraits to create a palimpsest of faces, employing this system in a critique of representation and the attachment of meaning to images.
'Charles has been a leading figure in the conceptual art movement on the West Coast for more than 40 years. His influence as an artist is exponentially enhanced by his legacy as an educator, helping generations of students find their artistic voices since the 1970s.' – Ann Philbin
Gaines lives and works in Los Angeles, where he is a member of the CalArts School of Art faculty. He has been the subject of numerous exhibitions in the United States and internationally, and his work is in prominent public collections including the Museum of Modern Art, the Whitney Museum of American Art, the Studio Museum in Harlem, and the Los Angeles County Museum of Art. Gaines' work was presented at the Venice Biennale in 2007 and 2015.
Charles Gaines, Numbers and Trees: Palm Tree 1, Tree #4 Zori, 2018 © Charles Gaines. Photo: Fredrik Nilsen
Charles Gaines, Numbers and Trees: Palm Tree 1, Tree #4 Zori (detail), 2018 © Charles Gaines. Photo: Fredrik Nilsen
The 2019 Medalist Selection Panel was chaired by Ann Philbin, director of The Hammer Museum at UCLA and MacDowell Colony Chairman, Fellow, and Pulitzer Prize-winning author Michael Chabon. Among other were The New Yorker writer and critic Hilton Als, Naima Keith, the new vice president of education and public programs at the Los Angeles County Museum of Art, and prominent conceptual artist and educator Barbara Kruger.
The rich history of the medal can be traced back to 1907, when the colony was founded by the composer Edward MacDowell and pianist Marian MacDowell. Today, the MacDowell Colony runs an extensive artist residency program for emerging and established artists. Each year, MacDowell welcomes more than 300 architects, composers, filmmakers, interdisciplinary artists, theater artists, visual artists, and writers from across the United States and around the globe.

Charles Gaines, Manifestos 3, 2018 © Charles Gaines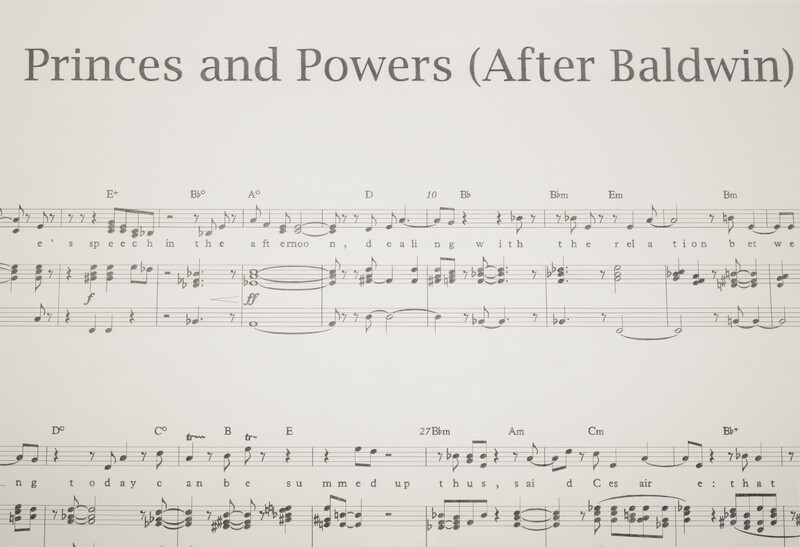 Charles Gaines, Manifestos 3 (detail), 2018 © Charles Gaines
The medal will be awarded to the artist during a free public event at the MacDowell Colony grounds in Peterborough, New Hampshire, on 11 August 2019. Charles Gaines' inaugural exhibition with Hauser & Wirth will open this Fall in Los Angeles.
This month, Gaines will discuss traveling exhibition 'The Theater of Refusal: Black Art and Mainstream Criticism', curated by the artist and first shown in 1993 at Richard L. Nelson Gallery, University of California, in a talk on Exhibition Histories at Whitechapel Gallery, London, on 18 April 2019.