Essays
A Museum Disguised as a Shop
An oral history of Sara Penn (1927–2020) and Knobkerry, her revolutionary Manhattan clothing and artifacts store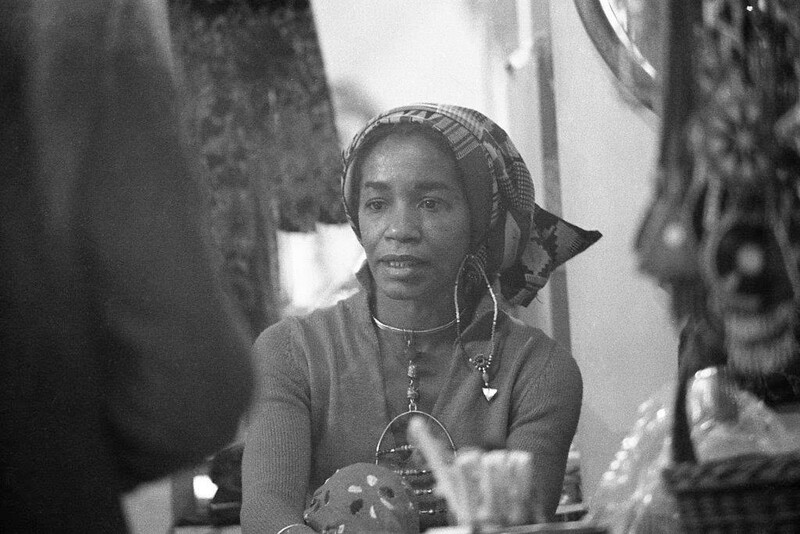 In 2017, for the catalog of the Gordon Robichaux gallery's first exhibition, 'Ken Tisa: Objects/Time/Offerings,' I interviewed Tisa, whose work encompasses collections of humble objects that embody wildly diverse cultural traditions. Among the many anecdotes Tisa related, one in particular stood out: the story of a Black artist-designer-entrepreneur named Sara Penn and her Manhattan store, Knobkerry, where Tisa worked in the 1980s. Though Penn's history has largely fallen from sight, the store she ran was, in its in time, beloved and influential, one of the first establishments in the United States to sell ethnographic art, objects and clothing from around the world. Through Tisa and a collaboration with Gordon Robichaux, I had the great fortune to meet and interview Penn in 2017.
Four years and fifteen extensive interviews later, the project will now play an integral part in the upcoming exhibition 'Niloufar Emamifar, SoiL Thornton, and an Oral History of Knobkerry,' opening later this month at SculptureCenter in Long Island City, Queens, accompanied by 'Sara Penn's Knobkerry: An Oral History Sourcebook,' published by SculptureCenter and New York Consolidated. In addition to my interviews with Penn and fourteen of her colleagues, the volume will feature a large selection of images from Penn's scrapbook, which she used as memory aids during our conversation, as well as images from the archives of Renoir Darrett, Penn's friend of many years. The following literary oral history for 'Ursula' offers a preview and introduction to Penn's remarkable life, a capsule survey of a larger body of work that traces her legacy, communities, influence, and under-recognized bearing on the histories of art, fashion, and the cultural life of New York City.
A Virginia Slims advertisement featuring clothing by Knobkerry worn by Beverly Johnson in 'Essence' magazine, ca. 1977
Lauren Hutton wearing Knobkerry garments featured on the cover of the 'Saturday Evening Post,' 1968
Aptly nicknamed the 'Little Big Star Shop' by 'New York' magazine in 1970, Knobkerry maintained a cult following among downtown artists, musicians, writers, and designers from the 1960s through the 1990s, serving as an unlikely crossroads for the worlds of art, theater, fashion, and music. At various points, Jimi Hendrix, Janis Joplin and Yves Saint Laurent (who would go on to imitate Penn's custom designs in a major fashion show) were all regulars. Mick Jagger shopped there, as did Sonny and Cher, Jean-Michel Basquiat and Louise Bourgeois. Louise Nevelson, Marcia Marcus, Ornette Coleman, Sonny Rollins, Don Cherry, Woodie King and Ntozake Shange were loyal friends and customers, along with David Hammons, who loved Penn's clothes and went to the store for all his alterations. Hammons' particular devotion to Penn was such that in 1995 he organized a show of his work at Knobkerry's TriBeCa location, intermingling signature touches such as a deflated basketball, a collection of black-eyed peas, and a wad of chewing gum with Knobkerry's Indian bronzes, Japanese shrines, and African masks. The show, whose existence spread by word-of-mouth, was the first time Hammons staged his 'Freudian Slip,' a piece of lacy lingerie draped over a Yoruban Gelede mask. 'It was like going to the Metropolitan Museum of Art,' Hammons told me of the store in October 2020, in an interview at his studio. 'So many vibrations. So much energy. It was like going to another world.'
It is difficult to overstate the groundbreaking significance of a Black woman's ownership and operation of a business on New York's Lower East Side in the mid-1960s, especially a shop as adventurous and experimental as Penn's. With Knobkerry, she created an international context for a thriving scene of radical artists and thinkers—a place where people were able to meet, talk, look, think and reinvent themselves. In the 1960s and '70s especially, her garments and beloved, eclectically designed windows effected a groundbreaking aesthetic on the Lower East Side, reverberating with the moment's political and social transformations, sensitizing and radicalizing a generation of artists to a global, hyper-spiritual perspective. Her work prefigured movements of highly eclectic cross-cultural art and fashion that were to flourish in the early years of the new millennium as she herself receded into obscurity.
Sara Penn at a demonstration, 'New York World-Telegram and The Sun,' 1963
Marcia Marcus, Sara, 1965 © Marcia Marcus / Artist Rights Society, New York. Photo: Jen Samet
Penn opened the first location of Knobkerry in 1965 on East 7th Street. Over the course of 30 years, she moved the store from St. Marks Place and other spots in what was then called the Lower East Side to Spring Street in Soho and West Broadway in TriBeCa, the last location closing in the late 1990s. The store began as a collaboration with designers Fumi Schmidt and Olive Wong—who would go on to work independently—focusing on jewelry, accessories and outer garments: gharara and salwar pants from India, leather pendants crocheted in the back of the store, skirts made out of Pakistani fabric, blouses made from Chinese silk, custom-made cholis. 'Prices run from about $6 for a plain Dashiki to $250 for a coat of elaborately embroidered dowry cloth,' 'The Christian Science Monitor' reported in 1968 in an article about Knobkerry and pan-African fashion trends headlined 'African Dress, Natural Hair.' Because the items Penn carried were unique, celebrity musicians began to flock to the store—they never had to worry about seeing their favorite garment on someone else. Later incarnations of Knobkerry, on Spring Street and West Broadway, sold, in addition to clothing, furniture and objects like Moroccan kilim rugs and West African tribal masks. A 1977 'Women's Wear Daily' article by André Leon Talley on 'the precious items found in [Penn's] boutique called Knobkerry Third World Art and Design' described finding items as sundry as 'Indonesian monk baskets and wooden harps … woven Ikat robes, ceremonial chairs from Africa, wooden Buddhas.' The TriBeCa location, where Hammons staged his show, was more spacious than its predecessors, carrying larger objects and furniture—Penn's visionary multicultural emporium at an amplified scale.
Sara Penn was born in Pittsburgh. Her grandmother's family performed missionary work in Alabama. 'I realize,' Penn once said, 'that I reflect my great-grandaunt, Sadie Lee, in Pleasant Valley, Alabama, who followed Booker T. Washington's idea of skilled training for newly freed slaves. She taught quilting and sewing. She opened a training school that grew to have over 200 students.' Like her mother before her, Penn trained as a social worker, earning her degree from Atlanta University, where she attended a religion class with Martin Luther King Jr. In the 1950s, she traveled throughout Europe, living briefly in Paris and Amsterdam. Back in New York, she took a job as a social worker, spending evenings with her boyfriend, the painter Wolf Kahn, at the Cedar Bar alongside artists like Willem de Kooning, Franz Kline and Joan Mitchell. In the mornings she would apprentice at Phyllis Jewelry, a silver store on East 7th Street, where she found a home among a diverse group of artisans including Art Smith, a Black silversmith, and Barbara Shaum, a sandal maker beloved by hippies, whose shop adjoined McSorley's Bar. This was the world where Penn found a home for Knobkerry.
Knobkerrie from Knobkerry, collection of Ken Tisa. Courtesy Gordon Robichaux, New York. Photo: Gregory Carideo
Knobkerry garment
Penn first encountered the word 'knobkerrie' in a 1932 short story by George Bernard Shaw, 'The Adventures of the Black Girl in her Search for God,' which she read when she was still a social worker. The parable follows a South African child who escapes a mission with nothing but her knobkerrie, a fighting stick used primarily in Southern and Eastern Africa, encountering a succession of characters who try to explain who God is and how the universe works. Each exchange ends with the girl eventually brandishing her knobkerrie to free herself before she moves on in her search for truth. Penn conceived of the store with such a fight in mind: 'I thought, 'If anyone tells us what fashion is, we're just going to hit them with our stick, our store,' she said. 'We'll discover our own fashion.' People who knew and loved Penn describe Knobkerry as a decidedly political site, an emancipatory portal into worlds and ways of seeing beyond the cultural arrogance, racism and myopia of the United States. 'I think black designers, like black musicians, should dig into their origins for [their] inspirations,' she told 'The Washington Post' in the 1990s. 'It would help to 'signpost' our current quest for identity and bring something healthily different to Western fashion.'
In place of a substantial, centralized physical archive, Penn left behind a group of disciples, friends and loved ones who adored her and followed her to the end of her life. Like the locations of Knobkerry, this history serves as a gathering place for some of those people, who loved and were influenced by her and her marvelous store: photographer and African art scholar Charles Daniel "Danny" Dawson; collector and curator Eric Robertson; writer and scholar Paulette Young; actor and director Seret Scott; jewelry designer Elena Solow; fashion editor André Leon Talley; writer and art administrator Peter Stebbins; artist Sana Musasama; artist David Hammons; Carmen Hammons; artist Ken Tisa; dancer and former Joyce Theater education director Joanne Robinson Hill; painter Marcia Marcus' daughters Kate Prendergast and Jane Barrell Yadav; writer Renoir Darrett; designer and dancer Fumi Schmidt; Rie Schmidt; curator Carol Thompson; and textile designer Andrea Aranow. I am indebted to you all for your time and energy, which can be found, collected and honored in this project.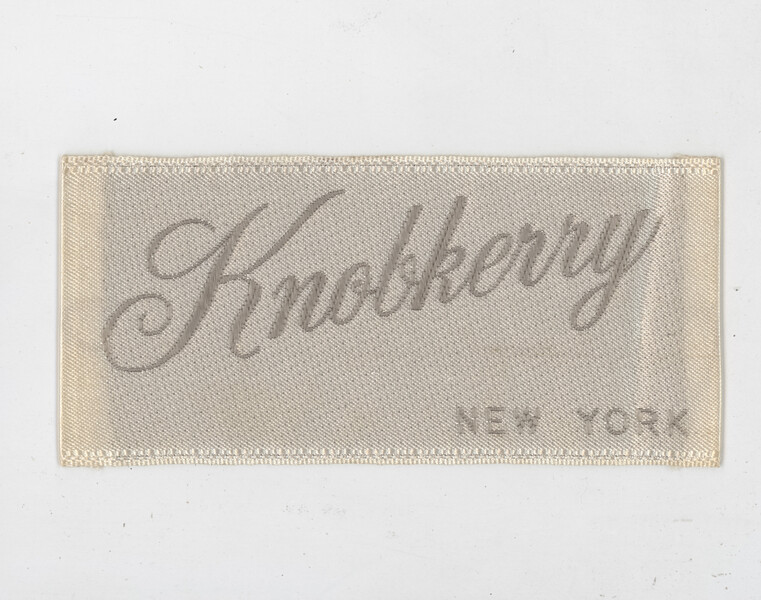 My interview with Sara Penn took place in March 2017 in the lobby of the Salvation Army's Markle Evangeline Residence on West 13th Street in the Village, where Penn spent the last decade of her life.
Penn: I was born in Pittsburgh, Pennsylvania, in 1927. I'm 89 years old. My mother was a social worker. She was born in Alabama, where my grandmother was born and raised. My mother was one of seven or eight daughters and my grandmother sent all of the daughters out of Alabama to school, north to different places. I don't know how she did it. She was a farmer. But she made sure that her daughters had an experience that was beyond being a poor farmer's farmhand.
I was interested in freedom—from my family, from my mother. My mother was so strict. My mother's skin was much lighter than mine and she was a nice-looking woman. She was never satisfied with me. But she wanted me to be perfect, or at least to be 'as best as you could with your ugly-ass face.' She bought me designer clothing at thrift shops for our trip to Spelman [College] and I remember we both entered the college with no stockings—bare legged. The woman looked at me: 'You've got to wear stockings.' Yes indeed. You couldn't go with bare legs. My mother had to go out to buy me some stockings. Spelman was very tight, with very strict rules. If you had a male visitor, he was allowed to come into one room in the dorm and sit there with you with a chaperone present. It was the first Black women's college.
I graduated from Spelman in 1951. And I met this girl, Phyllis, who was a silversmith in New York in the Village, on West 4th Street. I started working for her and learning how to make silver. That's when I met my first real boyfriend, Wolf Khan. He was the arts director at the community center where I was working, Manhattan Hill, in West Harlem on 127th Street. In the morning I'd work at Phyllis Jewelry, the silver store, and then I'd go to my social work job, and then I'd come back home with Wolf. It was a nice life.
Sara Penn, 1957
Sara Penn and Fumi Schmidt in 'The East Village Other,' 1968
Fumi Schmidt: It was just by accident that we became good friends. We met in Phyllis Jewelry—we were both apprentices. Phyllis found that we had the right attitude and the right skills to be good apprentices. We knew nothing: about soldering, setting stones, anything. But Phyllis was so eccentric and so were we. She was perfect for us. I was a dancer at that time, and she would let me go on auditions and work on shows. She never cared when we got there and when it was time for us to be paid she would just say: 'Okay, tell me how much I owe you.' It was really very loose, which was great. And that's why Sara and I flourished.
Penn: On the same block as Phyllis there was a Black silversmith named Art Smith. He was fabulous. His boyfriend was white. Phyllis was Jewish. And next to her was Allan Block, a great self-taught leather worker who ran a sandal shop where Bob Dylan and Joan Baez would come by and Allan was a great fiddle player and he would play. There were a lot of artisans on West 4th Street.
Wolf and I used to go out every night to the Cedar Bar in the Village. We'd be hanging out with de Kooning and Franz Kline and Joan Mitchell. Once, I remember, we had a party in an apartment I had on 11th Street or someplace. We invited all the people from the Cedar Bar. We covered one wall with brown wrapping paper and they all autographed it. I wish I had that now. Everyone was just struggling artists at that time.
Elena Solow: The store on East 7th Street was Sara's first one, 7th between 2nd and 3rd Avenues. It was a small store and this other girl, Barbara Shaum, had a store next to it, making hippie sandals. There were neat stores there. Sara lived on 6th Street, upstairs, and people brought things by. Right away, she just had the most beautiful things, and she knew how to display them.
Penn: I wasn't happy with what was going on in the field of social work. Barbara Shaum, who was a leather-crafter with a shop on 7th Street, told me about a shop near hers that was available; it was two doors down from McSorley's [Old Ale House].
Renoir Darrett: Sara and Barbara, the sandal maker next door on 7th Street, were the first women to be served at McSorley's in 1970, when the city banned discrimination against women in public places and McSorley's had to stop being a male-only establishment. I think they called for Barbara, and Barbara came and got Sara, and they went in together. I seem to remember them coming back laughing.
Schmidt: The first store was a large success only because of her personality. It was a hang-out place. I used to go there and help her put together some stuff: make stuff; mend stuff. I just kind of did everything that she couldn't do. The third person involved in the business at that time was Olive Wong. Her father was Howard Thurman, the famous Black theologian and civil rights leader. Olive had very expensive taste, impeccable taste, and she would always buy the finest stuff for the store. It was unlikely that the three of us would get together. We were all so different.
Envelope from Knobkerry's location at 26 St. Marks Place
(above) Sara Penn behind the counter at Knobkerry's location at 158 Spring Street, ca. 1970s (below) Olive Wong
'[I] started my store with $3,000, which included inventory, rent, utilities. I lived in the back until I was making more money.'—Sara Penn
Ken Tisa: In 1960s and '70s, I think New York was one of the most extraordinary places that the world has ever seen. New York was wild. Everything was new. New ideas were coming from all over, because it was so cheap. Artists from all over the world were coming to New York and living really comfortable lives on $50 a week. When I first started going to Knobkerry in the 1980s it was mostly textiles—the coolest clothing I have ever seen. The first time I went, I bought this Indian kurta, a long, gauzy shirt. It had been tie-dyed using little grains of rice. I loved that shirt. I wore it until it literally fell off my body one night, just deteriorated right in the middle of a discotheque.
Penn: I made trips to Senegal and Nigeria, where they treated me like a queen! Then I went to Northern Lagos—at that time the All-Africa Games were going on. I became friends with a very famous African athlete, and his brother who was a textile designer. We became friendly and went around collecting. I'd started my store with $3,000, which included inventory, rent, utilities. I lived in the back until I was making more money.
Eric Robertson: I went down to St. Marks Place to buy some gifts. I forget which holiday it was, but I saw an interesting-looking store with many things from parts of the 'Third World,' as we called it at that time, especially from Asia, Indonesia, Pakistan, India. I had never seen a store like this before. Then I did a little research on the name. She called it Knobkerry, which is a weapon in southern Africa. I was intrigued by such a store, which covered such wide areas of culture, material culture. And I was also intrigued by the owner, who never came to the front where her people were working and waiting on people. She stayed always in the background. Also, without going on too much, she was quite beautiful.
Charles Daniel Dawson: It was like a cultural center. It wasn't intentionally that, but it turned out to be a de facto cultural center because the artists who came by felt so comfortable in Sara's place.
Tisa: When I came back to pay off the shirt, Sara was there. I said, 'Do you know who owns this store?' And she said, 'I do.' I said, 'Well, it's so beautiful.' She had all kinds of African art, African cloth, Indian embroidery. It was like being in heaven for me, because it was all the stuff I loved and had only seen in books. Everything was very affordable. When I was in there, all these really cool people would come in. I would go back every week. I became friendly and Sara and I would talk. She loved art and artists. I was in there once when Jimi Hendrix came in. I almost pissed my pants. He knew Sara. Sara knew every musician that ever lived who was Black or Black-affiliated or Black-identifying. If you stayed in that store long enough, you saw every major Black star.
Dawson: She seemed to have a particular thing for musicians. They would just come by and sit and talk—people actually talked; it was a forum where they could hold court. That's where I met Ornette Coleman, who would come by all the time. I think she influenced Ornette's style. Ornette was really original, but that combination of ideas, of visual ideas in terms of clothes and fabric, that's Sara. When Ornette first came to town, he was in a standard collegiate 1960s suit with a skinny tie. He looked like a kind of a stylized hermit. But later he started wearing really fancy Chinese silk suits that he had custom-tailored. They would be like a sky blue with a phoenix embroidered all over the side of it. That sensibility comes out of Sara.
'The first time I went I just couldn't understand or believe the things I was looking at. I couldn't stop staring.'—Seret Scott
Joanne Robinson Hill: I don't know if anyone ever described the miracle of that store. It was not just the kinds of things that she had, but the juxtaposition of different things and how she'd place them in the store. You might be looking at a very small object that was worth maybe 50 cents and right next to it was a timeless and valuable sculptural piece.
Solow: Then she moved to St. Marks Place. I loved working at the Knobkerry on St. Marks, which was the one that all famous musicians would come to. Like Janis Joplin. She was nice, but she smelled like alcohol, and I'm not an alcohol person. Sara had people sign the wall—lots of musicians. But I think they just used her. She made these beautiful things for them to wear to play but they didn't pay for them. Janis Joplin did.
Seret Scott: The first time I went I just couldn't understand or believe the things I was looking at. I couldn't stop staring. Things I'd never seen outside of a museum display were shimmering in the window of that small Lower East Side shop. On one occasion, I saw Sara bustling around inside, and I knocked on the door, thinking the shop was closed. Sara came to the door and I, with no real thought, said I was a model and that I would really like to model her clothing, if she ever needed a model. She told me to come back and she started me as a salesperson that day. Most people came in with the same sense of awe that I felt, because no one had seen that kind of shop before.
Knobkerry fashions on the cover of 'Esquire,' 1969; Garments on the wall of Knobkerry; Textiles on the wall of Knobkerry store
Hill: There were a bunch of us who called ourselves Sara's Girls. Seret [Scott], me, Renoir [Darrett]… And I mean, we all dressed very beautifully. I still have a dress from Indonesia. It's a tunic that I bought from the shop, and originally it had been Seret's. Clothing moved around between us; we all loved dressing in beautiful, exotic clothes. Elena came in from Mexico with a huge collection of Mexican traditional blouses, not made for tourists, but ones she went into the villages and bought, skirts and wonderful things. There were summers when we were all looking like Frida Kahlo.
Scott: I was a 'Knobkerry Girl.' Sara had a rotating group of young women who worked at Knobkerry part time, wore the clothing from the shop while working. It would be maybe a wrap or a scarf, and almost everything we would put on would sell that day. Customers weren't really sure how to wear the clothing, and so they'd see these wraps and other things on us and they'd want them. Almost everything was one of a kind. You never got something that someone else was walking down the street with.
Tisa: Sara was able to combine designs and patterns from across cultures. In one bag, she'd have Japanese, Chinese, African, Indian, and Latin American things, all these different fabrics from every culture on earth in one bag. That's why her bags and her jackets were so beautiful and so incredible. She couldn't keep them in the store. They weren't cheap. Her jackets sold for about $200, which in those days was a lot of money. But everybody had to have one.
Robertson: Sara was very into dressing up every day. Every time I saw her she had a different outfit on from a different part of the world. It turned out that she was traveling to these places and buying, but she was also cultivating other women who traveled, traveled by themselves, and then she bought from them, too.
Tisa: I was traveling all over the world and buying all this incredible stuff, and when I needed money I would sell things to Sara. She always said yes. Sara loved artists. I started working for her when she opened a store in SoHo in 1982.
Dawson: I remember going in one day and talking to Sara, and she had just gotten a new Indonesian instrument—a bamboo xylophone. And Don Cherry, the jazz musician, walked in and looked at it, picked up the two mallets, looked at the mallets, tapped the thing, and then started playing it. You have to realize there's no hope of ever becoming a real musician unless you have that kind of gift. He could just look at an instrument and find the notes to make music. Don Cherry just sat in Sara's shop, making music.
Penn: When Jimi Hendrix used to come in, he'd take a seat and watch his women try on different clothing and buy stuff. Janis, too. They were a lot of fun. I let the kids who were working for me mingle with them because they loved it. Miles never came in. He used to go to Andrea Aranow's store, Dakota Transit.
Andrea Aranow: It was a special time in the East Village because the Fillmore East was there, and there was a lot of music. Sara was on St. Marks and my shop was around the corner on East 9th Street. The rents were really cheap, so there were a lot of little businesses. Just people trying out their own ideas. We were young. We were experimental and we were Downtown. Emphasis on Downtown. Jimi came by one day, and he looked and he saw this mass of snake skins on the chair. And he said, 'Well, suede clothes with applied snake skin are okay. But I want an outfit that's all snake skin.'
Dawson: I bought a coat from Sara, a velvet jacket with a beautiful design embossed in the velvet that used it as my dress up clothes. It was incredibly beautiful. She sold it to me for some ridiculously low price—like $35. It was black velvet, so I bought a pair of black velvet pants and then it looked like I had a suit. Eventually, she wanted it back, so I gave it back to her. I mean, she was actually just doing me a favor. This thing was probably worth a few thousand dollars. I'm sure it had been made for some emperor or something. Her shop was full of stuff like that, and so much African sculpture that I had never seen before.
Knobkerry profiled in 'Women's Wear Daily' by André Leon Talley, 1977
Aranow: Sara had an African hook. I think she was bringing stuff from Africa to show all of us New Yorkers that it existed, because we hadn't seen things like that from African countries. She was also putting it out in a way that made us want to integrate it with the other things we were wearing or living with in our homes, not like a separate kingdom. Being eclectic was part of her thing. A bit of this and that, a necklace from here and there. She wasn't trying to recreate it the way it should have been worn in Peru or in Zaire or any place where it came from. She was trying to make a mix.
I'd go to hear jazz sometimes, and every time I'd say, 'Oh, that guy's really cute,' Sara would say: 'Please don't even talk to me about being interested in a musician. Don't go there, Andrea. They're all bad. They're so cute and so seductive.'
Scott: Musicians would fly from California to New York, book a four-hour stopover in New York before going on to Europe. They'd get off the plane at Idlewild, which some people then still called Idlewild, not JFK, get in a cab, come straight to Knobkerry and buy stuff for the tour. Then we'd see it on the album covers.
'It was like taking a voyage … She was a collector and a passionate one.'—André Leon Talley
Schmidt: People just wanted to go to the store and hang out in the back. That's what she wanted and she got it. It was like a salon. People would look and then they would come in the back and she would say, 'Can I get you some coffee?' She was the perfect hostess. She didn't care if they didn't buy. She didn't care if they hung out all day.
Scott: Sometimes she was in the back in the first store and someone would call ahead and say, 'Lena Horne is going to stop by at three o'clock.' And Sara would look at us like, 'Lena Horne is coming. Put some flowers on the counter!' Sara did expect a certain kind of greeting for people like that.
Tisa: The store was never, ever empty. It was like a salon. I loved going to work because every day I would meet somebody new. It was on the map for hip Europeans. And between all the Europeans, all the African American artists and musicians, all the white American artists and musicians, it was a real potpourri of brilliant minds. Sara had a lot of clientele in the fashion world. I didn't know who any of these people were at the time, so I wasn't in the least bit impressed. But André Leon Talley, who was a friend of Sara's, brought Yves Saint Laurent and other big fashion people to a fashion show he did at the store.
André Leon Talley: I loved going to the store. It was like taking a voyage to many foreign destinations. I so fondly remember her beautiful, colorful portraits of barbershop paintings of haircut styles, native art, which I still have. I also loved buying her wonderful agbadas from Nigeria. They were usually three pieces, including huge trousers: heavily embroidered tops and a tunic to wear over the outsized tops. Her inventory was exceptional. She was a collector and a passionate one.
Hill: She had such an eye for textiles. She was fearless in terms of combining different kinds of textiles and fearless in terms of cutting into something. She made jackets using Seminole patchwork and she'd often combine velvet with an interesting textile like a Rajasthani piece or a pillow from Mexico with all kinds of beads. The beads had a kind of random quality. It wasn't as if she was saying, 'I'm going to neatly stitch a row of blue beads.' It would be 'I'm randomly picking magical energy.' It had to do with energy. With the items that she placed on objects, like her bags, she was creating little talismans.
Jacket by Sara Penn, ca. 1980s
Chinese garment on view outside Knobkerry, 158 Spring Street, ca. 1979. Photo: Wallace Litman
'The world is not white. Certainly if anyone understood that, it was Sara. Look at the world that she was bringing together. It was a world of cultures that were undervalued, especially in the United States and the West.'—Joanne Robinson Hill
Penn: Bill Cunningham took the first photographs of my store when he was still working in Chicago for 'The Chicago Tribune.' I got a photograph from him the other day, before he died. He wrote a note on the back of it saying how much he enjoyed meeting me, back in the '80s. I don't know where the photograph is now.
David Hammons: I used to take clothes over to have them altered, if I bought a jacket and I wanted another pocket in it. But to be clear there was no business being done there. When somebody wanted to buy something, she would run in the back room. That's why she had to have these other people in there actually selling the products. The people who worked there, like Elena. She and Sara were like twins, always together. And Ken—they were like her disciples. Completely at awe in her presence. And Danny, too. They would just gravitate to her for her energy. They saw her as a deity or something, which was very beautiful to watch. I got caught up in it, too.
Solow: Whenever we sold something, we explained where it was from, about the people and their philosophies, all the history that we were never taught growing up in the U.S. Sara kept all these books and maps and we had to teach ourselves about places we'd never heard of. You couldn't just say, 'Here, do you want this?' You had to say, 'This is from Turkmenistan, etc.'
Hill: The world is not white. Certainly if anyone understood that, it was Sara. Look at the world that she was bringing together. It was a world of cultures that were undervalued, especially in the United States and the West. At the same time, she had a certain kind of irony. And wit and satire. And that sense of nothing being precious. I mean nothing being so sacred that it could not be changed, recognized for its value in its own right. When Sara was young, in the '50s, she traveled all over Europe and had French boyfriends and Spanish boyfriends, and she got to see the world on her own terms. And to have that kind of experience, I think, was important. I know that what a lot of African Americans feel when they leave this country is that, even though you're in worlds that colonize people, there's a lot less weight on our shoulders. You don't have to hold your breath all the time.
Tisa: Ntozake Shange and all of the women from the cast of 'For Colored Girls Who Have Considered Suicide' used to come there weekly. They were all making money, and they were all spending it on earrings and jewelry and clothing and bags at Sara's.
Bag from Knobkerry. Courtesy Gordon Robichaux, New York. Photo: Gregory Carideo
Model wearing Knobkerry garment
Hill: I don't think that she was consciously saying, 'This is what I'm doing, I'm sticking it to the man.' But she was sticking it to the man. She would hang out in the backroom and pretend that she was not the owner of this incredible shop, both because that's what she felt like doing that day and because she thought that if somebody came in, they would not necessarily buy the most expensive object in this space from a Black person, from a Black woman.
Tisa: I remember this woman came into the store once and must have said something racist to Sara. She was going to buy this very expensive coat, like $500, which was a lot of money then. Sara took the coat and said, 'I'm sorry, I'm not selling this to you.' The woman said, 'What do you mean!?' The woman was one of these uptown privileged white ladies, and having a Black woman do that to her, I could see this look of utter blankness. Like it could not be possible.
Scott: I remember one time this guy came in, kind of lean and short with an unusual vibe. He looked around awhile and then pulled some matchbooks out of his pocket. On the inside of his matchbooks were little watercolor paintings. He wanted to trade the paintings for an article of clothing. Well, as a simple salesgirl, I couldn't do that. Sara wasn't there and I can't remember if another salesgirl was there. It turned out that the guy was [Jean-Michel] Basquiat, who wasn't yet who he became; he wanted to trade these little paintings for clothes.
Hammons: She didn't get enough credit and that was the racism she was dealing with. And there's nothing she could do about it. But also she was not a business woman. She was a Romantic. I used to tell her, 'What's love got to do with this, Sara? Sell these damn clothes.'
Tisa: One day I was managing the gallery, and this very cute guy comes in, dressed in a beautiful Afghan coat. He introduced himself as David Hammons. We started chatting and I told him I was an artist. 'Do you want to see something?' he said. He opened his bag and he pulled out this long strip. He had set out to collect every kind of Black hair from all the barbershops of Harlem, and had woven it all onto a piece of cloth. It was fabulous. I called back to Sara to come up and meet him.
'It was very tiny, like going to a candy store, actually. Just these amazing clothes … There weren't that many stores at that time where Black people could go in and feel comfortable. That was a big part of it.'—David Hammons
Installation view of David Hammons exhibition, Knobkerry, 211 West Broadway, 1994. Courtesy David Hammons. Photo: Erma Estwick
David Hammons, Spitting Image, installation view, Knobkerry, 211 West Broadway location, 1994. Courtesy David Hammons. Photo: Erma Estwick
David Hammons, Cigarette Chandelier (above) and Asia Africa (below), installation view, Knobkerry, 211 West Broadway, 1994. Courtesy the artist. Photo: Erma Estwick
Installation view of David Hammons exhibition, Knobkerry, 211 West Broadway, 1994. Courtesy David Hammons. Photo: Erma Estwick
Hammons: I was just drawn to the spirit of the store. It was very tiny, like going to a candy store, actually. Just these amazing clothes. The stitching and the care, just masterfully done. It was just amazing to see the juxtaposition of those things that she made and the quality and poetic-ness in the clothes. And then watching people come by from other countries to sell her fabric, Africans, people from Turkey. It was so unusual. There weren't that many stores at that time where Black people could go in and feel comfortable. That was a big part of it. I figured if I had a show there, it would give her some publicity and get people coming into the store. So that was my purpose. I was trying to use my clout, as they say. We were friends, and I wanted to get her some notoriety. She gave me free reign. I pushed it as far as I could, using as much of the space as I could to do the show.
Carol Thompson: I remember right in the front window, Hammons put a white-faced Punu mask with ostrich feathers all around the top and adapted it to spout water. It looked like a fountain made with a Mardi Gras mask topped with a crown of huge, billowing white feathers. And then water is spouting from its mouth. David has done a whole series of works like that, which he refers to as 'spitting image sculptures.' You would just wander around the store and then you'd spot something and you think, 'Okay, that's David's work.' But it was hard to be sure. That was part of the magic of it.
Penn: It was a beautiful, beautiful show.
Tisa: I consider Sara one of my teachers. From the first moment I walked into her shop. At that time, in my twenties, I had decided that painting was too bourgeois—elitist—some kind of political bullshit of my early twenties. So I decided that I would only sew my paintings, that I would only use things that I found on the street and that I wouldn't buy art supplies. Of course, that was bullshit, too, because I was buying thread and scissors. But I had this political agenda. When I started working for Sara, I started learning about different cultures and different textiles and what they meant, and how textile weaving could be as much of a narrative as a painting. You could tell a story through making a quilt. Art was not just a piece of canvas stretched on a wooden stretcher. Art could be worn. It could be sewn. Working for Sara and learning from her about the possibilities of what art could be was a major change in my life.
Hill: She was decidedly a Black woman. But, you know, I don't think Sara fully trusted her own genius. She never really recognized or accepted the fact that she was genuinely making and doing significant things. I don't think she fully owned that for herself. For all of us, she was so magnificent and so important.
Knobkerry business card, ca. 1995
Knobkerry, 211 West Broadway
Tisa: She made so much money and she gave it all away, essentially. If you needed money, you just went to Sara. That's one of the reasons I committed to taking care of her in her last years, because she had given to so many people and she helped everybody. Her last store was in TriBeCa, on West Broadway. She made an apartment in the back of the store. It was sort of illegal, but she did it. That was a really neat store, but the problem was that there was no foot traffic. At that time, TriBeCa was the netherworld. There was nothing there. A couple restaurants, but basically no stores, no galleries.
Penn: After the store closed, I stored stuff in different friends' basements and when I moved to the Salvation Army, I thought I would go there for no more than a month; just until I found a place. But I didn't have any luck finding a place. So, I've been at the fucking Salvation Army, this place, for over ten years. I'm in a room about the size of these three tables. So that's it.
Hammons: She was an artist, and artists don't know how to sell their products, so they have to have someone else to do it. That's who she was. If people are just hanging out, you don't make money like that. People are afraid to come in when they see all these Black folks hanging out. It was used like a museum, and that's what it was. Sara should have charged people to come in.
—
Svetlana Kitto is a writer, editor and oral historian in New York City. Her writing has been featured in New York magazine, The New York Times, Guernica, Interview and BOMB, among other publications. She is the author of the catalog 'Ken Tisa: Objects/Time/Offerings,' published by Gordon Robichaux and Pre-Echo Press in spring 2017. She was a co-editor and contributor to Matt Keegan's artist book '1996,' published by New York Consolidated in fall 2020.
This article's headline pays tribute to the description of Knobkerry in 'The African Burial Ground Called Tribeca,' a poem by David Henderson published in 'Bum Rush the Page: A Def Poetry Jam' (New York: Crown, 2001).