'Even only as reconstruction, to capture the life of human and artificial imagination, by generating infinite possibility of its appearance'
About
Exhibited for the first time in a digital format, this online exhibition is a chance to experience Pierre Huyghe's 'mental image' works – a product of imagination between two types of intelligences, human and artificial. Huyghe's latest iteration, entitled 'Of Ideal', was first exhibited in Okayama, Japan in 2019 and will now be shown online in a series of three videos made up of deep image reconstructions, real-time generated reconfigurations, and sound. This exhibition marks the first time that Hauser & Wirth will display a digital installation within the framework of an online exhibition and will be laid out in an entirely new format on screen.
Pierre Huyghe's first 'mental image' work, 'UUmwelt', was shown at the Serpentine Galleries in London as part of a solo exhibition. A set of elementary components, building blocks of ideas, were given to a person as images or descriptions to be imagined, while being scanned by an fMRI. Among them are biological entities, early prehistoric tools, machine, codes and artworks.
What has been imagined by a person is thus made visible using an artificial neural network that learns and progressively reconstructs mental images from brain activity. Human imagination has been externalised without the subject predetermining the outcome, bypassing all modes of expression such as language or the senses.
For 'Of Ideal', a set of personal recurring memories, situations, were given as material to be imagined. The attempts of the network to recognize the mental images, as a process rather than a final optimization, is presented as raw material. The materialized mental images react to exposure to external factors and intelligent life forms, endlessly modifying its plasticity. In addition, new reconstructed images, generated in real time, infinitely incorporates features of their surroundings into the mental images appearance.
Included as part of the exhibition is a conversation between Pierre Huyghe and Hans Ulrich- Obrist at the occasion of 'UUmwelt' at the Serpentine Galleries in 2018.
About the artist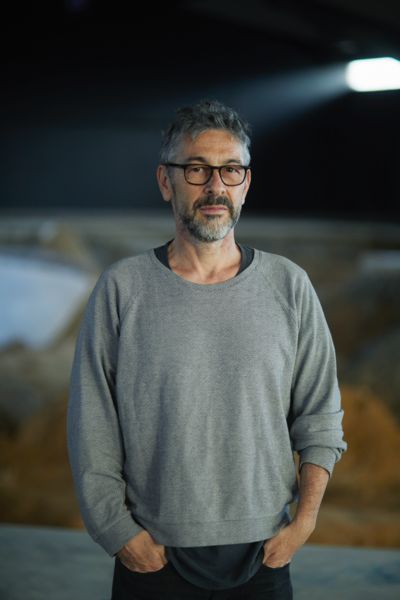 For Pierre Huyghe the exhibition ritual is an encounter with a sentient milieu that generates new possibilities of co-dependence between events or elements that unfold. The exhibition is an entity whose time and space, in which it appears, are constituents of its…
Learn more